For going on a dozen years, The Pixel Project has worked at the intersection of social media, pop culture, the arts, journalism, activism, and new technologies to shine a light on the the many ways violence against women (VAW) affects the lives of women and girls in communities and cultures worldwide.
When we first began conducting interviews, we focused on blog interviews, which remain one of the major pillars of our social media-driven awareness-raising and educational work. More than any other social media platforms that we use, blogging empowers us to present in-depth articles, op-eds, and interviews that go beyond the soundbites. As we grow as an anti-VAW organisation, we have gradually focused our blogging efforts on interviews to help activists, allies and survivors tell their stories and share their ideas with others first-hand. 
Over the past 8 years, we have also evolved to conduct livestreamed interviews on YouTube during which authors, advocates and activists have spoken eloquently and thoughtfully about VAW and what can be done about it. With the advent of the coronavirus pandemic also came a sea change in public attitudes towards virtual events and interviews.
What was once seen as a niche area is now mainstream as people attend events and watch interviews online in the safety of their homes. In recognition of that, and as part of our ongoing efforts to provide multiple platforms for people from all walks of life to speak out about VAW, we will begin including video interviews from this year onward.
In 2021, we marched on with our annual interview-format blogging campaigns and livestream series:
Our long-running monthly Inspirational Interview series

highlighting the excellent but little-known work of many anti-VAW activists and organisations from around the world.

The Voices of Dads Against VAW interview series, 

which is the continuation of our "30 For 30" series –  a platform for dads worldwide to speak out about sexism, misogyny, and violence against women in the gaming community and industry.

The Read For Pixels interviews

featuring in-depth livestream interviews with authors taking part in our Read For Pixels campaign.
Together, these interviews form an inspirational tapestry of ideas, stories and calls-to-action from remarkable individuals, communities and allies that are at the front lines of bringing the change that is so desperately needed to end VAW.
If you have missed any of our interviews and livestreams this year or are new to The Pixel Project's work, this selection of the 16 best Pixel Project interviews of 2021 will be a great starting point. We hope that the stories we shared motivate you to join the effort to end VAW.
It's time to stop violence against women. Together.
Introduction by Regina Yau. Written and compiled by Regina Yau with additional contributions by Su-Ann Cheng.
Inspired to support The Pixel Project's anti-violence against women work? Make a donation to us today OR buy our 1st charity anthology, Giving The Devil His Due. All donations and net proceeds from book sales go towards supporting our campaigns, programmes, and initiatives.
---
Alice Kendall is the Executive Director of the Downtown Eastside Women's Centre (DEWC) where she has worked for almost 25 years, initially as a legal advocate before moving to her current role. She has been active in the social justice field since her teenage years when she became an advocate for low-income individuals. Alice is committed to working to address the systemic issues that impact women, including poverty, gender-based violence, homelessness and access to health care and other services. During her interview, she talked about how men and boys can help end VAW, saying: "Gender-based violence is an impact of, and entrenched by, a colonial and patriarchal society.  Men (and all who derive benefit) must learn to understand the privilege afforded to them through this system and seek change, which also includes engaging with and educating boys differently. On an individual level, men's participation to end gender-based violence is essential and requires that they speak out and engage with their peers to call out the injustice."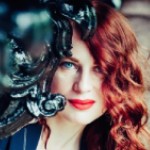 Arkady Martine is a speculative fiction writer and, as Dr. AnnaLinden Weller, a historian of the Byzantine Empire and a city planner. Under both names she writes about border politics, narrative and rhetoric, risk communication, and the edges of the world. She is currently a policy advisor for the New Mexico Energy, Minerals, and Natural Resources Department, where she works on climate change mitigation, energy grid modernisation and resiliency planning. Her debut novel, A Memory Called Empire, won the 2020 Hugo Award for Best Novel. Arkady grew up in New York City, and after some time in Turkey, Canada, Sweden and Baltimore in the US, lives in New Mexico with her wife, the author Vivian Shaw. During her Read For Pixels livestream interview, she said: "No one should be subject to violence because of their gender. Women are people. People shouldn't experience violence against them, and especially not for something that is a brilliant aspect of being a human. It's horrible that so many women and girls experience violence because of something that is fantastic about their way of being in the world. And that shouldn't happen."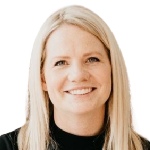 Brittany MacMillan is the Executive Director of the Kawartha Sexual Assault Centre (KSAC) in Canada. For over 14 years, Brittany has worked in the social services field, working frontline to support individuals in need and believes that everyone deserves to be treated fairly.  She believes that education is a crucial component of ending VAW. Brittany is an active participant in many local committees and initiatives to end VAW, and also facilitates college courses in mental health with a strong focus on prevention and intervention. During her Inspirational Interview, she talked about the uphill task that anti-VAW activists face in their efforts to end VAW: "As news stories of VAW continue to break, we often feel deflated. It's like we take a few steps forward and then we are forced to take many steps back. This is a challenge worldwide and in each community. We will continue to educate and stand up against VAW. We will continue to hope for a culture that will not tolerate VAW."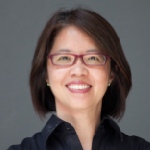 Corinna Lim is the executive director of the Association of Women for Action and Research (AWARE) Singapore. Prior to joining AWARE as its first executive director in 2010, Corinna practised law for more than 10 years. She was also a co-founder and CEO of a technology business that services the legal industry. She has a Master's in Public Administration (with focus on social entrepreneurship) from Columbia University and is a Fulbright Scholar. When speaking about toxic masculinity and how men and boys can help stop VAW, she said: "Dismantling toxic masculinity will require a reimagining of the traits we associate with men. Government, parents, schools, workplaces, community groups all have a role to play in this. Yet while this is a societal problem, change will only come when individual men start speaking up. We urge men to, as much as possible, challenge and subvert these overly rigid ideas of masculinity and model healthier, more positive values, such as collaboration, care, empathy, emotional openness and respect."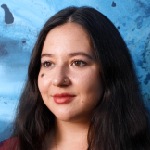 Kiran Millwood Hargrave is an award-winning poet, playwright, and novelist. The Mercies is her first novel for adults. Her bestselling works for children include The Girl of Ink & Stars and have won numerous awards, including the Waterstones Children's Book Prize, the British Book Awards Children's Book of the Year and the Blackwell's Children's Book of the Year. They have also been shortlisted for prizes such as the Costa Children's Book Award, the Blue Peter Best Story Award and the Foyles Book of the Year Award. Kiran lives by the river in Oxford, with her husband, artist Tom de Freston, and their rescue cat, Luna. During her Read For Pixels livestream interview, she pointed out: "Until women feel safe in their bodies, in their homes, in their relationships, in their countries, there is no true successful society in my opinion, when half of the population feels unsafe. And I don't know a single woman who hasn't felt unsafe at one moment or another in one of those settings. If you're going to be callous about it, you don't have a functioning society. You're losing a lot of valuable resources, but more to the point, women are people and deserve to be respected. They deserve to live on their own terms. They deserve autonomy in every sense and I'm such a great believer in education is the way to achieve that."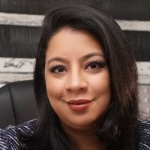 Pamela Zaballa is the Global Executive Director of the NO MORE Foundation. With over 15 years of experience, Pamela has worked to support victims of violence and prevent abuse and assault. Pamela has worked as a researcher and on the frontlines with victims of violence, overseeing court programmes and shelter management for leading organisations in the U.S. and U.K. Pamela is now the Global Executive Director for NO MORE and a board member for the Employers Initiative Against Domestic Abuse. During her Inspirational Interview, she talked about the new NO MORE Global Directory (NOMOREDirectory.org), which launched in March 2021: "[It] is a first-of-its-kind global directory of domestic and sexual violence support services. It includes up-to-date information for every UN-recognised country (195) around the world. The NO MORE Directory closes a huge information gap that has existed for decades. It provides companies, governments, universities, community organisations and individuals easy access to find or direct people to the support they need, no matter what country they reside in. The new site includes both domestic violence and sexual assault resources, including hotlines and links to nonprofit organisations. This new resource comes at a critical moment when demand for support services is up, as COVID-19 has caused a surge in domestic and sexual violence around the globe."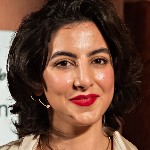 Payzee Mahmod is a campaigner for IKWRO – Women's Rights Organisation. She is a survivor of female genital mutilation (FGM) and child marriage, who lost her sister Banaz in a tragic "honour" killing. A Kurdish immigrant raised in London, Payzee campaigns alongside IKWRO to tackle harmful practices. She has reached international audiences and has spoken widely on the need for changes to the laws surrounding child marriage and "honour" based abuse in her TEDX talk (watched nearly a million times, across radio, television, and newspapers, including The Sunday Times and the BBC). Payzee campaigns for better education, training, and legislation to finally make child marriage a crime. When asked how society can end VAW, she said: "I believe this is something that requires every member of society to play a role in to achieve. It isn't enough to rely on one area of society to do the work. Specialised services like IKWRO are crucial for women and girls. However, we also need schools, healthcare providers, the police, and all agencies to be aware of these issues, to understand how to prevent and tackle them and ultimately ensure support is always available for those at risk."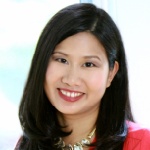 Pintip Dunn is a New York Times bestselling author of YA fiction and a two-time winner of the RITA® award. Her books have been translated into four languages, and her titles include the Forget Tomorrow series, The Darkest Lie, Girl On The Verge, Star-Crossed, Malice, and Dating Makes Perfect. During her Read For Pixels livestream interview, she talked about the role of parenting in the fight to end VAW and noted: "On a personal note, one of my daughter's biggest nightmares is that she will get raped one day. That is so telling about the society that we live in now and that's something that I'm very interested in helping to stop or change so that it's not the default expectation."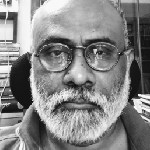 Dr Prem Kumar Vijayan teaches English literature at Hindu College, Delhi University. He has a PhD in Development Studies from the International Institute of Social Studies, The Hague. His research was published in 2020 as a book, Gender and Hindu Nationalism: Understanding Masculine Hegemony. He reads, writes, teaches, and whenever allowed to or invited to, talks about men, masculinity and violence. During his Voices of Dads interview, he said: "I believe the most important aspect of this struggle is to get boys and men to listen to girls and women earnestly and sincerely, and without dismissing their feelings or disrespecting their sentiments. If a girl or a woman feels threatened, intimidated or even just put-off by something they do or say, it is crucial for them to understand that they cannot, must not dismiss that as 'drama' or whimsicality but take it seriously. They need to learn that boys cannot behave toward girls in the way they behave toward other boys, nor men to women in the way in which they behave toward other men. And as importantly, they need to realise that there is nothing either disempowering or emasculating in doing so."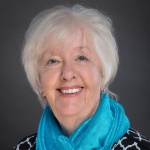 Rhys Bowen is the New York Times and #1Kindle bestselling author of the Molly Murphy and Royal Spyness historical mysteries as well as several internationally bestselling historical novels. A transplanted Brit, she now divides her time between California and Arizona in the US. During her Read For Pixels livestream session, she pointed out the importance of avoiding victim-blaming and of including men and boys in efforts to prevent and end VAW: "You shouldn't have to say to young women: this is what you have to do to avoid violence. The whole secret is working with your sons."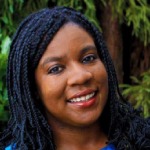 Roseanne A. Brown was born in Kumasi, Ghana and raised in central Maryland, US. She holds a Bachelor's in Journalism from the University of Maryland, where she was also a TA for the school's Jiménez-Porter Writers' House programme, and was later an assistant English teacher in Japan. She currently lives outside of Washington D.C. Her first series is the A Song of Wraiths and Ruin duology. When asked why she supports ending VAW, she shared a profound thought: "I just honestly think every girl, every person of marginalised gender, deserves the right to live like they're not feeling terrorised and not feel like their survival is at a constant threat."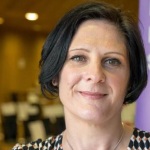 Sarah Benson is the chief executive officer of Women's Aid Ireland. Sarah previously worked as the CEO of Ruhama, an Irish NGO working nationally with women involved in sex work, including victims of sex trafficking, and as the manager of the 24-hour National Freephone Domestic Abuse Helpline. She has extensive experience in work in the community and voluntary sector both in Ireland and abroad. Throughout her career, Sarah's passion for human rights, social justice and equality – in particular for women and girls – has been a constant feature. During her Inspirational Interview, she noted: "We see ending violence against women as a strategy that is a three-legged stool based on prevention, protection and punishment. This ultimately means adequate preventative measures are put in place through awareness-raising and educational initiatives from an early age that allow for the exploration of healthy relationships and sexuality. Protective measures that ensure adequate legislative and policy initiatives to keep women safe as well as adequately resourced refuges, support organisations other facilities available to victim/survivors are also important. Lastly, perpetrators need to be deterred through adequate and appropriate sanctions."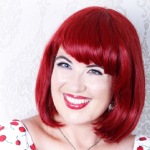 Sarah Rees Brennan is the No. 1 New York Times bestselling YA author of over a dozen books, both solo and co-written with authors including Kelly Link and Maureen Johnson. She was long-listed for the Carnegie for her first novel. She was born in Ireland by the sea and lives there now in the shadow of a cathedral, where she's working on, among other things, her series of tie-in novels with the hit Netflix show Fate: the Winx Saga. Her most recent standalone novel, In Other Lands, is a tale of love, friendship and wings starring misandrist elves and the crankiest boy to ever stumble into a magic land and was a Lodestar Award and Mythopoeic Award finalist. During her Read For Pixels livestream interview, she talked about why she supports ending VAW: "VAW is a huge problem. More women are killed by their partners – men who are supposed to love them – than any soldiers are killed in war. The lockdown across the world has led to a steep rise in domestic violence because women can't get away…It's something that's still around because it's a huge problem. But acknowledging the problem is the first step to addressing it."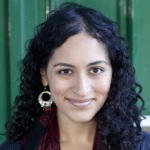 Tasha Suri is an award-winning author, occasional librarian and cat owner. She has won the Best Newcomer (Sydney J. Bounds) Award from the British Fantasy Society and has been nominated for the Astounding Award and Locus Award for Best First Novel. When she isn't writing, Tasha likes to cry over TV shows, buy too many notebooks and indulge her geeky passion for reading about South Asian history. She lives with her family in a mildly haunted house in London. During her Read For Pixels livestream interview, she pointed out the fallacy of assuming that some cultures and societies are further ahead than others at eradicating VAW: "It is clear that VAW is endemic in most cultures in the world, even in places that believe that they are very egalitarian and things are better, but they're not. Women suffer from violence and mistreatment that we often don't hear about. We all know women in our lives who have suffered things that they have not spoken about to anybody. I myself have always been extremely grateful for the work that shelters and rape crisis centres and charity therapists do for women because they have helped many people that I care about very deeply."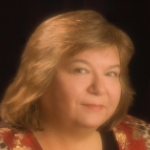 Toni L.P. Kelner is the author of eleven mystery novels: eight Laura Fleming mysteries and three "Where are they now?" mysteries. Both series are available as audiobooks and e-books. Kelner is also the author of numerous short stories and co-edits bestselling urban fantasy anthologies with Charlaine Harris. Their most recent are Games Creatures Play and Dead But Not Forgotten. Kelner has won the Agatha Award and an RT BookClub Lifetime Achievement Award, and has been nominated multiple times for the Anthony, the Macavity and the Derringer. As Leigh Perry, she writes the Family Skeleton series for Berkley Prime Crime. During her Read For Pixels livestream interview (as Leigh Perry), she talked about how writing fiction can expose gendered differences between how men and women see and understand VAW: "I've seen more books where the depiction of sexual violence was just handled really badly by men than I have by women. I think it's handled a bit better in books by women just because it's something we have to face every day. And a lot of men are just learning, but they've got to catch up."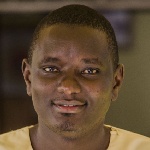 Tony Mwebia is the founder and executive director of the Men End FGM Foundation. He started this online and offline campaign in Kenya to rally men and boys to join the quest to eradicate female genital mutilation (FGM), child marriage and other forms of sexual and gender based violence (SGBV). Additionally, Tony is a gender equality advocate and writer for online and offline publications. During his Inspirational Interview, he pointed out: "We can completely eradicate VAW by actively engaging all genders in our interventions. VAW is mainly driven by patriarchy and gender norms that discriminate against women and girls. By engaging everyone in our interventions and conversations, we ensure that we move together as a society and no one is left behind. When everyone understands, then we will be able to end VAW sooner. This is our main goal at Men End FGM, where we ensure that men are not left behind in the conversations around ending FGM, child marriage and other forms of VAW."
---
Photo Credits:
Alice Kendall – Courtesy of

Downtown Eastside Women's Centre

Arkady Martine – Courtesy of Arkady Martine; Photo by Karen Osbourne

Brittany MacMillan – Courtesy of

Kawartha Sexual Assault Centre

Corinna Lim – Courtesy of

AWARE Singapore

Kiran Millwood Hargrave – Courtesy of Kiran Millwood Hargrave

Pamela Zaballa – Courtesy of the

NO MORE Foundation

Payzee Mahmod – Courtesy of

IKWRO – Women's Rights Organisation

Pintip Dunn – Courtesy of Pintip Dunn

Prem Kumar Vijayan – Courtesy of Prem Kumar Vijayan

Rhys Bowen – Courtesy of Rhys Bowen

Roseanne A. Brown – Courtesy of Roseanne A. Brown

Sarah Benson – Courtesy of

Women's Aid Ireland

Sarah Rees Brennan – Courtesy of Sarah Rees Brennan

Tasha Suri – Courtesy of Tasha Suri

Toni L.P. Kelner/Leigh Perry – Courtesy of Toni L.P. Kelner; Photo by Susan Wilson

Toni Mwebia – Courtesy of the

Men End FGM Foundation