Welcome to part one of our May 2021 Inspirational Interview with Pamela Zaballa, Global Executive Director of the NO MORE Foundation. With over 15 years of experience, Pamela has worked to support victims of violence and prevent abuse and assault. Pamela has worked as a researcher and on the frontlines with victims of violence, overseeing court programs and shelter management for leading organisations in the U.S. and U.K. Pamela is now the Global Executive Director for NO MORE and a board member for the Employers Initiative Against Domestic Abuse. 
Part 2 of this interview will be published on 31 May 2021.
Photos courtesy of the NO MORE Foundation.
---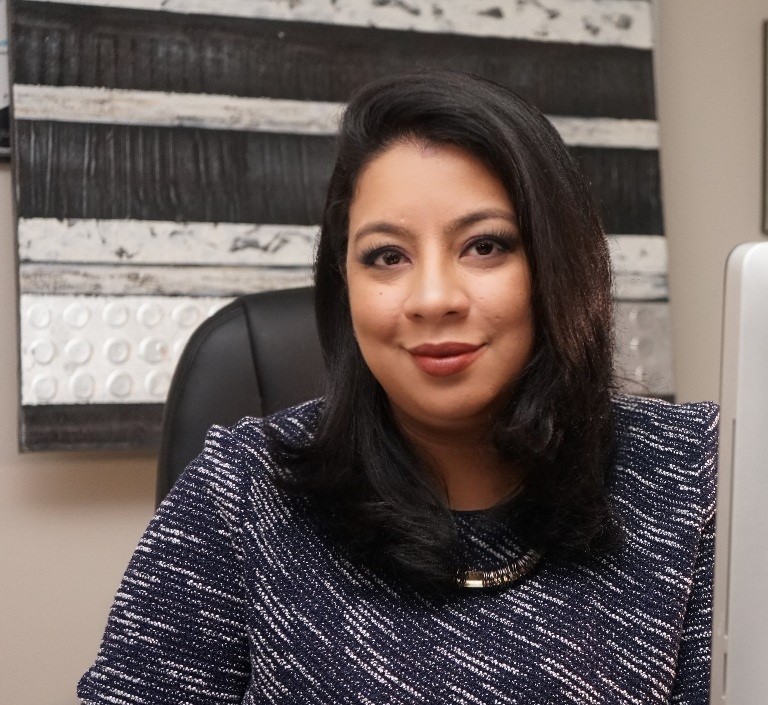 1. How and why did you join the movement to end violence against women (VAW) and how did you come to be the Global Executive Director of the NO MORE Foundation (NO MORE)?
I have been in this movement for over 15 years, working to support victims of violence by creating and setting up direct services and preventing abuse and assault from occurring in the first place.
In my career I have developed research on survivors of domestic and sexual violence and human trafficking, working closely with both the public and private sectors. I've worked on the frontlines with victims of violence, overseeing court programmes and shelter management for leading organisations in the U.S. and U.K. I served for years at Hestia as the Prevention for Domestic Abuse Director where I created initiatives to utilise state-of-the-art technology to help victims and to engage corporations as partners in the effort to stop domestic and sexual violence with projects like Bright Sky and Everyone's Business. During that time, I launched prevention campaigns such as Hidden Child and U.K. Says NO MORE. After founding and serving UK Says NO MORE, I joined the NO MORE global family as its Global Executive Director. 
2. Could give us an overview about NO MORE, your campaigns, and your approach to stopping VAW?
NO MORE is dedicated to ending domestic violence and sexual assault by increasing awareness, inspiring action, and fueling culture change. We work to amplify and grow the movement to stop and prevent domestic violence and sexual assault in homes, schools, workplaces, and communities around the world. NO MORE creates and supports innovative campaigns, partnerships, and tools that leverage the power of the media, entertainment, sports, technology, and collective action.
Launched in 2013, NO MORE was created as a unifying symbol—much like the breast cancer awareness pink ribbon or the HIV/AIDS awareness red ribbon—in order to increase the visibility of the problems of domestic violence and sexual assault, which, despite significant progress, too often remained hidden, misunderstood, and woefully underfunded.
NO MORE has grown to become the largest and most successful domestic violence and sexual assault awareness/engagement initiative in history and has sparked the creation of more than 30 state, local, and international campaigns—from Hawaii Says NO MORE and Washington Says NO MORE to the UK Says NO MORE and the Latinx-focused NO MÁS.  
3. NO MORE's original campaign has spawned local NO MORE chapters across the U.S. and the world. What are some of the particular challenges that NO MORE has faced – and continues to face –  when tackling VAW across the world?
With domestic and sexual violence impacting 1 in 3 women around the world, we know that there are no easy solutions to this problem. In many countries, these issues are considered private, personal issues that are taboo to even discuss. A real challenge to any global movement to end domestic and sexual violence is funding. Governments or businesses that do not acknowledge violence against women as a public health crisis are less likely to fund lifesaving support programmes for survivors. The more we bring these issues out of the shadows and into the light, the more help we can provide survivors and the more we can shift our global culture towards equity and safety.
4. Over the years, what sort of impact has NO MORE's work had on the anti-violence against women movement in U.S. and beyond?
NO MORE's work has brought together a diverse coalition of organisations, advocates, businesses, schools, universities, survivors, and individuals who are passionate about ending domestic and sexual violence. Much of NO MORE's success lies in its truly open-source, collaborative nature. We have grown to become a global movement because organisations and individuals around the world recognised that they could use the NO MORE symbol and resources to amplify efforts in their own communities. Our resources, public service announcements, and initiatives have reached millions around the world with a simple message: we all have a role to play in ending domestic and sexual violence.
5. NO MORE's most recent major initiative is the NO MORE global directory of domestic violence and sexual assault support resources created in collaboration with the United Nations and World Bank Group. Could you tell us about the directory and how it came into being?
 The new NO MORE Global Directory (NOMOREDirectory.org), launched in March 2021, is a first-of-its-kind global directory of domestic and sexual violence support services. It includes up-to-date information for every UN-recognised country (195) around the world. The NO MORE Directory closes a huge information gap that has existed for decades. It provides companies, governments, universities, community organisations, and individuals easy access to find or direct people to the support they need, no matter what country they reside in. The new site includes both domestic violence and sexual assault resources, including hotlines and links to nonprofit organisations. This new resource comes at a critical moment when demand for support services is up, as COVID-19 has caused a surge in domestic and sexual violence around the globe.