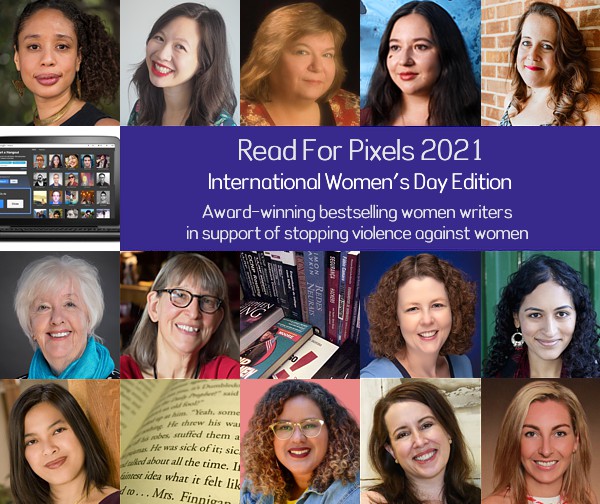 The Pixel Project
presents our 7th annual International Women's Day Edition of "Read For Pixels" featuring live YouTube sessions featuring award-winning bestselling women writers in support of ending violence against women.
This March's Read for Pixels features Alaya Dawn Johnson, Brigid Kemmerer, Elizabeth Lim, Jennifer Estep, Julia Quinn, Kiran Millwood Hargrave, Leigh Perry (Toni L.P. Kelner), Rhys Bowen, SJ Rozan, and Tasha Suri. Each livestream YouTube session will feature one author reading from one of their books and discussing why they support ending violence against women, their writing, and women in the media and popular culture. Each session will also include a live moderated Q&A segment for fans and book lovers. The sessions will take place on weekends throughout March 2021.
We will also be presenting our 5th Read For Pixels YouTube live panel session "Getting To The Heart Of Things: Writing about Violence Against Women, Sexism, and Misogyny in Romance in the Age of #MeToo" featuring acclaimed Romance authors Adriana Herrera, Bec McMaster, and Jeannie Lin.
All authors have also generously donated a range of goodies to help raise funds for The Pixel Project including signed books and bundle bundles, author-curated goodie bundles, signed first editions or book bundles by participating authors, 1-to-1 video calls to talk about writing, tuckerisations, written critiques, and more. Additional goodies are courtesy of Sourcebooks and Dzanc Books as well as award-winning bestselling authors Anna Stephens, Alyssa Sheinmel, Jodi Meadows, Julie E. Czerneda, Meg Gardiner, and Sara Raasch.