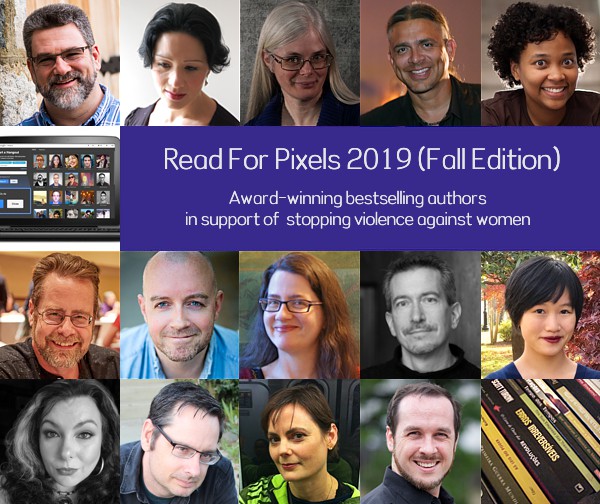 The Pixel Project
presents the "Read For Pixels" campaign featuring live YouTube sessions with award-winning bestselling authors in support of ending violence against women. Our 6th annual Fall Edition of "Read For Pixels" will be taking place on weekends throughout September 2019.
This September's Read for Pixels campaign features authors A.M. Dellamonica, Anna Smith Spark, Bradley P. Beaulieu, Daryl Gregory, James A. Moore, Kristine Kathryn Rusch, Marshall Ryan Maresca, Nicholas Eames, Nicky Drayden, R.F. Kuang, and Stephen Graham Jones. Each livestream YouTube session will feature one author reading from one of their books and discussing why they support ending violence against women, their writing, and women in the media and popular culture. Each session will also include a live moderated Q&A session for fans and book lovers. In addition, there will be an author panel session featuring Hillary Monahan, Sarah Langan, and Christopher Golden discussion writing violence against women women in Horror.
All authors have also generously donated a range of goodies to help raise funds for the Pixel Reveal campaign including signed first editions or hard-to-find editions of their books, unique goodie bundles, tuckerisations, manuscript critiques, 1-to-1 Skype chats and more. Additional goodies come courtesy of award-winning bestselling SFF authors Adrian Tchaikovsky (with Macmillan Books UK), Alma Alexander, Charles de Lint, David D. Levine, Jen Williams, Juliet E. McKenna, Laura Anne Gilman, Leanna Renee Hieber, Richard K. Morgan, and Tananarive Due.