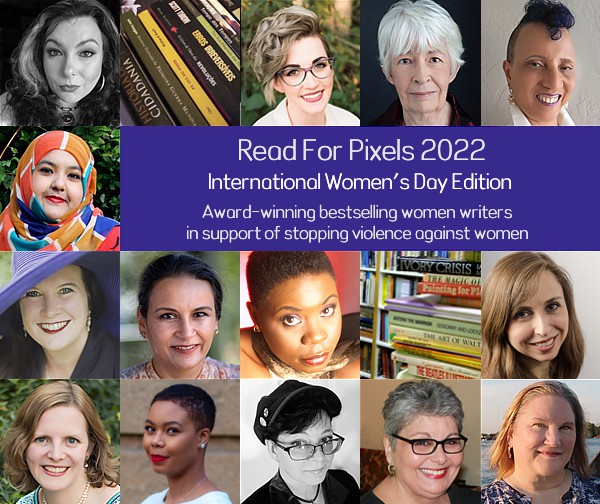 The Pixel Project
presents our 8th annual International Women's Day Edition of "Read For Pixels" featuring live YouTube sessions highlighting award-winning bestselling women writers in support of ending violence against women.
This March's Read for Pixels features Adiba Jaigirdar, Amanda Bouchet, Anne Bishop, Charlie N. Holmberg, Eugen Bacon, Jeffe Kennedy, Juliet Marillier, Lauren Willig, Sue Ann Jaffarian, Sujata Massey, and Talia Hibbert. Each livestream YouTube session will feature one author reading from one of her books and discussing why she supports ending violence against women, her writing, and women in the media and popular culture. Each session will also include a live moderated Q&A segment for fans and book lovers. The sessions will take place on weekends throughout March 2022.
We will also be presenting the sixth session in a special series of livestream YouTube panels in conjunction with our first Read For Pixels charity anthology, Giving the Devil His Due, which features 16 major names and rising stars in Horror, Fantasy, and Science Fiction. This March's panel session will feature Angela Yuriko Smith, Hillary Monahan, and Linda D. Addison discussing the power of storytelling and speculative fiction in helping survivors of violence against women heal.
All authors have also generously donated a range of goodies to help raise funds for The Pixel Project including signed books and book bundles, author-curated goodie bundles, signed first editions or book bundles by participating authors, 1-to-1 video calls to talk about writing, tuckerisations, written critiques, and more. Additional goodies are courtesy of publishers including Black Spot Books and Page Street Publishing as well as award-winning bestselling authors Alaya Dawn Johnson, Eloisa James, Meg Gardiner, Pintip Dunn, and Roseanne A. Brown.