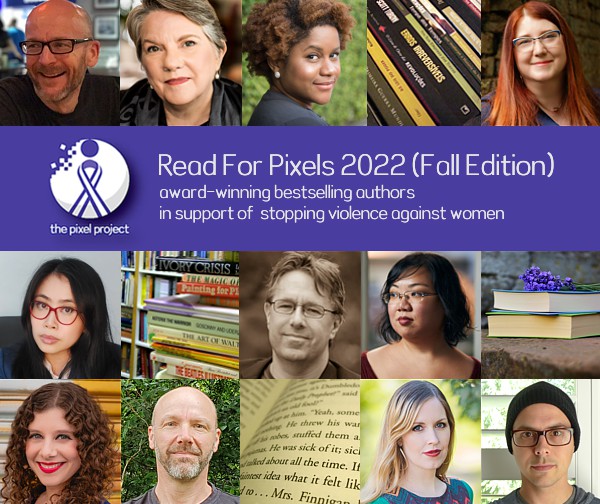 The Pixel Project
presents our 9th annual Fall Edition of Read For Pixels featuring live YouTube sessions highlighting award-winning bestselling authors in support of ending violence against women.
This September's Read for Pixels features Alan Baxter, Alastair Reynolds, Carol Goodman, Daniel H. Wilson, Jenn Lyons, Kathryn Purdie, Namina Forna, Nghi Vo, Rin Chupeco, Romina Garber, and Tim Lebbon. Each livestream YouTube session will feature one author reading from one of their books and discussing women and girls in their books, why they support ending violence against women, and women in the media, geek culture, and popular culture Each session will also include a live moderated Q&A segment for fans and book lovers. The sessions will take place on weekends throughout September 2022.
All authors have also generously donated a range of goodies to help raise funds for The Pixel Project including signed books and book bundles, author-curated goodie bundles, signed first editions or book bundles by participating authors, 1-to-1 video calls to talk about writing, tuckerisations, written critiques, and more. Additional goodies are courtesy of publishers including Tor UK and Random House Children's Books as well as award-winning bestselling authors Adiba Jaigirdar, Eugen Bacon, Jeffe Kennedy, Julie E. Czerneda, Kwame Mbalia, Marshall Ryan Maresca, Meg Gardiner, Pintip Dunn, Roseanne A. Brown, Sue Ann Jaffarian, and Sujata Massey.