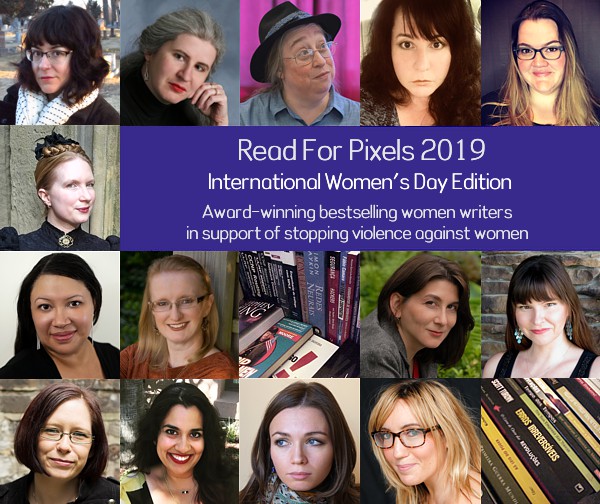 The Pixel Project
presents the "Read For Pixels" campaign featuring live Google Hangout Readings with award-winning bestselling authors in support of ending violence against women. Our 5th annual International Women's Day Edition of "Read For Pixels" will be taking place on weekends throughout March 2019.
This March's Read for Pixels Google Hangout series features authors Alisha Rai, Alma Alexander, Caroline Kepnes, Jen Williams, Jo Walton, Laura Anne Gilman, Leanna Renee Hieber, Mary SanGiovanni, Molly Tanzer, Rebecca Roanhorse, S.A. Chakraborty, Sarah MacLean, and Victoria Dahl. Each Hangout session will feature one author reading from one of their books and discussing why they support ending violence against women, their writing, and women in the media and popular culture. Each session will also include a live moderated Q&A session for fans and book lovers. In addition, New York Times bestselling Urban Fantasy author Lisa Shearin will be taking part via an in-depth blog interview.
All authors have also generously donated a range of goodies to help raise funds for the Pixel Reveal campaign including 1-to-1 Skype chats, signed first editions or hard-to-find editions of their books, unique goodie bundles, tuckerisations, creative pieces written exclusively for donors, and more. Additional goodies come courtesy of Headline Books, Saga Press (Simon & Schuster), and award-winning bestselling SFF authors Alison Goodman, Fran Wilde, Juliet E. McKenna, Susan Dennard, and Tananarive Due.