Welcome to part one of our April 2021 Inspirational Interview with Tony Mwebia, founder and executive director of the Men End FGM Foundation, an online and offline campaign in Kenya that rallies men and boys to join the quest to eradicate female genital mutilation (FGM), child marriage and other forms of sexual and gender based violence (SGBV). Additionally, he is a gender equality advocate and writer for online and offline publications.
Part 2 of this interview will be published on 30 April 2021.
Photos courtesy of the Men End FGM Foundation.
---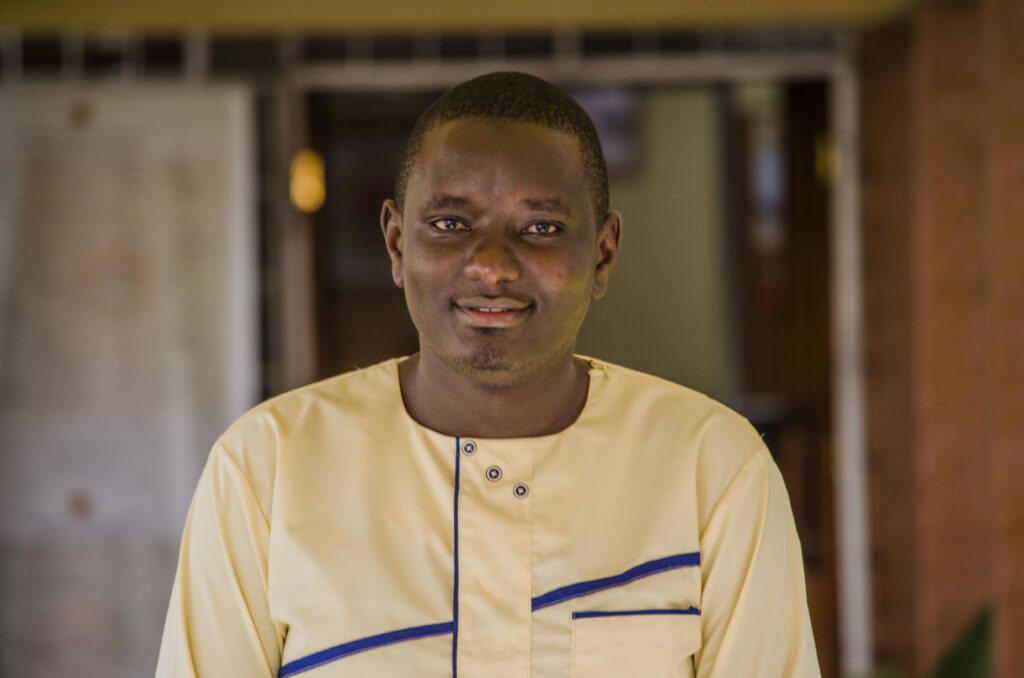 You have a long track record of advocacy for women's human rights in Kenya through your work to change people's attitudes towards harmful cultural practices, specifically female genital mutilation (FGM). What motivated you to become a male ally to the anti-Violence Against Women and Girls (VAWG) movement?
Back in the year 2012, I got an opportunity to volunteer with an organization that dealt with urban refugees in Nairobi. While doing so an opportunity arose for me to become the project assistant for the FGM project. Listening to male refugees sharing their stories/experiences with their spouses who had undergone FGM was my turning point. Men shared experiences of spouses who had fistula due to FGM, they shared how they were forced to extramarital affairs with women from non-cutting communities as they could not enjoy sex with their wives, and spoke of the economic burden that came along with frequent visits to hospital due to complications. One man shared how he lost his wife and baby during birth due to FGM complications. These stories really touched my heart and I vowed to join the fight against this harmful practice.
2. What inspired you to begin Men End FGM?
Having listened to the horror stories of men speaking about FGM, I went and did my research and found out that men rarely speak about this practice. I noticed the egotistic nature of men did not allow them to share their stories. The communities also did not expect men to speak about this practice which is mainly viewed as a women's issue. Then I decided to start an online campaign #MenEndFGM with the aim of challenging government agencies, activists, community services organisations (CSOs) and everyone working on ending FGM to ensure men are part of the end FGM campaigns at all levels.
3. What are some of the core strategies that Men End FGM uses to engage men and boys with the intertwined issues of violence against women, sexism and misogyny?
Men End FGM addresses FGM as a human rights issue. We seek to have men understand that FGM is not a women's issue but a violation of basic human rights to life, education and good health, among others. We embrace community dialogues, including intergeneration dialogues and sensitisation with men and boys at all levels. We also use visual materials that are age-appropriate to showcase what actual FGM entails to men from different FGM-practicing communities. In doing so, we are always sensitive so as not to do any harm to the survivors of this practice from those communities.
Additionally, we hold sessions between fathers and their daughters, for them to get a chance to listen and understand their daughters from "a daughter's point of view" as opposed to a society's point of view on women and girls. We also challenge men to take up the fight against FGM as their own responsibility and use the power they wield in the community to advocate for an end to the same. Our approaches aim at transforming negative masculinities among men from FGM-practicing communities.
4. Different communities and cultures need different approaches with regards to getting men to engage with the issue of VAWG. Could you tell us about some of the activities that Men End FGM is either currently doing or developing and how you think they might be adapted to engage with men and boys in other communities and cultures?
From our experiences with men from different parts of Kenya, the engagement of men and boys on issues of VAWG is very similar. The only differences are the age and the religion. For the young boys we have to tailor our messages to be age-appropriate. The Muslim and Christian communities' engagement has also to be sensitive to religion at the entry point. But once the ice has been broken, then the engagements are similar. Currently we have been carrying out training of male champions to end FGM and child marriage in more than nine counties in Kenya.
The trainings target key decision makers in the society, including but not limited to elders, religious leaders, teachers, chiefs, clan kings, local administration, chiefs and youth leaders. We target these people as they already have platforms to disseminate our teachings and are also part of decision makers in different spaces. This intervention has the potential of being adopted in any part of the world. We are also developing a guide on engaging men and boys on FGM and other forms of VAWG in partnership with UNICEF Kenya. The guide can be adopted in any country, community and culture worldwide.
5. With the coronavirus pandemic currently raging on, the rates of FGM have surged in countries and communities that practice it, including Kenya. How has Men End FGM adapted in order to continue your work to end FGM while adhering to the safety measures needed to curb the virus?
Our campaign is both online and offline. At the moment we are leveraging our use of social media (EndFGMLive and Twitter chats), TV and radio stations to pass our messages to different community members.
Additionally, our network of more than 300 trained male champions across Kenya is actively monitoring any suspected incidences of FGM and reporting the same to relevant authorities. They are also involved in door-to-door sensitisation in adherence to COVID-19 protocols.
We have also incorporated COVID-19 prevention protocols in our programming, including limiting the number of participants for social distancing and provision of face masks to all participants in our trainings and community dialogue sessions, as well as having points of sanitisation/hand washing.