The Pixel Project is 13 years old today:
13 years of being the only anti-VAW nonprofit to specialise in working to raise awareness, funds, and volunteer power to end VAW at the very 21st century intersection of social media, online communities, new technologies, and pop culture/the arts.
13 years of our all-volunteer team across 6 continents collaborating to raise awareness, funds and volunteer power for the movement to end Violence Against Women (VAW).
13 years of conceptualizing and developing our ongoing anti-VAW campaigns, projects, and programmes.
13 years of creating social media-based platforms that make it simple and accessible for everyone from the person on the virtual street to various online communities to get on board the cause to end VAW.
13 years of experimenting with (and implementing) positive, innovative, and effective new ways of using online tools, social media, and pop culture/the arts to get the conversation about VAW going amongst individuals and communities.
13 years of helping boost the signal for positive stories of people around the world working to stop VAW as well as the women and girls who survive VAW tell their stories.
13 years of building partnerships with allies that range from anti-VAW organisations and campaigns of all shapes and sizes, to award-winning bestselling authors, to livestreams with dads to sound the clarion call for the end to VAW.
13 years of bridging the communication gaps to provide victims, survivors, and their families and friends with information for getting help for escaping any form of violence against women and girls.
13 years of constant creativity in our outreach work to educate individuals and communities who would otherwise ignore or deny the existence of violence against women.
13 years of sharing expertise in VAW and social media campaigning to fellow activists/advocates, experts from fields as different as law and healthcare,and doctoral/research students.
13 years of inspiring everyone from kids to celebrities to get on board the cause to end violence against women and girls.
13 years of working to accelerate the shift in the conversation towards including men and boys in helping stop VAW.
13 years of walking the talk to show that online activism can and does make a difference in the battle to end violence against women and girls, especially in this age of online VAW.
It's been 13 interesting and action-packed years, to say the least!
And now, onwards to our annual review of the year that came before.
---
An Overview of the Year 2021
The COVID-19 pandemic that began in February/March 2021 has continued straight through 2021, making it a consistently challenging and busy year for The Pixel Project as VAW spiked worldwide as lockdowns and the world economy in crisis exacerbate domestic violence, female genital mutilation, child marriage, and femicide.
While The Pixel Project is not a frontline organisation, our work has been impacted behind the scenes as a number of collaborations and projects in the pipeline continue to be on pause until the pandemic end while keeping the trains running on time for existing programmes, projects, and campaigns
---
On the fundraising side
We raised the bulk of the funds via two (2) online fundraising events:
While 2021 has proven to be an extremely tough year for small nonprofits doing fundraising, we continued to buck that trend, comfortably exceeding our goals for both our fundraisers thanks to our Read For Pixels fundraisers powered by the generosity of Read For Pixels authors, our Read For Pixels donor community, fandoms, and publishers,  we raised a total of $13,975.
We also send thanks to all the donors who have donated to our general fund to help keep us alive as an organisation – to friends, family, and VAW survivors who have donated what they can during these tough economic times – THANK YOU ALL SO MUCH! Even $10 helps so much in keeping our work alive!
---
On the awareness-raising side
Ongoing Campaigns, Programmes, and Initiatives
As we work online, our ongoing campaigns and programmes have largely continued uninterrupted although certain campaigns and initiatives were more difficult to run smoothly than others. We are still providing information to victims, survivors, researchers, allies, and the general public about violence against women as well as how and where to get help for escaping abuse and rebuilding lives after violence.
1. The 1st Read For Pixels Charity Anthology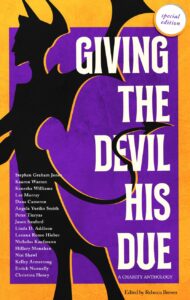 We launched the special edition of Giving The Devil His Due – our 1st Read For Pixels anthology which will be published in partnership with Running Wild Press. The Twilight Zone style anthology will feature 16 stories in homage to the 16 Days of Activism Against Gender-based Violence. Despite numerous unexpected delays, the anthology was launched as planned and on time in tandem with our 8th annual Fall Edition of the Read For Pixels campaign.
The final line-up of 16 authors participating in the anthology are Angela Yuriko Smith, Christina Henry, Dana Cameron, Errick Nunnally, Hillary Monahan, Jason Sanford, Kaaron Warren, Kelley Armstrong, Kenesha Williams, Leanna Renee Hieber, Lee Murray, Linda D. Addison, Nicholas Kaufmann, Nisi Shawl, Peter Tieryas, and Stephen Graham Jones.
The anthology was released on schedule on 1 September 2021 and continues to slowly and steadily gain excellent reviews from readers and bloggers. Thanks to the generosity of the authors and Running Wild Press, 100% of the net proceeds from sales of the book go towards funding our anti-violence against women work.
2. The Read For Pixels Livestream Series
The campaign crossed a milestone of having the support of over 170 award-winning bestselling authors, with 23 of these worthy wordsmiths joining the campaign for the first time in 2021. They spoke out against VAW via YouTube livestream sessions and helped raise funds for the Pixel Reveal campaign via RallyUp fundraisers choc-a-bloc with exclusive geeky goodies. 2021 Read For Pixels authors come from a wide range of genres and included well-known names and fan favourites such as Sarah Rees Brennan, Evan Winter, Derek Landy, Arkady Martine, Jennifer Estep, and more. Check out the full list of authors here and here.
We also held a record 6 new Read For Pixels author panel sessions providing writers with the idea, tactics, and tools for tackling VAW and related topics such as misogyny, toxic masculinity, sexism, and the patriarchy without dehumanizing women and girls.
This year's Read For Pixels panels sessions included:
Our 1st Romance panel which took place during our International Women's Day Edition.
5 anthology-related panels which were spread out over the Fall Edition in September and Domestic Violence Awareness Month in October, and the 16 Days of Activism Against Gender-based Violence in November. Together with 11 of the anthology authors, Rebecca Brewer (anthology editor), and Lisa Kastner (Running Wild Press) we tackled topics ranging from toxic masculinity in Horror to domestic violence in speculative fiction to the catharsis of revenge stories.
All 2021 panel sessions can be accessed here
Our Social Media Programmes
The People and Pets Say NO photo statement campaign continues to run steadily with people from all walks of life submitting pictures of them and their pets saying NO to VAW during Domestic Violence Awareness Month. 2021 was the 10th year we have cross-posted them on our Facebook and Instagram accounts. This year, 15 supporters and their pets took part in the campaign. Those who are Read For Pixels authors also included our charity anthology in the picture to help boost the signal for the book.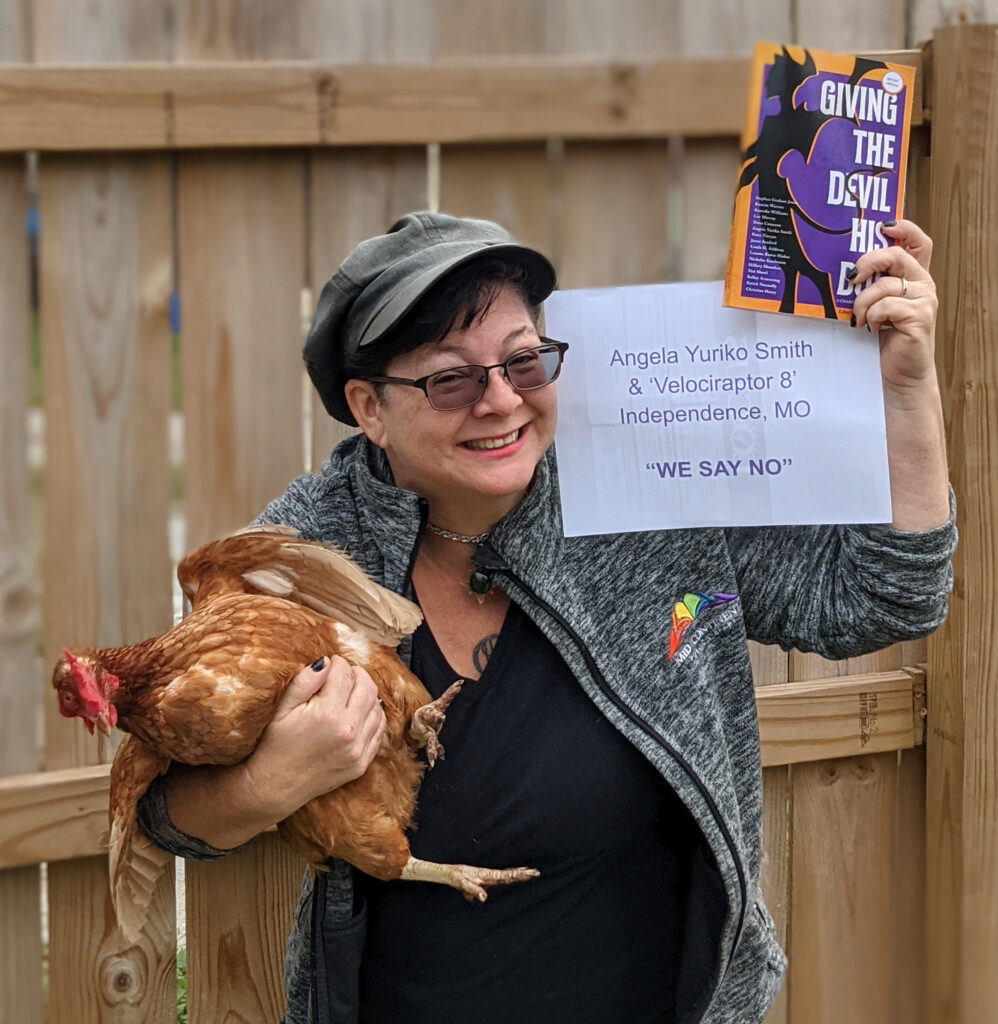 Our main Facebook page stood at the 53, 510 Likes mark on December 31st 2021 (down by 462 likes from 53,972  Likes on December 31st 2019) with a very lively community respectfully discussing the various posts and news. This is the second decrease in followers/fans that we have experienced in our 13 years of campaigning on Facebook. This may be due to a number of circumstances beyond our control including Facebook's war on fake profiles and the accelerating voluntary exodus across Facebook due to the ever increasing revelations of Facebook's disregard for user privacy and reluctance to act to reduce the most toxic effects of their network. Nevertheless, we will continue to share relevant and educational content about VAW on Facebook as part of our outreach efforts.
2021 was also the year when we began seriously developing our Read For Pixels Facebook page. Previously, the posts on the page were mostly focused on our Read For Pixels campaign news, updates, and videos. However, starting from 2021, we have begun sharing news about authors across the world using their art and words to raise awareness and educate people about various aspects of VAW.
Our Twitter account now has 21,914 which is down 119 from 2020's 22,033 followers. This is a small decrease but the fact that Twitter has notified us at regular intervals that our tweets have been going viral, we have concluded that while we have lost followers, we have still gained in reach.
We also continue to run two helpline retweet session including the global session from 8pm – 12am Eastern Time and 10am Eastern Time for North America so that victims of gender-based violence will be able access life-saving information. This year, we added the NO MORE Foundation's NO MORE Directory which NO MORE created in conjunction with the United Nations and the World Bank to provide helpline information for victims and survivors of domestic violence and sexual violence in 205 countries worldwide.
We held our 2nd Fathers For Pixels livestream series in June 2021 in collaboration with MenChallenging. 7 fathers from Canada and North America took part. Each livestream YouTube session showcased 2 – 3 panellists discussing a topic that links fatherhood and how dads can help stop violence against women in their families, communities, and cultures Each session also included a moderated Q&A segment for the audience to ask questions and we introduced a new annual fixture in the Fathers For Pixels livestream series – "Fathers Raising Feminist Sons" which features dads and their sons chatting about their experiences with combatting sexism, misogyny, and violence against women in their families.
The recorded sessions were organised into a playlist for the general public to access.
On the blogging/journalism side
As part of our response to the COVID pandemic and it's horrific collateral damage in the form of spiked rates of VAW worldwide, we provided 2 new blog resources:
The "16 For 16" blogging campaign in honour of the 16 Days of Activism Against Gender-based Violence continues to grow as we accumulate an archive of positive articles packed with shareable ideas, information, and solutions for inspiring individuals and communities to take action to stop VAW. We welcome some guest contributors in 2021 including our partners MenChallenging, the NO MORE Foundation, and Breakthrough India. This is also the first year we have included livestream interviews as part of our "best interviews of the year" honour roll-call.
Inspirational Interview series: We interviewed 7 anti-VAW activists/organisations from 6 countries including Canada, Ireland, Kenya, Singapore, Kurdistan, and the United Kingdom. While this is a lower number than our pre-pandemic number of 10 – 13 interviews due to the toll that the pandemic is taking on everyone working in the anti-VAW space. Nevertheless, we are maintaining course diversity of interviewees than ever, reflecting just how global the fight is.
Survivor Stories series: As with 2020, we did not have any survivor stories submitted to us in 2021 which we surmised is due to the COVID-19 pandemic.
Additional Updates
As always, we've achieved all that we have achieved as a team and in 2021, we welcomed the following volunteers:
Executive team – Su-Ann Cheng (Malaysia)
Research team – Brianna Moon (USA)
---
The Year Ahead
We'll continue developing and running our annual and ongoing campaigns with established campaigns changing formats or expanding to different platforms in order to better serve the cause:
Collaborating with Read For Pixels authors and our partner, the publisher Running Wild Press, to continue promoting the charity anthology as a tool for raising awareness about VAW as well as a way to get life-saving helpline information to victims.
Running more in-depth interviews with various anti-VAW and women's human rights activists for our monthly Inspirational Interview campaign.
Encouraging more people and pets putting their best foot/paw forward for Domestic Violence Awareness Month via the 11th year of our "People and Pets say NO!" photo statement campaign (October 2022).
Partnering with MenChallenging to recruit and encourage more dads to take part in the Fathers For Pixels programme.
Writing and publishing our 11th annual 16 For 16 Blogging campaign (December 2022).
Hosting and recording more live YouTube sessions with anti-VAW activists, advocates, and experts.
We are also continuing to wind down our Celebrity Male Role Model Pixel Reveal campaign. Our goal remains to reach $250,000 (250,000 pixels revealed via our marathon bid to unveil our 1st celebrity male role model. As with previous years, we will continue to do this via our two (2) major Read For Pixels events/fundraisers:
Our 8th annual International Women's Day Edition in March 2022 featuring women writers only.
Our 9th annual Fall Edition in September 2022 featuring both male, female, and non-binary authors.
We hope you are as excited as we are about 2022. If you want to get involved with any of these campaigns and programmes, we certainly welcome more volunteers and pro bono professionals joining us on our journey towards ending violence against women. Just fill in the volunteer application form and we'll get back to you!
---
If you prefer to donate, you can donate in 3 ways
You can donate directly to us to help us keep our work alive. To donate to us and for more details about how your donation will be used, visit our donation page.
You can buy our charity anthology from any major bookseller worldwide including Amazon, Kobo, Book Depository, and Google Play. 100% of the net proceeds will go to us.
You can hold a fundraiser for us which could be anything from holding bake sales if you're a baker to donating a portion of your profits if you run a business to running a marathon and getting folks to sponsor you by donating to us. Get in touch directly with us at info@thepixelproject.net if you wish to raise funds for us or with us.
Here's to The Pixel Project surviving and thriving to continue fighting for the cause for as many years as it takes to eradicate violence against women. May we live to see the day when our work is no longer needed – the day when violence against women is no longer the norm in communities and cultures worldwide. Just as it takes a village to raise a child, it takes an entire community to work together to effectively eradicate the violence against women and girls for good.
It's time to stop violence against women. Together.
– Regina Yau, Founder and President, The Pixel Project