Welcome to Part 1 of our October 2021 Inspirational Interview with Corinna Lim, executive director of the Association of Women for Research and Action (AWARE) in Singapore. Prior to joining AWARE as its first executive director, Corinna practised law for more than 10 years. She was also a co-founder and CEO of a technology business that services the legal industry.
Ms. Lim has a masters in public administration (with focus on social entrepreneurship) from Columbia University and is a Fulbright Scholar. She graduated with an LLB from the National University of Singapore and was called to the Singapore Bar in 1988.
Part 2 of this interview will be published on 1 November 2021.
Photos courtesy of AWARE.
---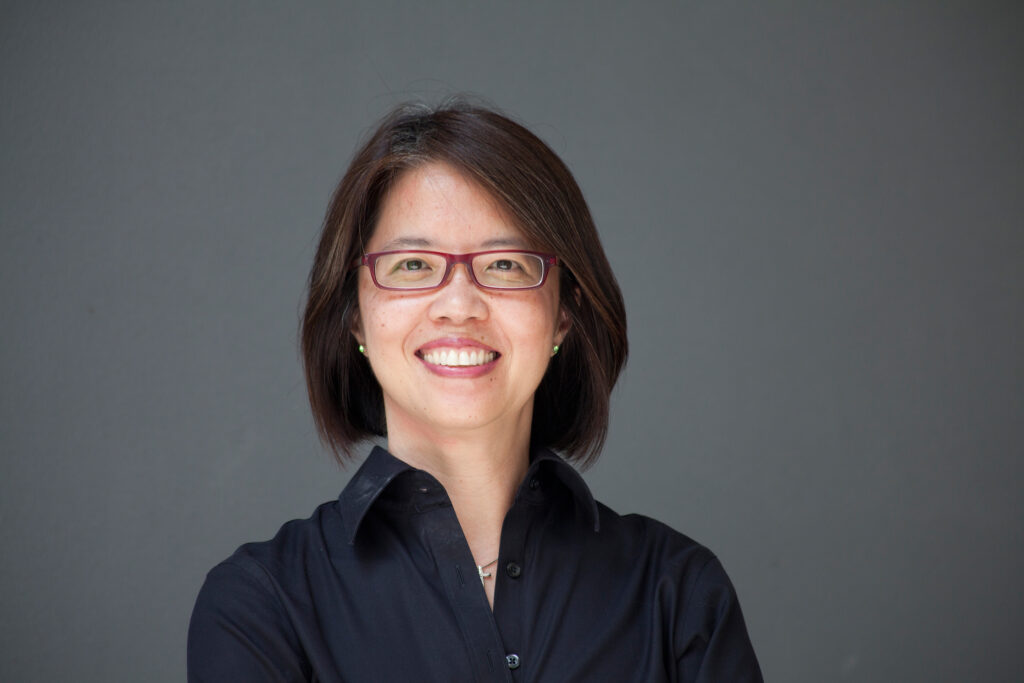 1. How and why did you join the movement to end violence against women (VAW) and how did you come to be the executive director of the Association of Women for Research and Action (AWARE)?
My journey with AWARE first started in 1992 as a volunteer in the legal clinic. I was already a practising lawyer, and the volunteering work pushed me to become more involved with AWARE's work. My involvement slowly increased over the years, and in 2010 I was appointed the first executive director of AWARE.
2. Could you give us an overview about AWARE's approach to stopping VAW?
Violence against women occurs in different forms: domestic violence (including coercive control), sexual violence (including technology-facilitated sexual violence and workplace harassment). AWARE tackles these different areas through a wide range of initiatives and programmes.
As an advocacy group, AWARE has contributed towards and called for strengthening of laws dealing with violence against women. AWARE also identifies, conducts research on and fosters discussion around issues relating to VAW. This July, we released a comprehensive Omnibus Report on Gender Equality that was a culmination of 36 years of gender research and advocacy. The report's 88 policy recommendations covered a range of issues faced by women over the course of their lives, including VAW. The recommendations are being reviewed by the government as part of their ongoing national gender equality review. Our upcoming research report (to be launched in November 2021), for example, examined the career and financial impacts of workplace sexual harassment on women in Singapore.
AWARE is also an important provider of support services for women in Singapore. We offer case management, counselling, legal advice, befriending and other assistance to victim-survivors of gender-based violence. Last year, we received 6,712 calls to our Women's Helpline, and 1 in 4 of them pertained to abuse and violence. We also conduct a workshop called Sexual Assault First Responder Training (SAFRT), which has to date equipped more than 1,000 members of the public with the skills and knowledge to sensitively support the sexual violence survivors in their lives.
Lastly, AWARE's corporate training arm, Catalyse, conducts customised workshops and private consultation on various workplace issues, including workplace harassment.
3. Could you tell us about the assistance and services that AWARE provides to women and girls in Singapore who are facing VAW?
We provide several services and avenues for girls and women to seek help.
At our Women's Care Centre, our Women's Helpliners and counsellors offer emotional support to women facing abuse and violence (e.g. domestic violence) and help them to come up with the best course of action for their situations. That may involve filing a police report or making an application for a personal protection order, or referring them to a family Violence specialist centre or crisis shelter. They may also help the client to formulate a safety plan, which allows her to visualise the steps she could take in an emergency.
Victim-survivors facing sexual violence of all types can reach out to AWARE's Sexual Assault Care Centre (SACC). SACC offers sexual violence survivors trauma-informed support through case management, legal consultations, befriending services and counselling. Our support for these survivors takes the form of creating a safe space, understanding their needs and concerns, exploring their practical options, helping them make informed decisions about their next steps (including police reporting or other legal or practical actions) and providing emotional support to process and cope with their experience. 
4. What are some of the particular challenges that AWARE has faced and continues to face when tackling VAW in Singapore?
AWARE's advocacy, particularly on sexual violence, tends to run up against entrenched rape myths and victim-blaming in the wider Singapore public. For example, in a 2019 survey by AWARE and Ipsos, 45% of Singaporeans agreed that women who wear revealing clothes should not complain if men make comments about their appearance. Victim-blaming places the blame for sexual violence on the survivor by implying that she was responsible for preventing her assault — instead of placing the blame on the person truly responsible, i.e. the perpetrator.
Indeed, seven in 10 clients at SACC ultimately do not report their experiences of sexual violence to authorities. Some of the reasons given are a fear of not being believed (in part due to the above victim-blaming attitudes that are widespread), as well as a reluctance to undergo the arduous and lengthy criminal justice process. AWARE has been advocating for the criminal justice system to be made more trauma-informed and empathetic to survivors, but while steps have been taken, survivors continue to recount insensitive interactions with officials when filing reports about assault.
Another pressing issue is the overall dearth of comprehensive sexuality education in Singapore – specifically, education that covers consent. A 2020 survey AWARE conducted on 539 youths, ranging in age from 17 to 25 years, found that of the respondents who indicated prior engagement in sexual activity, only slightly more than half stated that they had discussed sexual consent with their most recent partner. While most respondents were able to identify whether consent had been obtained in a range of scenarios, they were less sure when it came to situations involving a) underage sex and b) a reluctant partner being coerced or urged to say yes.
Meanwhile, Singapore lacks specific legislation against workplace harassment. While the Protection from Harassment Act (POHA) criminalises harassment-related behaviour, it does not provide an employee protection from retaliation in the workplace, nor does it impose any legal responsibilities on employers to prevent harassment or take action against workers who may have committed an offence.
5. Over the years, what sort of impact has AWARE's work had on stopping VAW in Singapore?
Since its registration in 1985, AWARE has advocated for and implemented a range of measures to achieve gender equality. There have been many notable milestones over the 36 years, such as:
In 1995, then-AWARE president and nominated member of Parliament Kanwaljit Soin tabled a Family Violence Bill, provisions from which were eventually incorporated into amendments to the Women's Charter in 1996. These provisions expanded protections for domestic violence victims by widening the definition of violence beyond spouses and children to other family members, and including emotional and psychological harm on top of physical harm. Victims could obtain Personal Protection Orders from a newly established Family Court. The Court could issue mandatory counselling for both victims and perpetrators, and penalties were also increased.
AWARE's 2008 research on workplace sexual harassment and the 2012 report that highlighted inadequacies in the system contributed to the passing of the Protection From Harassment Act (POHA) in 2014. Over the years, AWARE has campaigned and collaborated with various individuals and groups for improvements to be introduced to POHA, including criminalisation of harassment, stalking and intimate partner violence.
2014 also marked the launch of SACC, which has since then expanded to meet the high demand for its services. The rise of the global #MeToo movement led to a 79% increase in survivors reaching out in the last quarter of 2017. Those high levels continue to today — in 2020, SACC assisted a total of 1,018 clients.
After more than a decade of advocacy by AWARE and other groups, marital rape immunity was finally repealed in 2019 with Singapore's Criminal Law Reform Bill.