Welcome to part one of our August 2021 Inspirational Interview with Sarah Benson, the chief executive officer of Women's Aid Ireland. Ms. Benson previously worked as the CEO of Ruhama, an Irish NGO working nationally with women involved in sex work, including victims of sex trafficking, and as the manager of the 24-hour National Freephone Domestic Abuse Helpline. She has extensive experience in work in the community and voluntary sector both in Ireland and abroad. Throughout her career, Sarah's passion for human rights, social justice and equality — in particular for women and girls — has been a constant feature.
Part 2 of this interview will be published on 30 August 2021.
Photos courtesy of Women's Aid Ireland.
---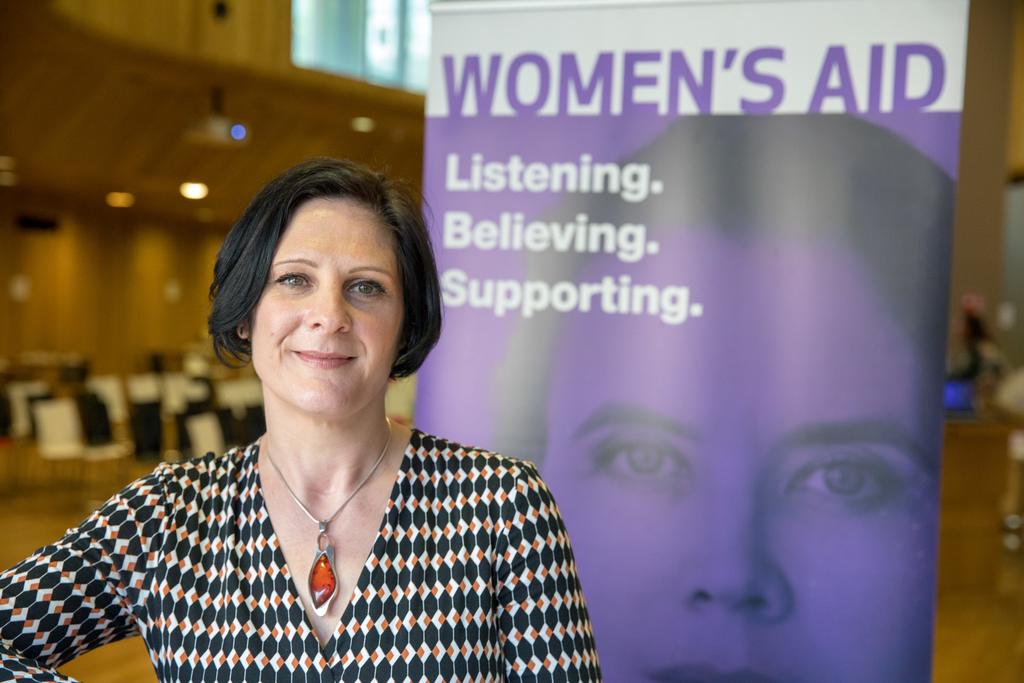 1. How and why did you join the movement to end violence against women (VAW) and how did you come to be the CEO of Women's Aid in Ireland?
I have always, since a child, been preoccupied by the idea of fairness. As I got older, the clearest example of inequity visible to me was the divide between the opportunities, expectations and standards applied to men versus women. I also experienced and witnessed harassment and abuse of girls and women growing up.
Through a degree in gender and women's studies, my understanding of inequality evolved from my own lived experience to embrace a more intersectional perspective. Recognising not just the factor of sex but also class, race, disability and sexuality in perpetuating structural inequalities that enabled male oppression and violence against women and girls. Thereafter, my entire career trajectory has held common threads with roles that focused on: empowering women and girls; on supporting those subjected to violence and abuse; on challenging and changing those social norms, policies, practices and laws which perpetuate unfair practices and impede women and girls from fulfilling their full potential.
My current work as CEO of Women's Aid Ireland enables me to work simultaneously on all of these fronts with a remarkable and committed team, which is incredibly rewarding.
2. Could give us an overview about Women's Aid, your campaigns, and your approach to stopping VAW?
At Women's Aid, we work to make women and children safe from domestic violence. We offer support to women through the 24-hour National Freephone Helpline — 1-800 341-900 — and a number of face-to-face services in the greater Dublin area.
We also work to provide hope to women affected by domestic violence and abuse by working for justice and social change. We do this through specialised training programmes, influencing government and policy and public awareness-raising and campaigns. We run a number of campaigns including the Too Into You campaign, through which we aim to raise awareness of intimate relationship abuse against young women.
We also run the Femicide Watch project, where we publish the names of the women who have died by violence each year in order to honor their lives and raise awareness of femicide.
We also take part in the 16 Days of Action Against Violence Against Women each year which gives us an important opportunity to call for changes at an international, national and local level to make women and children safe from abuse. We support and collaborate with our colleagues in the domestic, sexual and gender-based violence (DSGBV) sector to prevent and combat all forms of violence against women and girls.       
3. Women's Aid has been working in Ireland to stop domestic violence against women and children since 1974. What are some of the particular challenges that Women's Aid has faced — and continues to face — when tackling VAW in Ireland?
There has been some positive shift in social, cultural and political attitudes toward women subjected to abuse in Ireland over the last number of years, and toward perpetrators. However a number of significant obstacles remain for effective prevention and combating of all forms of domestic abuse. There is still a stigma at the community level that is victim blaming and colludes with domestic abuse perpetrators by frequently minimising coercive and controlling behaviours.
Many barriers to women's and children's safety are exposed within the family law courts. We know from working directly with victims/survivors that the family law system often fails to protect women and children from domestic violence and abuse. Core issues within the system include: a lack of communication between the family and criminal courts; the voice of the child not being heard or acknowledged, a pro-contact culture that gives abusive fathers access to children and many issues that relate to a lack of training for stakeholders in the legal system to increase understanding of the tactics and impacts of coercive control, which is at the root of domestic violence and abuse.
Until recently, a lack of legislation in relation to digital abuse stood as a significant roadblock to tackling abuse in the digital sphere. However, we are seeing progress now with the introduction of the Harassment, Harmful Communications and Related Offences Act 2020 and the forthcoming Online Safety and Media Regulation Bill.
4. Over the years, what sort of impact has Women's Aid's work had on the anti-violence against women movement in Ireland?
As a leading national organisation working to stop domestic violence in Ireland, we have played a crucial role in the anti-violence movement. Our services have directly supported tens of thousands of women who have been subjected to domestic violence and abuse.
Additionally, our social change work has effected a shift in public perceptions and understanding of domestic violence to increase support for survivors/victims as well as contributing significantly to meaningful legislative and policy change, including for example: the Domestic Violence Acts of 1996 and 2018, the Sexual Offences Act 2017 and the Harassment and Harmful Communications Act 2020.
Over the course of 47 years since we were founded, we have built up a huge body of experience on abuse and violence which has not only helped to best support those that reach out to us, but has enabled us to share our experience and combine it with that of other organisations and allies in the sector so that we can work together to tackle the issue of all forms of abuse of women and girls through: prevention measures, protection for survivors and effective sanction of perpetrators. 
5. One of Women's Aid's major campaigns is the Women's Aid Femicide Watch, which tracks the killing of women and girls by men in Ireland. Over the past 5 years, we have interviewed activists like Dawn Elizabeth Wilcox, Annita Lucchesi, and Kathomi Gatwiri, who discussed the particular challenges they have faced in tracking femicide numbers. For Ms. Wilcox it is the huge population and geographical size of the USA. For Ms. Lucchesi, it is the difficulty of accessing data on the numbers of murdered and missing Indigenous women. For Dr. Gatwiri, it's accounting for women in remote villages and urban slums whose murders are rarely documented in the media. What are the specific challenges that the Women's Aid team has to deal with when counting femicides in Ireland?
A total of 20 women were killed in Ireland in 1996, the majority of victims in their own homes and by someone known to them. Women's Aid had, at that stage, been working to protect women and children for just over two decades, and we were deeply aware of the level of danger and risk to women's safety. We knew that there was an urgent need to build understanding of how dangerous domestic violence could be so we began recording and highlighting homicide cases and violent deaths where the victims are female in the Republic of Ireland through Femicide Watch.
We are deeply committed to the project. However, charting the cases of homicide is difficult and sensitive work and the difficulty is compounded by having to rely solely on media reporting of cases rather than having access to official records and because the state does not record femicide. While the sex of murder victims is recorded, there is no additional information on the sex of the perpetrator nor the relationship between perpetrator and victim. Media reporting is not consistent for every case, with some victims garnering more attention than others.
Our current statistics show that nine in 10 female murder/manslaughter victims are killed by a man known to them and that a current or former male intimate partner kills one in every two women murdered in Ireland. This cannot remain an accepted "fact of life" for women. Internationally and in Ireland, the links between femicide and domestic violence are well established, and it is clear that a strategy to reduce femicide should address domestic violence and other forms of male violence against women.