Welcome to part two of our April 2021 Inspirational Interview with Tony Mwebia, founder and executive director of the Men End FGM Foundation.
Tony Mwebia started this online and offline campaign in Kenya that rallies men and boys to join the quest to eradicate female genital mutilation (FGM), child marriage and other forms of sexual and gender based violence (SGBV). Additionally, he is a gender equality advocate and writer for online and offline publications.
In this part of the interview, Mr. Mwebia discusses Men End FGM's plans for the future and how to engage men and boys in opposing violence against women and girls.
Part one of this interview was published on 25 April 2021.
Photos courtesy of the Men End FGM Foundation.
---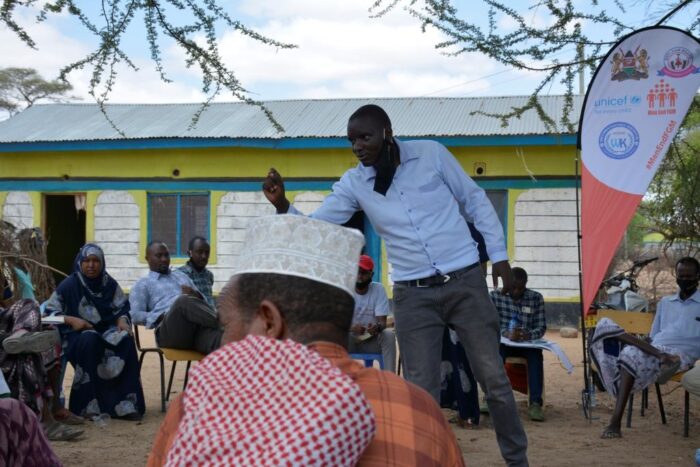 6. Men who speak up and intervene when they witness their male peers harass, assault or attack women and girls are still very much in the minority. Even though the #MeToo movement has influenced some men to start changing their attitudes and to take action, many still choose to remain silent. Based on your experience, what would it take to successfully reach out to and mobilise this silent majority to take action to stop violence against women and girls (VAWG)?
The majority of men who continuously remain silent when VAWG is perpetrated are the biggest issue in the quest to eradicate VAWG. To get them speaking we need mass sensitisation on the effects of VAWG, followed by popular mobilisation to ensure they understand the need to speak up every time they witness such actions from their peers. We need to have support groups for men and empower them to openly call out those engaged in such activities without fear of victimisation. Men End FGM campaign envisions such as space where men can openly refer to and join hands with other men who are calling out those engaged in acts of FGM and other forms of VAWG.
7. What are some of the first steps you would suggest that men and boys take if they wish to become male allies in the fight to end VAWG?
The first steps to becoming male allies in the fight against VAWG is self-awareness. Those wishing to become allies should enlighten themselves on different forms of VAWG and then interrogate themselves on whether they have contributed to any forms of this violence consciously or unconsciously. After becoming self aware, then they can comfortably start engaging other men and creating spaces for discussions and engagements with them on issues of VAWG.
These men should also create trust between them and survivors of VAWG as the primary people who are affected. They should be very careful not to do more harm to them in their quest to eradicate VAWG.         
8. Tell us about Men End FGM's plans for the next five years – what campaigns, programmes or projects do you have coming up in the next five years?
We will strengthen our popular mobilisation to have men and boys join the quest to eradicate FGM, child marriage and other forms of VAWG by continuous training of male champions across Kenya, engaging survivors of VAWG in sharing their stories, carrying out activities in and out of school, lobbying for policies on engaging men and boys in the fight against FGM and other forms of VAWG, and resource allocation from both national and county governments towards eradication of VAWG.
We intend to also hold the government and its key agencies accountable on their commitments to end FGM and all forms of VAWG in Kenya. Our target is to have presence in the East African states by 2025, implementing advocacy initiatives at both in-country and regional levels.
We also envision #MenEndFGM to be a global movement just like #MeToo where all men and boys involved in the quest to eradicate GBV can relate to and use as a means of amplifying their voices worldwide.
9. How can The Pixel Project's supporters engage with and support the efforts of Men End FGM to stop FGM and other forms of VAWG in Kenya?
We are limited by both financial resources and human resources. Men End FGM would appreciate support from The Pixel Project's supporters in form of volunteers to revamp our website to be more interactive with our audience, and content generation for online campaigns (Twitter, Facebook, YouTube and Instagram) aimed at making #MenEndFGM a global campaign.
Our offline programs require funding, hence we need support in fundraising (writing winning proposals, online fundraising). We acknowledge that a successful programme implementation is as good as the implementing team; hence, we need support in capacity building with relevant trainings to equip them with better skills in advocacy on FGM and VAWG.
10. In your considered opinion, how can we end violence against women for good?
We can completely eradicate VAWG by actively engaging all genders in our interventions. VAWG is mainly driven by patriarchy and gender norms that discriminate against women and girls. By engaging everyone in our interventions and conversations, we ensure that we move together as a society and no one is left behind. When everyone understands, then we will be able to end VAWG sooner. This is our main goal at Men End FGM, where we ensure that men are not left behind in the conversations around ending FGM, child marriage and other forms of VAWG. We note that FGM is done mainly for marriageability purposes, and by having men on board then we are able to curb this demand for cut girls. This has led to reduced cases of FGM, child marriage and teen pregnancies.