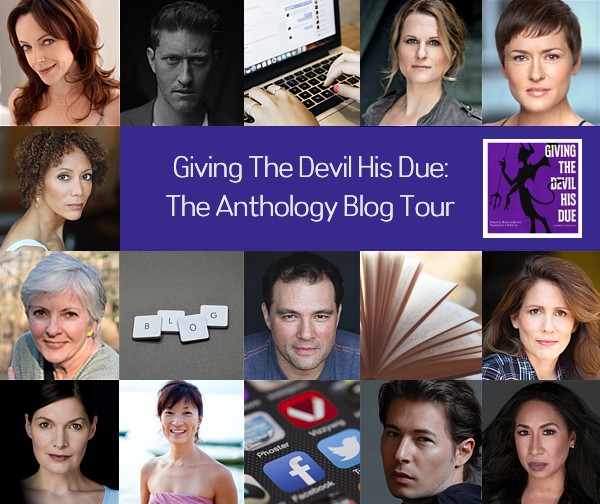 Calling all audiobook book bloggers who are interested in joining efforts to stop violence against women (VAW)! The Pixel Project invites you to be one of our stops on our blog tour for
the Audie Awards-nominated audiobook
of
Giving The Devil His Due
, our first charity anthology, to help raise awareness about VAW during Sexual Assault Awareness Month in April 2023.
Produced in partnership with Voiceworks Audio, the anthology's sixteen speculative fiction stories about men who perpetrate violence against women and girls meeting their comeuppance in uncanny ways are read by a cast of twelve of today's finest audiobook narrators: Alyssa Bresnahan, Brian Nishii, Christina Moore, Cynthia Farrell, Edoardo Ballerini, Erin Moon, Karen Chilton, Kate Forbes, Nancy Wu, Robin Miles, Samuel Roukin, and Stephanie Cozart.
Giving The Devil His Due includes stories by major names and rising stars in Fantasy, Science Fiction, and Horror including Angela Yuriko Smith, Christina Henry, Dana Cameron, Errick Nunnally, Hillary Monahan, Jason Sanford, Kaaron Warren, Kelley Armstrong, Kenesha Williams, Leanna Renee Hieber, Lee Murray, Linda D. Addison, Nicholas Kaufmann, Nisi Shawl, Peter Tieryas, and Stephen Graham Jones. The audiobook includes resources for victims and survivors of VAW worldwide, making it a valuable tool for getting life-saving information to domestic violence victims still under their abuser's control or rape survivors who are too ashamed to ask for help. 100% of the net proceeds from the sales of the anthology will go towards supporting The Pixel Project's anti-violence against women work.
Your voice matters – sign up for the blog tour today. Your participation will help us get as many people writing and voices talking about the book and the importance of stopping VAW as possible so that victims and survivors will realise that they are not alone and that help is out there.
The deadline for signing up for the blog tour is 11.59pm Pacific (Los Angeles) Time, 10 April 2023.