Welcome to part one of our June 2021 Inspirational Interview with Payzee Mahmod, a campaigner for IKWRO – Women's Rights Organisation. She is a survivor of female genital mutilation (FGM) and child marriage, who lost her sister Banaz in a tragic "honour" killing. A Kurdish immigrant raised in London, Payzee campaigns alongside IKWRO to tackle harmful practices. She has reached international audiences and has spoken widely on the need for changes to the laws surrounding child marriage and "honour" based abuse in her TEDX talk (watched nearly a million times, across radio, television and newspapers, including The Sunday Times and the BBC). Payzee campaigns for better education, training and legislation to finally make child marriage a crime.  Follow her on Instagram and Twitter.
Part 2 of this interview will be published on 28 June 2021.
Photos courtesy of Payzee Mahmod and IKWRO.
---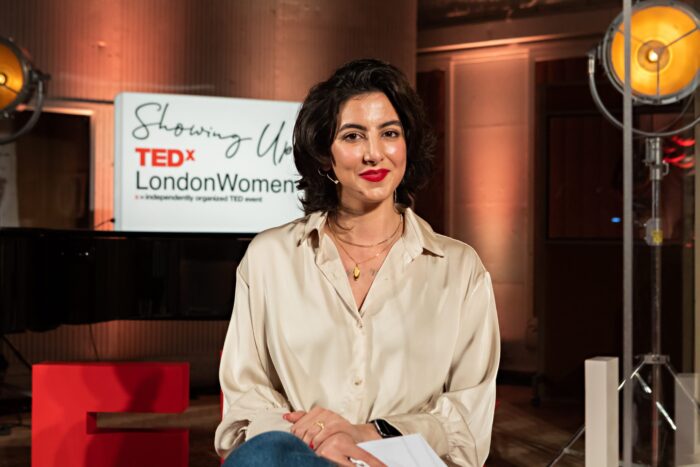 As a survivor of female genital mutilation (FGM) and child marriage, you have courageously campaigned for the eradication of these forms of violence against women (VAW). What motivated you to begin speaking up publicly and how did you come to join the Iranian and Kurdish Women's Rights Organisation (IKWRO) as their campaigner?
When I was 18, my sister's life was tragically taken in a so-called "honour" killing. The following year I went to watch every day of the trial. On one of those days, I saw a group of Kurdish women outside the court with a huge banner with my sisters' name and photo on it; they were campaigning and demanding justice for Banaz. It's a moment that will stay with me forever. I felt so inspired and moved by those women, but I had to admire them from afar. Over a decade later, I started to talk about what had happened and I contacted IKWRO and joined their team. It has been almost two years now, and I am very honoured and proud to work for an organisation that advocates for women and girls going through things I have experienced.
IKWRO was established in 2002 to challenge the gender-based violence that women from the Middle East and Afghanistan experience including domestic violence, forced marriage, FGM, and 'honour' based violence. How did IKWRO come to be founded?
When our executive director, Diana, settled in the UK with her daughter, she was assigned a Kurdish interpreter. When Diana learnt her interpreter had become the victim of a so-called "honour" killing, she felt compelled to set up an organisation to address the unmet need for specialist support for women. IKWRO was founded to offer advocacy and professional counselling for women and girls impacted by "honour" based abuse, to train professionals and to campaign to make crucial systemic changes to the law and safeguarding.
Can you tell us about IKWRO's approach to tackling VAW and how it has developed over the years?
IKWRO is run by and for women from Middle Eastern and North African (MENA) communities. We have a specialised understanding of the situations our clients face which we bring alongside professional skills to our advice, counselling, and refuge services. Originally, we worked with Kurdish and Iranian women and girls and in response to demand, we have expanded to represent women and girls from all MENA communities. Our team speaks each of the key relevant languages so that our clients can express themselves directly, without needing interpreters. Our campaigning is so impactful because it is directly informed by our clients' experiences.
What are some of the particular challenges that the UK faces when tackling violence against women from Middle Eastern backgrounds, and what sort of impact has charities like IKWRO had on the country's approach and attitudes towards handling cultural forms of VAW such as forced marriage, FGM, and 'honour' based violence?
IKWRO plays a crucial role in challenging cultural relativism and advocating for universal rights. We make it clear that neither culture nor religion must ever be used as a justification for abuse. There is no justification for violence against women and girls, on any grounds. At the same time, we advocate for cultural sensitivity and the crucial role that specialised organisations like IKWRO play, as we have earned the trust of the women and girls that we support and represent.
With the Coronavirus pandemic currently raging on, the rates of VAW including domestic violence, child marriage and FGM have been surging worldwide. How has IKWRO adapted in order to continue helping women and girls while adhering to the safety measures needed to curb the virus?
From the start of the pandemic, IKWRO has ensured our clients are still able to access our services. IKWRO's refuge has been running throughout, with measures in place to ensure the safety of our clients. Where appropriate, we moved our counseling and advocacy services online and via the telephone, which has actually better suited some, for example some women with young children who previously found it difficult to reach appointments. With the pandemic exacerbating VAW, it has demonstrated more than ever the need for IKWRO's specialised work.