"Sports is a metaphor for overcoming obstacles and achieving against great odds. Athletes, in times of difficulty, can be important role models." – Bill Bradley, Basketball Player and Olympic Gold Medallist
In the celebrity-obsessed world of the 21st century, sports has become big business. Talented superstar athletes, whose sporting achievements are routinely broadcast directly into households across the world, are so influential that they are identifiable by just one name – Serena, LeBron, Simone, Beckham, Flo-Jo, Ronaldo – even by people who are not sports fans. As such, there is no doubt that athletes can be influencers on key social and cultural issues, within or outside their sport, especially since many of them command huge social media followings. 
The #MeToo movement has accelerated the exposure of routine violence against women (VAW) in nearly every type of sport at every level, with increasing numbers of women and girls coming forward to expose the male predators, rapists, and abusers who have long controlled or wrecked their careers. This puts celebrity athletes in a uniquely powerful position to speak out about the prevalence of VAW in sport, whether it is the sexual assault of girls in gymnastics by sports doctors, coercive control by male coaches in equestrian sports, or the coercion of female athletes with high levels of testosterone to undergo female genital mutilation in order to be allowed to compete in their sport. 
In this article, we honour 16 prominent sportspeople from across 12 countries and 4 continents who have taken courageous action to speak out about VAW in their sport, even when the odds are against them. They represent a diverse range of sports, from boxing, running, swimming, skiing, and tennis to soccer, gymnastics, sailing, American football, equestrian sport, and Judo. We hope that they will inspire other athletes in their sport or other sports to get involved with the cause. To that end, we ask that you share this list with your local sportspeople and communities as part of galvanising them to take action to end VAW.
It's time to stop violence against women. Together.
Written by Anushia Kandasivam and Regina Yau. Research by Regina Yau, Su-Ann Cheng, and Vani Bhardwaj.
Inspired to support The Pixel Project's anti-violence against women work? Make a donation to us today OR buy our Shirley Jackson Award-nominated 1st charity anthology, Giving The Devil His Due. All donations and net proceeds from book and audiobook sales go towards supporting our campaigns, programmes, and initiatives.
---
Sportsperson Against VAW 1: Farkhunda Muhtaj (Soccer/Football) – Afghanistan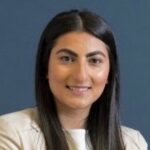 Farkhunda Muhtaj is midfielder at Dutch football club Fortuna Sittard and former captain of the Afghan women's football team. Also a human rights activist, Muhtaj works to raise awareness in sportspeople of violence against women. When Afghanistan fell to the Taliban in 2021, Muhtaj, who was residing in Canaa at the time, played a vital role in helping the Afghan female youth football team and their families, who were in real danger of gender-based violence by the Taliban, flee the country. She assisted the Afghanistan Football Federation to coordinate the departure of the girls and their families and served as a point of contact for the group as the rescue mission, called Operation Soccer Balls, was coordinated through an international coalition of military, intelligence and humanitarian groups. After several attempts at escape, the girls were successful and finally granted asylum in Portugal, where Muhtaj stayed with them to provide support and coaching.
Sportsperson Against VAW 2: Madeline Groves (Swimming) – Australia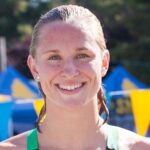 Dual Olympic swimming medallist Madeline Groves gave Australia's swim sport its #Metoo moment when she took to Twitter to publicly accuse two of the country's top swim coaches (Michael Palfrey and Glenn Beringen) of abusing her from when she was aged 13 to 18. She tweeted: "You can no longer exploit young women and girls, body shame or medically gaslight them and then expect them to represent you so you can earn your annual bonus. Time's UP." Groves' tweets not only kicked off much-needed public discussion about the culture of misogyny in the sport but also resulted in the appointment of an independent panel to investigate sexual, physical, and other abuses faced by women and girls from male coaches. Since then, Groves has continued her advocacy work, saying: "It just really seems like there is this vicious cycle of using and abusing female athletes until they're burnt out and broken. I feel like if I didn't speak out, if there's not a proper investigation into the culture of this sport in Australia, that cycle is just going to continue forever."
Sportsperson Against VAW 3: Maggie Kehring (Equestrian Sports) – United States of America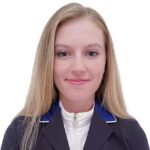 Last year, national equestrian Maggie Kehring accused her coach Rich Fellers of sexual abuse, saying he had groomed her into a relationship when she was in her mid-teens while she was training with him. When accusations became public, more than a dozen people reported Fellers to the US Center for SafeSport, an independent entity established to investigate allegations of sexual misconduct in Olympic sports (created in response to the USA Gymnastics abuse cases). Fellers was eventually arrested and charged with four counts of second-degree sexual abuse. Kehring has and is experiencing backlash and pressure from the insular equestrian community for speaking out against one of its 'heroes' but stands strong despite suffering from depression. Her case has engendered discussion and examination of institutionalised abuse and entrenched misogyny in the equestrian community in the US.
Sportsperson Against VAW 4: Margaux Pinot (Judo) – France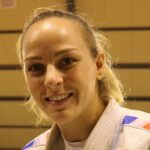 Margaux Pinot is a world-renowned Judo champion with a career filled with medals, including a gold in the mixed team event at the 2020 Tokyo Olympics, and a bronze at the 2019 World Championships. However, being a martial arts champion was not enough to prevent her partner and coach Alain Schmitt from battering her. When Schmitt was acquitted, Pinot responded by publicly sharing a picture of her battered face via her Twitter account. Her caption, written in French, said: "What was missing? My death at the end, perhaps? It's probably judo that saved me and my thoughts go out to other women who cannot say the same." Her bravery in going public resulted in a groundswell of support for her by France's sports minister, Roxana Mărăcineanu, the French Judo federation, the mayor of Paris, and French Judo athletes.
Sportsperson Against VAW 5: Mary Wacera Ngugi (Running) – Kenya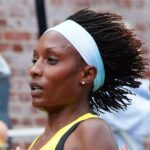 In October 2021, marathon runner Mary Wacera Ngugi was on her way back to Kenya following a third-place finish at the Boston Marathon when she received devastating news – her fellow runner Agnes Tirop, who had broken the world 10K record on the road, was found stabbed to death at her home in Iten, Kenya. Tirop's husband, Ibrahim Rotich, was arrested for her murder. After Tirop's murder, Ngugi started the Women's Athletic Alliance which aims to support female Kenyan athletes experiencing abuse and educate women and girls about the red flags for domestic violence. Ngugi received global support for her activism but noted that Kenyan male athletes were staying mum. She told Women's Running magazine: "Everybody was talking about Agnes but they were silent," says Ngugi. "They all knew her, they had been to the Olympics with her. I'd love to see more men, especially the athletes in Kenya, talk about this but they're not, which makes me mad. They feel we are attacking them, but we are not."
Sportsperson Against VAW 6: Noah Hoffman (Skiing) – United States of America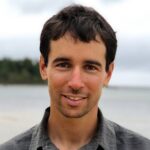 Two-time Olympic skier Noah Hoffman confessed to not knowing much about domestic abuse before contributing to the Winning Recipes cookbook, an idea by the Purple Project, an organisation that supports domestic violence shelters in the US. Hoffman says he was humbled to learn about the prevalence of domestic violence and realised that "the role of the athlete has changed" and that athletes must "speak out and really feel passionately and want to see the world a better place." He believes that athletes should use the immense power and leverage they have to help organisations do the work they do, and that athletes speaking out about gender-based violence will not only empower others to do so but also make their respective sports stronger. 
Sportsperson Against VAW 7: Pandelela Rinong (Diving) – Malaysia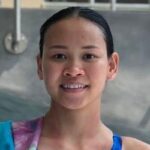 Malaysian national diver Pandelela Rinong made local headlines in 2021, not for winning another medal, but for revealing that she had been bullied by a former coach after she called him out for making rape jokes. In a series of tweets that went viral, Pandelela revealed she had kept quiet for a long time because she had been afraid of her coach at the time, that he had gotten away with bad behaviour because of "backup" from the top, and implied authorities had turned "a blind eye to evil". Her revelations shook up conservative elements in Malaysian society but also ignited a countrywide conversation about sexual harassment and assault in national institutions. She received widespread praise for her bravery, including from the former minister of youth and sports. Pandelela said that she did not regret her decision to speak up even though she has been judged and pressured to remain silent. She has since taken a strong stand for survivors and against bullying, tweeting that "those abused must speak up, please! Small voices still matter if we are united."
Sportsperson Against VAW 8: Peng Shuai (Tennis) – China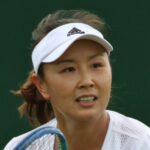 Chinese tennis star Peng Shuai was in the midst of her comeback in the sport when she made her crucial decision to go public on China's social network Weibo about being sexually assaulted by China's former vice-premier Zhang Gaoli in his home while his wife and at least one other person were also in the house. Peng deleted the post 30 minutes after she went public but her fame as a tennis player did not protect her–and all public and online references to her–from being censored by the Chinese government for weeks afterwards. She also disappeared for three weeks until an international campaign put enough pressure on China to provide proof that she was safe and well. In doing what she did, Peng broke the silence around sexual assault and rape in China, becoming the highest profile #MeToo case in a country where there are routine crackdowns on women's groups and governmental silencing of victims and survivors. 
Sportsperson Against VAW 9: Rukhsar Habibzai (Cycling) – Afghanistan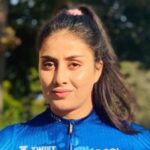 Pioneering female cyclist Rukhsar Habibzai was a champion of the women's 'right to ride' revolution to fight for the right of women and girls to ride bicycles and the captain of her nation's first women's cycling team. The team was nominated for the Nobel Peace Prize in 2016 for their courage in defying gender taboos in Afghanistan. Like many Afghan women, Habibzai was forced to leave Afghanistan as part of the mass evacuation of vulnerable citizens who faced targeted gender-based violence by the Taliban. Habibzai currently resides in the US and continues to speak out for Afghan women's human rights to shine a light on the Taliban's vicious and violent misogyny against Afghan women and girls. She told Cycling News: "I hope for peace for all of the women who worked hard for women's rights and for their futures. I hope that one day I will hear the news that there is no longer the Taliban in Afghanistan."
Sportsperson Against VAW 10: Sarah Voss (Gymnastics) – Germany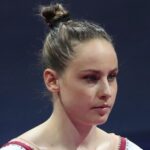 German national gymnast Sarah Voss scandalised the staid and rules-gripped world of gymnastics in 2021 by competing in the European Championships in a full bodysuit. While the rulebook allows outfits covering legs in international competitions, most athletes are told to wear leotards that expose their whole legs, sometimes up to the hip. Voss chose to wear a bodysuit as a stand against the sexualisation of female athletes and that she wanted to be "a role model for young gymnasts who don't feel very safe in every situation". The German national team stood with her, opting to wear full bodysuits at the European Championships and providing the option to team members at the Tokyo Olympics so that "everyone feels comfortable", earning praise from fellow competitors in a sport that has been rocked by widespread cases of sexual and physical abuse in recent years. 
Sportsperson Against VAW 11: Simone Biles (Gymnastics)– United States of America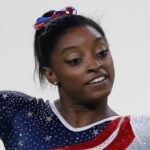 Olympic gold medallist Simone Biles is possibly the most high-profile advocate-athlete speaking out against sexual abuse in gymnastics. In 2021, she testified before the U.S. Congress that the Federal Bureau of Investigation (FBI), USA Gymnastics, and the United States Olympic and Paralympic Committee had consistently turned a "blind eye" to USA Gymnastics team doctor Larry Nassar's sexual abuse of her and hundreds of other female gymnasts. Together with her gold medal winning Olympic teammates Aly Raisman and McKayla Mulroney, as well as gymnasts from US Olympic teams, she succeeded in getting Nassar imprisoned for life. Biles said: "I am not afraid to tell my story anymore. I too am one of the many survivors that was sexually abused by Larry Nassar. […] I will compete with all of my heart and soul every time I step into the gym. I love this sport too much and have never been a quitter. I won't let one man and the others that enabled him, to steal my love and joy." 
Sportsperson Against VAW 12:  Smangele Hadebe (Boxing) – South Africa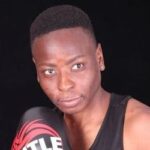 South African boxer Smangele 'Smash' Hadebe dedicates her fights to women and children who were abused and cannot speak for themselves. The African Boxing Union flyweight champion is devoted to being the "voice of the voiceless" because she herself kept secret the fact that she was sexually molested for two years. Knowing how difficult speaking up is in a country where violence against women and children is an epidemic, Hadebe uses her platform to encourage women and girls not to remain silent and to "let the world know about this shameful, inhuman, brutal and degrading vice in South Africa." She wears a helpline number on her kit during her well-televised bouts so that people know where they can get help and that they have her support. 
Sportsperson Against VAW 13: Sofia Bekatorou (Sailing) – Greece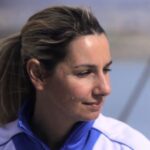 Olympic gold medallist Sofia Bekatorou brought the #MeToo movement to the sport of sailing in Greece in January 2021 when she appeared before a public prosecutor to reveal the sexual abuse she suffered at the hands of a senior member of the Hellenic Sailing Federation (HSF) before the 2000 Sydney Games. In doing so, she not only paved the way for more Greek women athletes to speak up about the abuse in sport but also broke the silence around the taboo surrounding sexual violence in her country. The subsequent enquiry triggered by her coming forward is considered groundbreaking in extremely patriarchal Greece. Bekatorou said that she decided to come forward because she wanted young athletes to be unafraid of speaking out and getting help. Maria Syrengela, the country's deputy labour minister in charge of gender equality issues, told The Guardian: "Sofia is one of the most popular athletes in our country, so symbolically her decision to speak out is very significant […] More women now will talk and we want them to talk."
Sportsperson Against VAW 14: Ugo Monye (Rugby) – England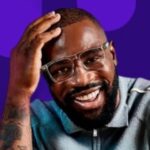 Sports pundit and former rugby union player Ugo Monye believes it is his "duty" to be a male ally for women's sports. Monye is the chair of the Rugby Football Union's Inclusion Advisory Group and recently became a trustee of the Women's Sports Trust charity. He has spoken about how male players can do more to publicly support their female colleagues and has played a key role behind the scenes in pushing for more quality media coverage of women's rugby. Monye believes that "sport doesn't have a gender" and, being passionate about rugby, he dedicates and positions himself "to try and protect the whole game, and that includes men's and women's rugby."  He says that men need to "Look beyond just the things that affect [them]" and that it "can't just be a flag bearing exercise". 
Sportsperson Against VAW 15: Vera Pauw (Soccer/Football) – The Netherlands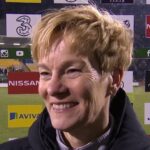 In June this year, Irish women's national football team head coach and former Netherlands defender Vera Pauw posted a statement on social media that she was raped by a prominent football official and sexually assaulted by two other men when she was a young player in 1986. She accused the Dutch football association (KNVB) of trying to keep the incidents quiet by refusing to open a full investigation. Pauw said that though she had kept the abuse private for the past 35 years, she had tried in vain for the past few years to have her case heard by the Dutch football authorities and was now ready to speak openly about it to do something to change her life and "help others who maybe are not there yet." After her public statement, KNVB opened an independent investigation that led to them admitting "unacceptable" failures and mistakes and issuing a public apology for mishandling her case and not providing her with the safe working environment she was entitled to. 
Sportsperson Against VAW 16: William Gay (American Football) – United States of America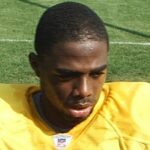 When he is not playing for the Pittsburgh Steelers, cornerback William Gay spends much of his time and energy campaigning against domestic violence. Gay's determined advocacy was sparked by the murder of his mother at the hands of her boyfriend in 1992 when Gay was just eight years old. Gay has spoken up for years, using his high profile as a football player to bring awareness to the cause. In 2015, he put his money where his mouth is by requesting that the NFL direct his $5,787 fine for wearing purple cleats for domestic violence awareness month to supporting domestic violence initiatives. In 2018, he partnered with then-vice president Joe Biden when he was appointed to the Biden Foundation's Advisory Council which focuses on ending sexual assault and violence against women. In an interview, Gay said: "You can talk about [domestic violence], you can do something about it. It's not embarrassing to let someone know or to try to help someone. The more you talk about it, the more you get people comfortable, that's the first ring of trying to eliminate these problems."
---
Photo Credits