The Pixel Project is 7 years old today:
7 years of our all-volunteer team across 6 continents collaborating to raise awareness, funds and volunteer power for the movement to end Violence Against Women (VAW).
7 years of establishing and growing our ongoing anti-VAW campaigns, projects, and programmes.
7 years of creating social media-based platforms that make it simple, enjoyable, and fun for everyone from the person on the virtual street to various online communities to get on board the cause to end VAW.
7 years of persistence in experimenting with (and implementing) positive, innovative and effective new ways of using online tools, social media, and pop culture/the arts to get the conversation about VAW going amongst individuals and communities.
7 years of helping amplify the positive stories of people around the world working to stop VAW as well as the women and girls who survive VAW tell their stories.
7 years of building partnerships with allies that range from anti-VAW organisations and campaigns of all shapes and sizes, to award-winning bestselling authors, to music artistes using their songs to sound the clarion call for the end to VAW.
7 years of developing and running our massive flagship Celebrity Male Role Model Pixel Reveal campaign in an effort to accelerate the shift in the conversation towards including men and boys in helping stop VAW.
It's been 7 interesting and action-packed years, to say the least!
And now, onwards to our annual review of the year that came before:
2015 has been a year of progress and growth for The Pixel Project in terms of both fundraising and awareness raising.
On the fundraising side, 2015 was the second year of our massive multi-year flagship Celebrity Male Role Model Pixel Reveal campaign in aid of the National Coalition Against Domestic Violence and The Pixel Project, raising another $13,697 (13,697 pixels) to reach $24,059 (24,059 pixels revealed) by December 31st 2015. This is a small but solid increase from $10,362 (10,362 pixels revealed) raised in our first year of our campaign… and we can now see bits of the first Celebrity Male Role Model's shirt clearly (check it out here: http://reveal.thepixelproject.net/view-celebrity/ or on the homepage here.)
We raised the funds via four (4) fundraising events:
The bulk of the funds were raised via our Read For Pixels campaign events:
Our first annual International Women's Day Edition in March featuring women writers only.
Our second annual Fall Edition in September featuring both male and female authors.
Since Read For Pixels began in 2014, we've had the honour of the support of 41 award-winning bestselling authors, with 24 of these worthy wordsmiths joining the campaign in 2015. They spoke out against VAW via live Google Hangout sessions and helped raise funds for the Pixel Reveal campaign via Indiegogo fundraisers choc-a-bloc with exclusive geeky goodies. 2015 Read For Pixels authors come from a wide range of genres and included well-known names and fan favourites such as Charlaine Harris, Meg Cabot, Tad Williams, Jonathan Maberry, Jennifer L. Armentrout, Rick Yancey, Lauren Beukes, and Marie Lu. Check out the full list of authors here and here.
We also discovered that Indiegogo weren't kidding when they said that having a video intro for our fundraising page would help tremendously – 8 out of the 12 authors who took part in the Fall 2015 Edition of Read For Pixels recorded video shout-outs for the campaign which we edited together with shout-outs from the Read For Pixels team into our first Read For Pixels promo video:
The result? We hit our highest fundraising total ever within a single fundraiser – $8,000 (8,000 pixels revealed). This was almost double the initial $5,000 fundraising goal we had set!
The remaining funds were raised via:
1. The Music For Pixels Summer Charity Concert which featured 23 artists from 5 countries saying NO to Violence Against Women (VAW) with their music and raising funds for the cause. The concert was held in partnership with the Positive Music Association and ran from 10am EST – 10pm EST on June 6th 2015 as 6 consecutive 2-hour sessions. Each session featured 4 artists performing a set of their songs, talking about why they support ending VAW, and taking fan questions live. On Indiegogo, these artists offered donors fabulous giveaways and perks ranging from live Skype concerts to special goodie packs for fans.
Check out the recording of the first 2-hour leg of the concert featuring our YouTube Music Ambassadors and #1 R&B group on YouTube, AHMIR, as well as Barbadian singer-songwriter Debbie Reifer, Los Angeles-based singer-songwriter Mary Scholz, and Philadelphia-based singer-songwriter and Positive Music Association member, Adam Web:
2. Our first ever #GivingTuesday fundraiser featured a range of exclusive goodies donated by 8 music artistes and 5 award-winning bestselling authors to encourage music fans and book lovers to give to the Pixel Reveal campaign. Learn more about it here.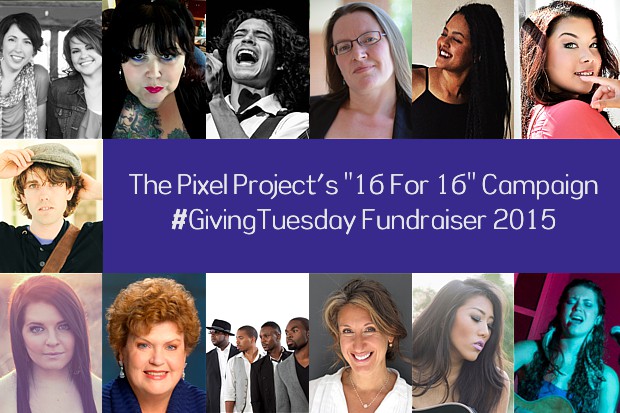 On the awareness-raising side, the rest of our ongoing campaigns continue to slowly but steadily build momentum and gain traction as they continue to support the Pixel Reveal campaign:
Our Facebook page passed the 46,000 Likes mark by December 31st 2015 with a very lively community respectfully discussing the various posts and news. In February 2015, we began to go viral thanks to an infographic featuring a comparison between shark attacks and rape with up to 12 million post reach at its high point. Since then, posts on our Facebook page has been going viral once every 2 months on average and we went from 21,000+ Likes to over 47,000 Likes at the time of this report.
The Twitter Tag Team now has over to 20,200 followers – that is over 1,000 more followers we had this time last year helping us retweet our daily global VAW helpline retweet session.
The "30 For 30" Father's Day campaign continued to successfully recruit good, non-violent dads from all walks of life to stand up publicly to say NO to violence against women for the 4th year in a row. We had dads from 12 countries including Australia, Canada, Egypt, India, Kenya, Malaysia, Nigeria, Rwanda, South Africa, Spain, the UK, and the USA.
The "16 For 16" blogging campaign in honour of the 16 Days of Activism Against Gender-based Violence also continues to grow as we accumulate an archive of positive articles packed with shareable ideas, information, and solutions for inspiring individuals and communities to take action to stop VAW.
The People and Pets Say NO photo statement campaign continues to run steadily with people from all walks of life submitting pictures of them and their pets saying NO to VAW during Domestic Violence Awareness Month. 2015 was the first year we started cross-posting them on our new Instagram account which is now gathering a steady stream of followers. In 2015, we also partnered on this campaign with CLIMB Against Sexual Abuse whose members from Cameroon, Greece, India, Lebanon, and the USA took part.
As always, we've achieved all that we have achieved as a team and in 2015, we welcomed the following volunteers:
Graphic Designers – Ashton Davis (USA) and Kimberly Rockhold (Australia).
Video Editor – Ashton Davis (USA)
Google Hangout moderators – Gianna Loor (USA), Grace Zhuang (USA), Heather E. Long (USA), Jeremy Teo (Malaysia), and Samantha Joseph (Malaysia)
Writers – Anushia Kandasivam (Malaysia)
Editor – Terry Lingrey (USA)
And we bid farewell to Karina Tayag (our longtime e-News Digest Coordinator), Gina Yap Lai Yoong (our longtime graphic designer), and Samantha Carroll (dedicated Read For Pixels team member and writer) and wished them all the best in their next phase in life.
Finally, we thank all the donors who have donated to our general fund to help keep us alive as an organisation:
From Hitbox gamer JROD's gaming marathon in December which inspired his fans to donate a total of $250, to friends, family, and VAW survivors who have donated what they can during these tough economic times – THANK YOU ALL SO MUCH! Even $10 helps so much in keeping our work alive!
The Year Ahead
The Pixel Project's most successful anti-VAW programmes and campaigns are now out of training wheels and running more-or-less smoothly, so 2016 will be a year of continuity as well as development as we settle into a steady pace of growth.
We will be further streamlining our efforts by focusing on campaigns that are now established as our team continues to build momentum for our ongoing efforts to raise the $1 million (1 million pixels) for the Pixel Reveal campaign.
Our goal is to reach $40,000 (40,000 pixels revealed) or more raised in our marathon bid to unveil the first of our 4 celebrity male role models via:
1. Two (2) major Read For Pixels events/fundraisers:
Our second annual International Women's Day Edition in March 2016 featuring women writers only.
Our third annual Fall Edition in September 2016 featuring both male and female authors.
2. Our second annual year-end #GivingTuesday fundraiser in December 2016.
We'll also continue supporting the Pixel Reveal campaign via our annual campaigns including:
Giving another 31 VAW survivors a voice via our third annual Survivors Stories Project (May 2016).
Getting more men on board the cause to end VAW via our expanded roster of campaigns created for that purpose including our 5th annual "30 For 30" Father's Day blogging campaign (June 2016).
Encouraging more people and pets putting their best foot/paw forward for the cause via the fourth year of our "People and Pets say NO!" photo statement campaign (October 2016).
Writing and producing our 7th annual 16 For 16 Blogging campaign (December 2016).
Running tweetathons with our partners (themes and dates to be announced).
Crucially, there will be no new campaigns or flagship events launched this year. Instead, we will be using this year to work behind-the-scenes to develop new campaigns, fundraisers, and events that will be rolled out in 2017 and beyond.
We hope you are as excited as we are about 2016. If you want to get involved with any of these campaigns, we certainly welcome more volunteers and pro bono professionals joining us on our journey towards ending violence against women. Just fill in the volunteer application form and we'll get back to you!
If you prefer to donate, you can donate in 3 ways:
1. You can donate to reveal pixels via the Celebrity Male Role Model Pixel Reveal campaign to help us reach our major fundraising milestone of $250,000 raised (250,000 pixels) and our first male role model revealed. Funds raised will be shared between The Pixel Project and the National Coalition Against Domestic Violence.
2. You can donate directly to us to help us keep our work alive. To donate to us and for more details about how your donation will be used, visit our donation page.
3. You can hold a fundraiser for us which could be anything from holding bake sales if you're a baker to donating a portion of your profits if you run a business to running a marathon and getting folks to sponsor you by donating to us. Get in touch directly with us at info@thepixelproject.net if you wish to raise funds for us or with us.
Here's to The Pixel Project surviving and thriving to continue fighting for the cause for as many years as it takes to eradicate violence against women. May we live to see the day when our work is no longer needed – the day when violence against women is no longer the norm in communities and cultures worldwide. Just as it takes a village to raise a child, it takes an entire community to work together to effectively eradicate the violence against women and girls for good.
It's time to stop violence against women. Together.
– Regina Yau, Founder and President, The Pixel Project