Welcome to The Pixel Project's "30 For 30" Father's Day Campaign 2012! In honour of Father's Day, we created this campaign:
To acknowledge the vital role Dads play in families, cultures and communities worldwide.
To showcase good men from different walks of life who are fabulous positive non-violent male role models.
Through this campaign, we will be publishing a short interview with a different Dad on each day of the month of June.
Our seventeenth "30 For 30" Dad is Dean Davis from New Zealand.
———————————————————————————
The Dad Bio (In His Own Words):
My name is Dean Davis. I have 8 children – 5 girls and 3 boys. My hobbies are anything to do with the outdoor and sport. I am a house parent for Home of Hope, a Christian therapeutic fostering organisation . We have 10 foster children that have come from broken homes through abuse and neglect. I am also a White Ribbon Ambassador (Men against violence towards women and children) I have been working with children, youth at risk, and mentoring in schools for the last 7 years. I am very passionate about the next generation of children coming through the ranks. Visit the White Ribbon New Zealand website at http://whiteribbon.org.nz/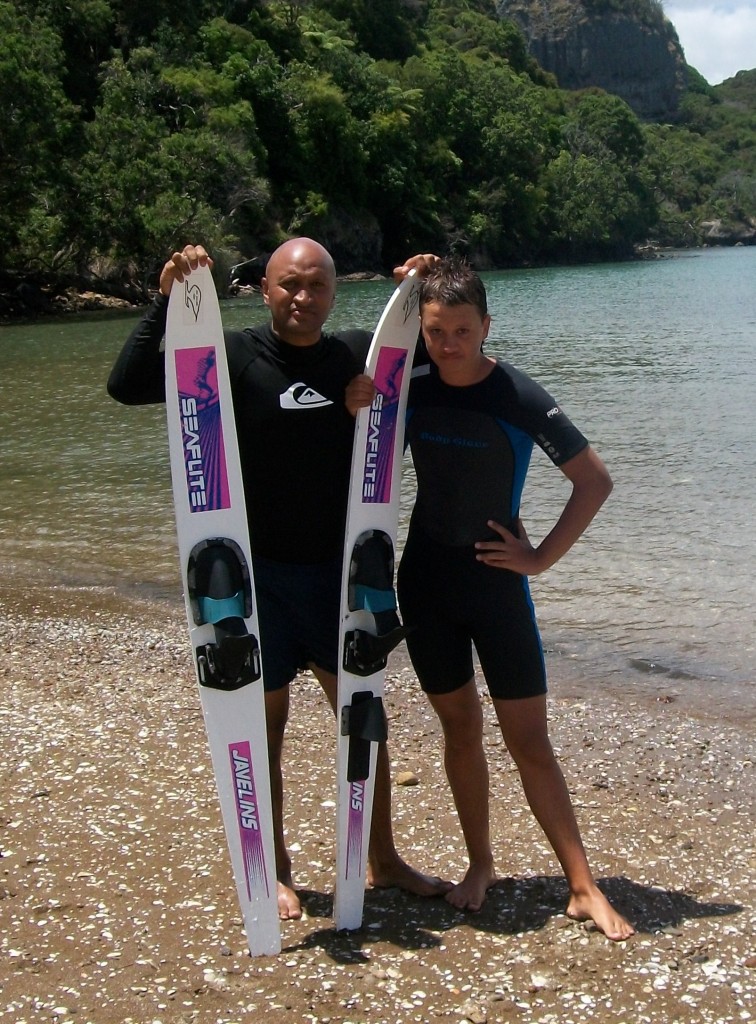 1. What is the best thing about being a dad?
Any man can become a father but it takes someone special to become a dad. Being a dad is one of the most rewarding jobs on earth. In fact, we are a valuable part of our children's upbringing. I have loved being apart of of my children's upbringing and watching them grow into beautiful young men and women.
The best part about being a dad is sowing seeds into the lives and watching them grow. I have always been very sporty when I was younger and have always encouraged my kids to be active and try new things. We as a family love to get into the outdoors tramping, camping, fishing ,hunting, kayaking and anything that my kids can experience that will teach them new skills to hopefully share with their children when they have them.
One of my most favourite things to do in my spare time is to jump on my motorcycle and just go for a cruise. As my kids are all old enough now they all love going for a cruise too if Mum's not on the bike. Being a Dad and enjoying the things I do with my kids is priceless!
2. A dad is usually the first male role model in a person's life and fathers do have a significant impact on their sons' attitude towards women and girls. How has your father influenced the way you see and treat women and girls?
My father was not a very good role model. He spent a lot of time in and out of jail because of choices he made – drugs, alcohol and violence. By my late teens I had addictions that I was struggling with and I was heading down the same path as my father.
At the age of 32 my life was transformed. My turning point was when I heard a man of God preaching and I knew in my heart that Bishop Brian Tamaki was to be my spiritual father. I have learnt so much from his preaching and he inspires me to be the best husband, father and male role model I can be. One thing he said that I have never forgotten was: "If the Man is out of order in your home, then your whole family is out of order".
How I treat my wife and daughters is modelled by Bishop Tamaki. Through his example, I have learnt how to love and respect the females in my family and females in general.
3. Communities and activists worldwide are starting to recognise that violence against women is not a "women's issue" but a human rights issue and that men play a role in stopping the violence. How do you think fathers and other male role models can help get young men and boys to take an interest in and step up to help prevent and stop violence against women?
Our young men model what they see, so if we want our young men to step up then we as adults need to start modelling that behaviour and leading the way. Letting our boys and young men know that it's not okay to perpetrate violence towards women and that the real manly thing to do is to protect and nurture our women instead.
If you yourself have an anger problem then get around some men that can help you change that behaviour. For me that was in church and surrounding myself with positive role models. I encourage anyone with anger issues to talk to someone and to bring that behaviour out into the light, don't hide it as it will tear you and your family apart!
————————————————————————
Want to honour your Dad in a different way this Father's Day without breaking the bank?
We offer two (2) easy and fabulous options:
Option A: Make a Small Donation
Help us raise US$3000 or more this June by donating US$30 on behalf of your dad to our Celebrity Male Role Model Pixel Reveal campaign to help unveil our first superstar Celebrity Male Role Model – a beloved Nobel Laureate. US$30 will unveil 30 pixels and proceeds from the pixel sales are in benefit of the USA's National Coalition Against Domestic Violence and Malaysia's Women's Aid Organisation.
Click here to donate: https://reveal.thepixelproject.net/buy-pixels/
Option B: Dedicate a Song to Him
For just $0.99, you can download our first Music For Pixels song – a cover of 'The Rose' by AHMIR, YouTube's #1 R&B group and load it onto your Dad's computer's iTunes or digital music player. Not sure about it? Listen before you buy here: