Post by Katie Rosenthal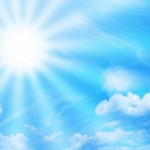 Our Silver Lining story this week comes from an unlikely source- the war torn Democratic Republic of Congo (DRC), where some intelligent and resourceful journalists have been contributing to the effort to counter the endemic sexual violence in the country.
The DRC has experienced long-term and well publicised civil and political chaos. Violence has further increased recently as fighting between the government's army and rebels has escalated. Oxfam's policy advisor in Goma, Samuel Dixon explains "The crisis in Congo is the worst it has been for years. The activity of armed groups has exploded, with militias making the most of the chaos to prey on the local population". Long known as the "unofficial rape capital of the world", the DRC is now experiencing further increases in instances of extreme violence including massacres, rape, forced abduction and mutilation. Thousands have fled their homes, with women especially vulnerable.
Amidst this horrific backdrop of violence and upheaval, a group of Congolese women are using the media to try and improve the position of women in the country. AFEM, or the South Kivu Women's Media Association are using radio to provide educational programming, news reporting and skills training for women. The groups was founded in 2003, and consists exclusively of female journalists. Chouchou Namegabe, who founded the group, explains her reasons for doing so: "We found that women had many problems, and we thought as journalists we could do something by using our power, our power which is microphone and media, to help change the situation of women".
The group has the dual focus of journalism and advocacy, with the long term goal of mass education in relation to women's rights, and the provision of professional skills and employment skills for journalists or those aspiring to a career in the media. Namegabe says that she is driven to keep working by the courage of female survivors in the DRC; "when I make an evaluation I see there is a small change. I know, when I meet with the survivors and see their engagement, the smile they show me, it gives some courage to continue".