Welcome to The Pixel Project's "30 For 30" Father's Day Campaign 2012! In honour of Father's Day, we created this campaign:
To acknowledge the vital role Dads play in families, cultures and communities worldwide.
To showcase good men from different walks of life who are fabulous positive non-violent male role models.
Through this campaign, we will be publishing a short interview with a different Dad on each day of the month of June.
Our twelfth "30 For 30" Dad is Jeremy Flowers from Texas, USA.
———————————————————————————
About Jeremy Flowers:
Jeremy Flowers is a 29-year-old father, activist for change and equality, feminist, and violence prevention educator from Texas. In 2009 he co-founded Step Up (www.StepUpAgainstViolence.com), a programme developed and geared toward engaging boys and men in ending the cycle of men's violence against women by creating social diversity through education, advocacy, and service. He works in colleges, high schools, military recruitment programmes, after school programs, and with professionals in his home town, and around the state. His hobbies consist of playing guitar, writing, and reading, enjoying nature, listening to music, and spending plenty of quality time with his son.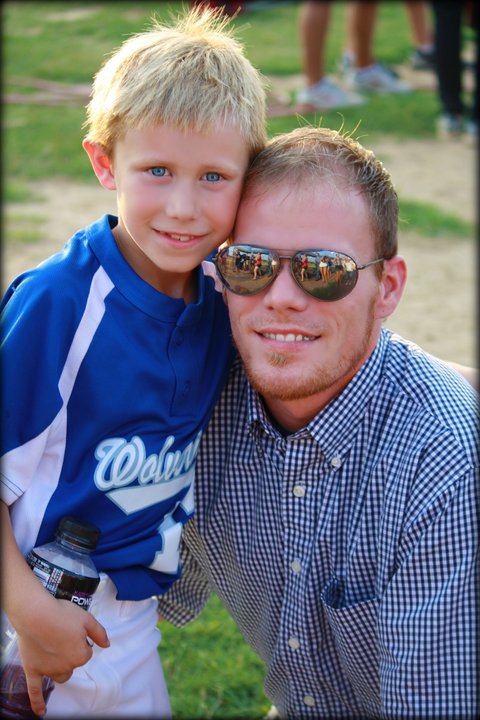 1. What is the best thing about being a dad?
My son, Cameron, is 8-years-old. I've had many experiences with him throughout his growth that exemplifies to me the best thing(s) about being a dad. Creating a bond with another human being is always special, but there isn't one in my opinion that can compare to a parent and child making a connection that will be life long.
I know that I'm responsible for teaching him quality traits so that he can one day positively influence humanity, even if it's by something as simple as always showing kindness to everyone. When these characteristics start to flourish, and you realise that your child is inheriting them not because they are right or wrong, but because they want to be just like you. It is one of the most humbling feelings I believe one can have.
To embrace their love for you, and fragile impressionability while knowing that they hold you in a higher regard than anything else in their life gives meaning, purpose and fulfilment to my life that is of the utmost importance.
2. A dad is usually the first male role model in a person's life and fathers do have a significant impact on their sons' attitude towards women and girls. How has your father influenced the way you see and treat women and girls?
My father wasn't a man of too many words. Instead, he set forth a platform for me to formulate my attitudes & behaviors toward women and girls by leading with example. He wasn't a man restricted by the conformity of common masculine socialisation, and illustrated to me equality within the home by embracing things normally perceived as feminine roles.
Overall his compassion and caring for everyone as humans is what I have internalised, and is probably the biggest influence on my perception and treatment of women and girls.
3. Communities and activists worldwide are starting to recognise that violence against women is not a "women's issue" but a human rights issue and that men play a role in stopping the violence. How do you think fathers and other male role models can help get young men and boys to take an interest in and step up to help prevent and stop violence against women?
I think most humans intrinsically want to do what is right. If we model & teach to our youth males a healthy style of masculinity that is inclusive of equality, empathy, respect, and love — the motivation to prevent men's violence against women (and all other forms of violence) should blossom on its own.
We must foster support of a culture that rejects the detriments of traditional norms about what it means to be a man. Such as not showing emotions, gaining & maintaining status by belittling, demeaning, and objectifying women, and the idea that males must always be in control.
Creating a foundation of beliefs that hold women in an equal perspective is imperative to preventing and ending violence against women. Make a clear path to the solution for young men and boys so they are provided with the proper tools to constructively participate in prospering an environment that doesn't accept nor tolerate violence against women.
Lastly and possibly most crucial is the need to empower males as active bystanders in order to hold each other accountable and responsible for each others negative behaviours and attitudes supportive of violence against women.
————————————————————————
Want to honour your Dad in a different way this Father's Day without breaking the bank?
We offer two (2) easy and fabulous options:
Option A: Make a Small Donation
Help us raise US$3000 or more this June by donating US$30 on behalf of your dad to our Celebrity Male Role Model Pixel Reveal campaign to help unveil our first superstar Celebrity Male Role Model – a beloved Nobel Laureate. US$30 will unveil 30 pixels and proceeds from the pixel sales are in benefit of the USA's National Coalition Against Domestic Violence and Malaysia's Women's Aid Organisation.
Click here to donate: https://reveal.thepixelproject.net/buy-pixels/
Option B: Dedicate a Song to Him
For just $0.99, you can download our first Music For Pixels song – a cover of 'The Rose' by AHMIR, YouTube's #1 R&B group and load it onto your Dad's computer's iTunes or digital music player. Not sure about it? Listen before you buy here: