Welcome to The Pixel Project's "30 For 30" Father's Day Campaign 2012! In honour of Father's Day, we created this campaign:
To acknowledge the vital role Dads play in families, cultures and communities worldwide.
To showcase good men from different walks of life who are fabulous positive non-violent male role models.
Through this campaign, we will be publishing a short interview with a different Dad on each day of the month of June.
Our thirteenth "30 For 30" Dad is Trevor Leitch from Bermuda.
———————————————————————————
The Dad Bio (In His Own Words):
I am the proud husband of Emma and father of J.R. When I'm not with them, I spend my time as an actuary at a Bermudian reinsurance company, on the board of a local charity working with school-level debaters, and homebrewing beer.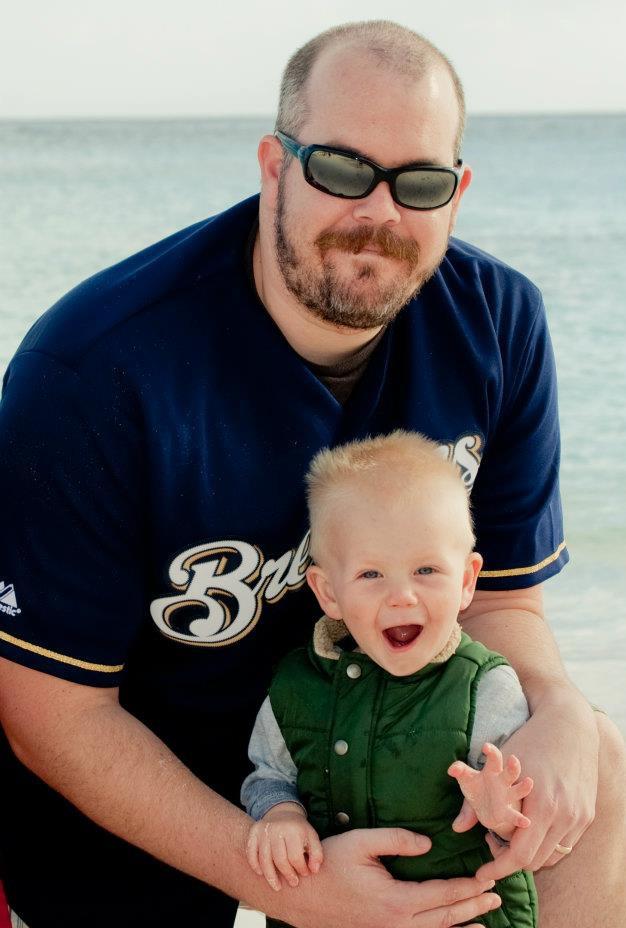 There isn't one "best thing", but rather a collection of precious moments. Some of my favourites are when my son is playing outside when I get home from work and I drive him around the yard on my moped; Or when he first learned to jump to me from the side of the pool; Or hearing him practice talking through the monitor when he thinks no one is listening.
2. A dad is usually the first male role model in a person's life and fathers do have a significant impact on their sons' attitude towards women and girls. How has your father influenced the way you see and treat women and girls?
He led by example: he always treated our mother as his equal, and never held my brother and I in higher regard than my sisters. There was never a "son, let's have a talk" moment. In our house and amongst our community, equality of women is just an accepted norm of society. I suppose we are lucky to live in such a progressive community.
3. Communities and activists worldwide are starting to recognise that violence against women is not a "women's issue" but a human rights issue and that men play a role in stopping the violence. How do you think fathers and other male role models can help get young men and boys to take an interest in and step up to help prevent and stop violence against women?
Beyond the obvious answer of leading by example and treating women with the same respect and dignity as men, I suppose fathers can explain to their sons the signs that might indicate that women they know are in abusive relationships and to learn to invite these women to reach out to them for help if they think these women might be in trouble.
————————————————————————
Want to honour your Dad in a different way this Father's Day without breaking the bank?
We offer two (2) easy and fabulous options:
Option A: Make a Small Donation
Help us raise US$3000 or more this June by donating US$30 on behalf of your dad to our Celebrity Male Role Model Pixel Reveal campaign to help unveil our first superstar Celebrity Male Role Model – a beloved Nobel Laureate. US$30 will unveil 30 pixels and proceeds from the pixel sales are in benefit of the USA's National Coalition Against Domestic Violence and Malaysia's Women's Aid Organisation.
Click here to donate: https://reveal.thepixelproject.net/buy-pixels/
Option B: Dedicate a Song to Him
For just $0.99, you can download our first Music For Pixels song – a cover of 'The Rose' by AHMIR, YouTube's #1 R&B group and load it onto your Dad's computer's iTunes or digital music player. Not sure about it? Listen before you buy here: