The Pixel Project is 14 years old today:
14 years of being the only anti-VAW nonprofit to specialise in working to raise awareness, funds, and volunteer power to end violence against women (VAW) at the very 21st century intersection of social media, online communities, new technologies, and pop culture/the arts.
14 years of our all-volunteer team across 6 continents collaborating to raise awareness, funds and volunteer power for the movement to end VAW.
14 years of conceptualizing and developing our ongoing anti-VAW campaigns, projects, and programmes.
14 years of creating social media-based platforms that make it simple and accessible for everyone from the person on the virtual street to various online communities to get on board the cause to end VAW.
14 years of experimenting with (and implementing) positive, innovative, and effective new ways of using online tools, social media, and pop culture/the arts to get the conversation about VAW going amongst individuals and communities.
14 years of helping boost the signal for positive stories of people around the world working to stop VAW as well as the women and girls who survive VAW tell their stories.
14 years of building partnerships with allies that range from anti-VAW organisations and campaigns of all shapes and sizes, to award-winning bestselling authors, to livestreams with dads to sound the clarion call for the end to VAW.
14 years of bridging the communication gaps to provide victims, survivors, and their families and friends with information for getting help for escaping any form of violence against women and girls.
14 years of constant creativity in our outreach work to educate individuals and communities who would otherwise ignore or deny the existence of violence against women.
14 years of sharing expertise in VAW and social media campaigning with fellow activists/advocates, experts from fields as different as law and healthcare,and doctoral/research students.
14 years of inspiring everyone from kids to celebrities to get on board the cause to end violence against women and girls.
14 years of working to accelerate the shift in the conversation towards including men and boys in helping stop VAW.
14 years of walking the talk to show that online activism can and does make a difference in the battle to end violence against women and girls, especially in this age of online VAW.
14 years of going to bat for and having the backs of women and girls facing online VAW.
It's been 14 interesting and action-packed years, to say the least!
And now, onwards to our annual review of the year that came before:
---
An Overview of the Year 2022
2022 was the year of the double-header with the global COVID-19 pandemic joined by a world economic crisis triggered by Russia's invasion of Ukraine. These two factors made it a consistently challenging and busy year for The Pixel Project as VAW worldwide continuing to spike in all its forms including domestic violence, child marriage, wartime rape, sex trafficking, and femicide.
While The Pixel Project is not a frontline organisation, our work has been impacted behind the scenes as a number of collaborations and projects in the pipeline remain on pause while we focus on keeping the trains running on time for our existing programmes, projects, and campaigns
---
On the fundraising side
We raised the bulk of the funds via two (2) online fundraising events:
2022 continued the trend of being an extremely tough fundraising year for small nonprofits due to the rampant inflation affecting economies worldwide as well as the ongoing COVID-19 pandemic. Nevertheless, we made it to our annual $10,000 goal by raising approximately $10,045 through the collective generosity of Read For Pixels authors, our Read For Pixels donor community, fandoms, and publishers as well as individual cash and royalty donations from longtime Read For Pixels authors.
Our thanks also go out to all the donors who have donated to our general fund to help keep us alive as an organisation – we are so grateful to friends, family, and VAW survivors who have donated what they can during these tough economic times. Even $10 helps so much in keeping our work alive!
---
On the Awareness-raising Side
Ongoing Campaigns, Programs, and Initiatives
As we work online, our ongoing campaigns and programmes have largely continued uninterrupted although certain campaigns and initiatives were more difficult to run smoothly than others.
The Read For Pixels Programme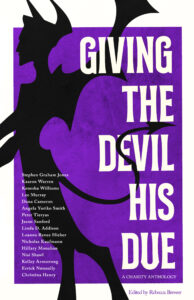 1. The Read For Pixels Charity Anthology
On 25 April 2022, our publishing partner Running Wild Press retired the special edition and released the classic edition of Giving The Devil His Due – our 1st Read For Pixels anthology. The classic edition was launched during Sexual Assault Awareness Month as planned. We marked both Sexual Assault Awareness Month and the release of the new edition with a blog tour featuring 14 book bloggers from various countries.
The Pixel Project partnered with VoiceWorks Audio to produce the audiobook edition of Giving The Devil His Due featuring a full cast of award-winning audiobook narrators including Alyssa Bresnahan, Brian Nishii, Christina Moore, Cynthia Farrell, Edoardo Ballerini, Erin Moon, Karen Chilton, Kate Forbes, Nancy Wu, Robin Miles, Samuel Roukin, and Stephanie Cozart. The audiobook was independently released worldwide via Findaway Voices on 1st October 2022.
Giving The Devil His Due was also nominated for a couple of major awards in 2022:
Additional Accolades:
The Steering Wheel Club had been included in Ellen Datlow's Best Horror of the Year Volume 14 for which three other stories including Nicholas Kaufmann's Daughter of Echidna, Jason Sanford's As We Stand And Pray and Lee Murray's The Moon Goddess's Granddaughter were long-listed.
The anthology was a #1 bestseller in the Historical Fiction Short Stories category in September 2022 thanks to a Bookbub promotion courtesy of Running Wild Press.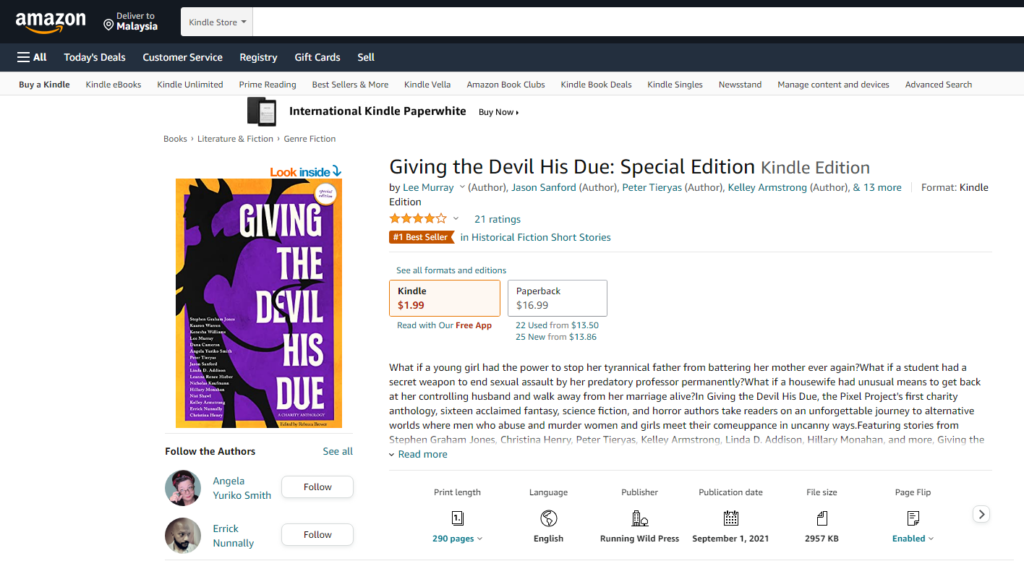 2. The Read For Pixels Livestream Series
The campaign crossed a milestone of having the support of over 200 award-winning bestselling authors, with 22 of these worthy wordsmiths joining the campaign for the first time in 2022. They spoke out against VAW via YouTube livestream sessions and helped raise funds for the Pixel Reveal campaign via RallyUp fundraisers choc-a-bloc with exclusive geeky goodies. 2022 Read For Pixels authors come from a wide range of genres and included well-known names and fan favourites such as Anne Bishop, Alastair Reynolds, Namina Forna, Rin Chupeco, Tim Lebbon and more. Check out the full list of authors here and here.
We also held 5 new Read For Pixels author panel sessions providing writers with the idea, tactics, and tools for tackling VAW and related topics such as misogyny, toxic masculinity, sexism, and the patriarchy without dehumanizing women and girls.
This year's Read For Pixels panels sessions included:
4 panel sessions celebrating the launch of the audiobook which featured audiobook producers and narrators as well the anthology's authors and editor speaking about various ways that audiobooks, audiobook narrators, and the audiobook community can do to help stop VAW. The panels were spread out over the Fall Edition in September and Domestic Violence Awareness Month in October, and the 16 Days of Activism Against Gender-based Violence in November.
1 anthology-related panel which was held as a cross-over event with our Fathers For Pixels livestream series in June 2022 (see the "Fathers For Pixels" section below).
All 2022 panel sessions can be accessed here:
https://www.youtube.com/playlist?list=PLwvYzqhB5GgiR9mvrMfl85rxoNL0vL2Bd
Our Social Media Programmes
Our Facebook page continues to remain stable at over 53,000 followers with a very lively community respectfully discussing the various posts and news. We also received an increased number of hostile attacks from misogynists, specifically during the Depp v. Heard case whereby scores of Johnny Depp fans flocked to our comments sections to defend his abusive post-separation abuse through a torrent of vitriol against Ms. Heard and anyone (including us) who stands with her. For the first time in our 13 years on Facebook, we were compelled to temporarily switch off the comments section.
Our Twitter account now has 21,620 which is down 294 from 2022's 21,914  followers. This is considered a small decrease in light of Elon Musk's takeover of Twitter triggering the flight of many people from the platform. Due to the increase in hate speech, misogyny, racism, and bigotry allowed by Musk who had dismantled all sensible safety measures for users, our Twitter Tag Team paused active tweeting starting from 11 December 2022 until further notice and pinned a tweet with information about where to find us elsewhere. In the meantime, our automated twice-daily VAW helpline retweet session runs as usual and we continue to monitor our direct messages to help anyone reaching out for help regarding VAW.
Our "People and Pets Say NO" photo statement campaign on Instagram continues to run steadily with people from all walks of life submitting pictures of them and their pets saying NO to VAW during Domestic Violence Awareness Month. 2022 was the 11th year we have cross-posted them on our Facebook and Instagram accounts. This year, 12 supporters and their families and pets took part in the campaign.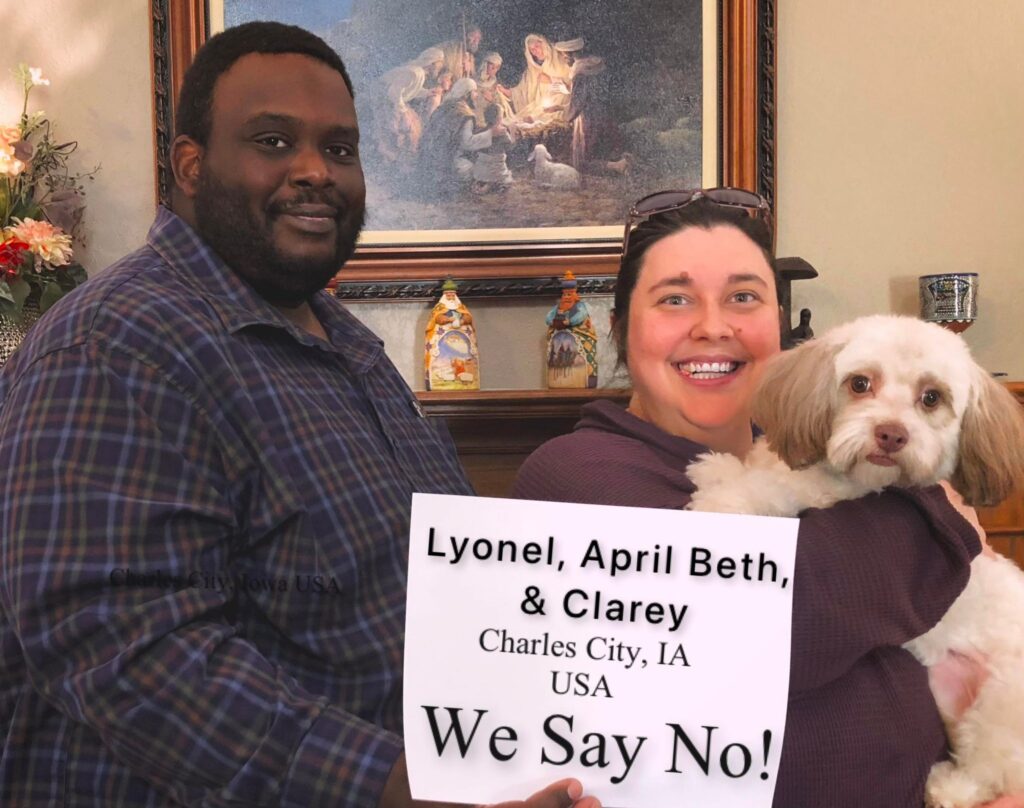 The Fathers For Pixels programme
As part to continuing to find new ways of engaging fathers worldwide with the cause to end VAW, the 30 For 30 Father's Day campaign has been revamped as the Fathers For Pixels program in order to give us more room to develop and expand our collaborative efforts with individual male allies and male ally organisations.
In 2022, 3 dads have taken part in the Dads Against VAW interview series – 2 from the United States and 1 from Malaysia.
We also held our 3rd Fathers For Pixels livestream series in June 2022 which featured 2 livestream panel sessions which each showcased 2 – 3 panellists discussing a topic that links fatherhood and how dads can help stop violence against women in their families, communities, and cultures Each session also included a moderated Q&A segment for the audience to ask questions. The 2022 panels included:
Our 2022 "Fathers Raising Feminist Sons" panel held in partnership with our longtime partner Breakthrough India and featuring the Kishore family – a father-son pair based in New Delhi – talking frankly about fatherhood, peer pressure on teen boys, and being part of a family where women and girls are treated with respect.
The second panel session, "Fatherhood and Male Role Models in Speculative Fiction" featured three (3) major names in the speculative fiction genres including Errick Nunnally, Marshall Ryan Maresca, and Paul Tremblay. This was a cross-over event with the Read For Pixels campaign.
On the blogging/journalism side
Our Annual/Ongoing Blogging Campaigns
The "16 For 16" blogging campaign in honour of the 16 Days of Activism Against Gender-based Violence continues to grow as we accumulate an archive of positive articles packed with shareable ideas, information, and solutions for inspiring individuals and communities to take action to stop VAW. We welcome some guest contributors in 2022 including our partners MenChallenging, DomesticShelters.org, and Breakthrough India.
Inspirational Interview series: We interviewed 10 anti-VAW activists/organisations from 8 countries including Australia, Georgia, Israel, Kenya, Nigeria, the State of Palestine, and the United States.
Advocacy and Activism on Global VAW Events
We also covered two (2) major VAW events that erupted on a global level in 2022:
The Ukraine-Russian War:
We featured a starter list article that provided an overview on the impact of the war on women and girls including wartime rape and human trafficking as well as a list of key resources for people looking to help Ukrainian women and girls.
The Depp vs Heard Case:
The Johnny Depp vs Amber Heard case was one of the 21st century's highest profile post-separation abuse and DARVO ("deny, attack, and reverse victim and offender") cases that anti-violence against women advocates and activists had ever witnessed. Depp weaponized his celebrity influence through a massive online smear campaign against Heard, manipulating his fandom into attacking Heard as well as anyone who stood by her. It revealed just how entrenched misogyny and victim-blaming culture is and emboldened abusers to use social media and the courts to further terrorise their victims. During this case, The Pixel Project provided the following resources:
We also hosted a YouTube panel session with Julie Owens and Bea Cote, taking questions from domestic violence activists and survivors who were impacted by the case as well as providing information on how to combat the negative impact that the case has had – and continues to have – on victims, survivors, and advocates:
---
Additional Updates
As always, we've achieved all that we have achieved as a team and in 2022, we welcomed the following volunteers:
Executive team – Lai Sein Mah (Malaysia)
Editorial team – Eunice Foo (Malaysia)
Research team – Gabrielle Beran (New Zealand & United Kingdom) and Vani Bhardwaj (India)
Creative team – Gary Renshaw (Canada)
---
The Year Ahead
We will continue developing and running our annual and ongoing campaigns with established campaigns changing formats or expanding to different platforms in order to better serve the cause:
Celebrating the 10th anniversary of our Read For Pixels campaign in September 2023 with an extensive programme of 1-to-1 livestream panel sessions with authors, livestream panel sessions and AMA sessions on r/Fantasy with Read For Pixels author alumni.
Collaborating with Read For Pixels authors and audiobook narrators, our partner, the publisher Running Wild Press, and our Read For Pixels community of readers, fandoms, and book bloggers to continue promoting the charity anthology as a tool for raising awareness about VAW as well as a way to get life-saving helpline information to victims.
Running more in-depth interviews with various anti-VAW and women's human rights activists for our monthly Inspirational Interview campaign.
Encouraging more people and pets putting their best foot/paw forward for Domestic Violence Awareness Month via the 12th year of our "People and Pets say NO!" photo statement campaign (October 2023).
Partnering with MenChallenging to recruit and encourage more dads to take part in the Fathers For Pixels programme.
Writing and publishing our 12th annual 16 For 16 Blogging campaign (December 2023).
Hosting and recording more live YouTube sessions with anti-VAW activists, advocates, and experts.
We will also continue to winding down our Celebrity Male Role Model Pixel Reveal campaign. Our goal remains to reach $250,000 (250,000 pixels revealed) via our marathon bid to unveil our 1st celebrity male role model. As with previous years, we will continue to do this via our two (2) major Read For Pixels events/fundraisers:
Our 9th annual International Women's Day Edition in March 2023 featuring women writers only.
Our 10th annual Fall Edition in September 2023 featuring both male, female, and non-binary authors.
In particular, we will be aiming to raise $10,000 during the 10th anniversary of Read For Pixels in September.
We hope you are as excited as we are about 2023. If you want to get involved with any of these campaigns and programmes, we certainly welcome more volunteers and pro bono professionals joining us on our journey towards ending violence against women. Just fill in the volunteer application form and we'll get back to you!
---
If you prefer to give to us, you can donate in 3 ways:
1. You can donate directly to us to help us keep our work alive. To donate to us and for more details about how your donation will be used, visit our donation page
2. Buy a copy of our Shirley Award-winning charity anthology Giving The Devil His Due, now available worldwide in e-book, paperback, and audiobook formats. The book is available on major bookselling platforms including Amazon, Audible, Google Books, Kobo, Barnes & Noble and more until 31 October 2023.
3. You can hold a fundraiser for us which could be anything from holding bake sales if you're a baker to donating a portion of your profits if you run a business to running a marathon and getting folks to sponsor you by donating to us. Get in touch directly with us at info@thepixelproject.net if you wish to raise funds for us or with us.
Here's to The Pixel Project surviving and thriving to continue fighting for the cause for as many years as it takes to eradicate violence against women. May we live to see the day when our work is no longer needed – the day when violence against women is no longer the norm in communities and cultures worldwide. Just as it takes a village to raise a child, it takes an entire community to work together to effectively eradicate the violence against women and girls for good.
It's time to stop violence against women. Together.
– Regina Yau, Founder and President, The Pixel Project