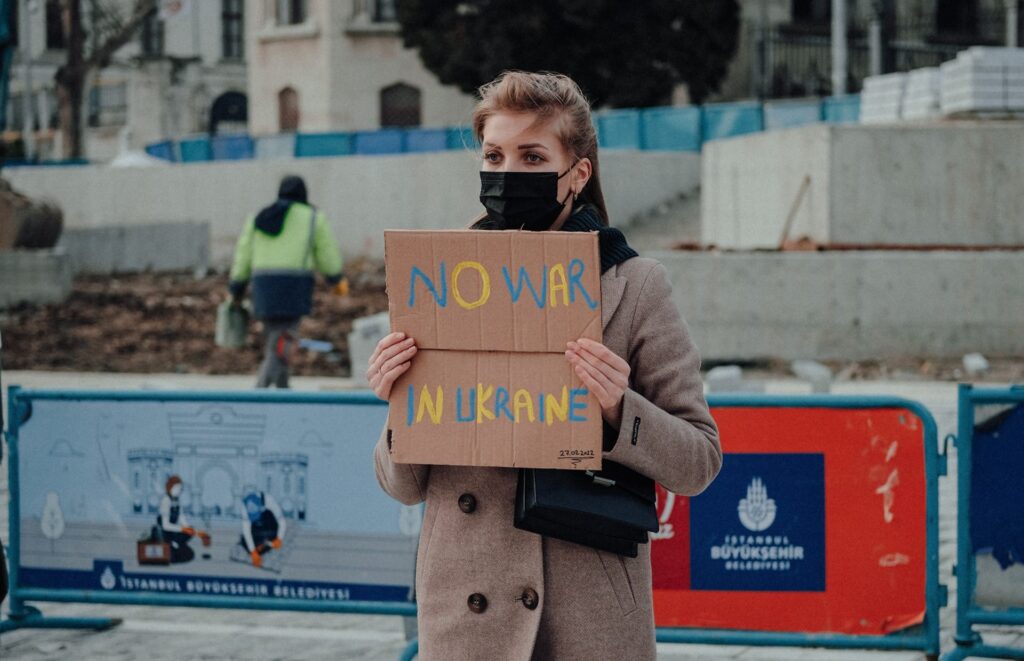 As the Russian invasion of Ukraine rages on, reports about wartime violence against women including the sex trafficking of refugees and the use of rape as a weapon of war by Russia are emerging on a regular basis.
Sex trafficking has exponentially increased as trafficking rings and individual traffickers take advantage of the evacuation chaos as women and children flee across borders to neighbouring countries including Poland, Hungary, Romania, Slovakia, and Moldova. Charities and aid workers working on the ground with Ukrainian refugees have now set up an informal information network, radio-ing each other if anyone spots potential traffickers while vigilante groups in countries such as Poland patrol the borders to fill what they say is a gap in protection for vulnerable refugees.
Ukrainian women and girls who are unable to leave the country are also at major risk of rape as a weapon of war systematically deployed by the Russian military in Russian-occupied areas of Ukraine. News about Russian soldiers raping and sexually assaulting Ukrainian women and girls on a major scale are being reported daily, including harrowing interviews with women who survived the violence. The UN and women's human rights groups have demanded for an independent investigation into this atrocity while activists in countries including Ireland and Estonia are mounting protests against war rape outside Russian embassies.
The Pixel Project has compiled a list of organisations and groups that are working to help Ukrainian women and girls who are refugees, victims, and survivors of this horrific war. This is by no means a comprehensive list but will serve as a starting point for anyone looking to help Ukrainian women and girls.
Introduction by Regina Yau. Research by Bernardo Rosa Rodrigues, Brianna Moon, Su-Ann Cheng, and Regina Yau.
---
Organisations – Women and Girls
Anti-Slavery International has set up a page about how to take action to intervene to stop human trafficking as Ukrainians flee for safety. They have also provided a list of hotlines and helplines for reporting suspected cases of human trafficking as follows:
Hungary – National Hotline: (+36) 06 80 / 20 55 20
Moldova – La Strada Moldova: (+373) 0800 77 777
Poland – La Strada Poland Helpline: (+48) 22 628 99 99
Romania – Hotline against Trafficking: (+40) 0800 800 678
Slovakia – Slovak Crisis Centre DOTYK: (+421) 903 704 78
UK – Modern Slavery Helpline: (+44) 08000 121 700
La-Strada's services continue to operate within the framework of UNFPA Ukraine to provide free psychological support to Ukrainian women. They run Ukraine's National Hotline for the Prevention of Domestic Violence, Human Trafficking and Gender Discrimination.
Phone: 0800 500 225 | +380 44 205 36 95
Skype: lastrada-ukraine
Telegram: @NHL116123
NGO Girls is focused on providing humanitarian support to women and children specific areas in Ukraine affected by the Russian invasion (Irpen, Bucha, Vorzel, Hostomel and Kotsiubynske).
The Slavic Heart Charitable Foundation provides services including supporting victims of gender-based violence, running a network of warehouses and volunteer centres, providing psychosocial and legal aid, and monitoring needs in the buffer zone and affected areas.
Phone: +38 (050) 420 2092 | +38 050 036 8665
The Ukrainian Women's Fund is working on behalf of women and girls on several fronts including providing rapid response grants to women's organisations throughout Ukraine who are on working on the frontlines such as women's/feminist organisations that are providing care for servicewomen and women fighting in the Territorial Defence Forces, as well as civilian women living in active combat zones, being evacuated, and enduring occupation by Russian troops.
UN Women has an office in Ukraine and are working on the ground with the wider United Nations system and partners to provide protection and essentials to both women and girls who are refugees as well as those who are still in Ukraine. They are also a valuable source of news about what is happening to women and girls during this war.
---
Grassroots and Community Groups – Women and Girls
Doula Group for Pregnant Women – Ukraine
Doulas in Ukraine have set up a support for pregnant women in Ukraine
Psychologist Group Offering Services – Ukraine
Four psychologists from the career hub Розірви коло are helping women in Ukraine reduce and manage their stress and anxiety levels. Consultations are available through 4 channels: Messenger, Viber, Telegram and phone.
Marina +38 098 996 97 90
Eugene +38 097 314 53 83
Martha +38 050 371 40 55 (Lviv – offline)
Natalia +38 098 929 75 53 (Lviv – offline)
Transport A Sister was started by a member of the Host A Sister community to organise free-of-charge transport for women and children fleeing from Ukraine.
---
Organisations – Humanitarian and Medical Assistance
The Blue Heron Foundation is a 501(c)3 non-profit operating in the U.S., Romania, and Moldova. They are raising funds to provide medical staff, support, and supplies for Ukrainian refugees, including meeting the high demand for paediatric services.
Caritas provides food, shelter, and humanitarian aid for internally displaced persons (IDPs) of cities across Ukraine as well as those fleeing the country
MSF has a longstanding presence in Ukraine, including in parts of the eastern region that have been affected by armed conflict since 2014. They are stepping up their response to the war in both Ukraine and neighbouring countries.
In light of the destruction of so many Ukrainian healthcare facilities including hospitals and health clinics, the Ukrainian Red Cross is providing medical care for Ukrainians including medical and psychosocial support.
UNHCR is providing general support across the board for Ukrainian refugees.
---
The picture used is a Creative Commons image: