Welcome to Part 1 of our January 2023 Inspirational Interview with Irina Matvienko, CEO of NeMolchi.uz in Uzbekistan.
Irina  has a Bachelor of Information Technology from the Tashkent State University of Information Technologies and has worked as a consultant on behaviour change communication strategy on EU and UN initiatives to eliminate violence against women and girls (VAW) in Tajikistan. She was selected as one of  14 human rights advocates to attend the European Parliament/Venice School of Human Rights, financed by Sakharov's Fellowship, in 2019. In 2022 she became a laureate of the Future Leaders Invitation Program of the French Ministry for Europe and Foreign Affairs. She started NeMolchi.uz in 2017.
Part two of Irina's interview will be published 9 January 2023.
All photos are courtesy of NeMolchi.
---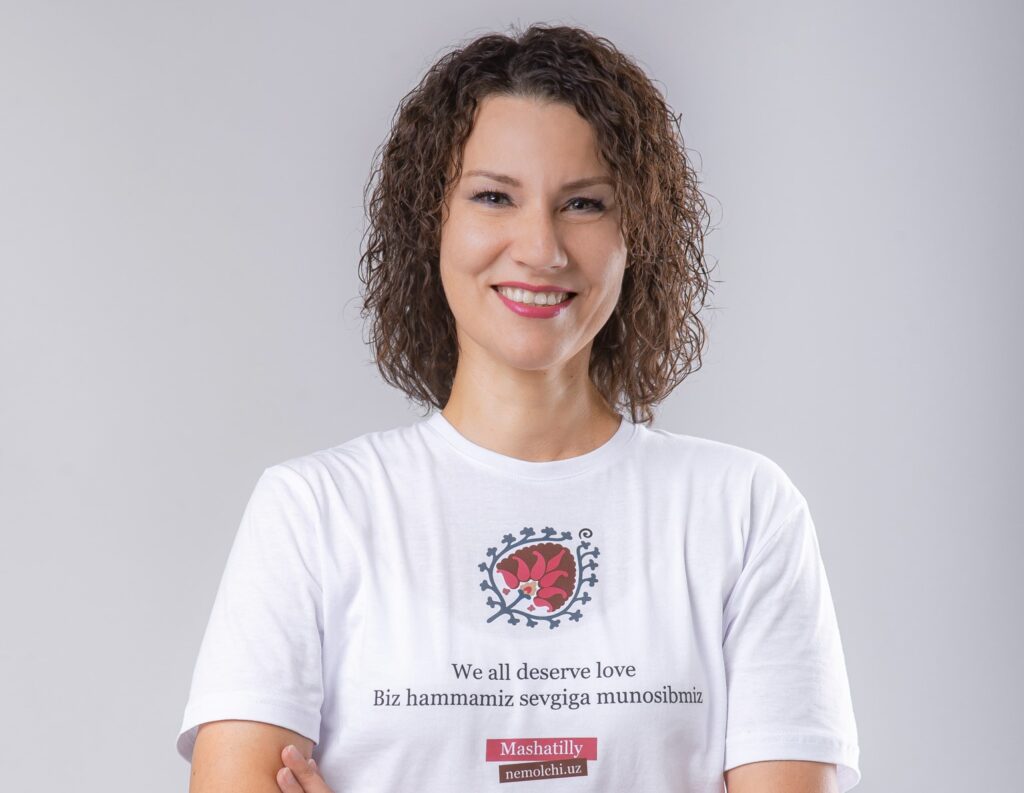 1. How and why did you join the movement to end violence against women (VAW)? 
I was raised in a family where home responsibilities were divided between all members. My parents invested in my education because they saw that I loved to study. I graduated from the University of Information Technologies, worked in an IT company, and had a lot of opportunities. I always had an activist social position, raised different social issues, collected money for children with leukemia and other such activities . Over time, I realised that there are a lot of women who do not have the same opportunities, who cannot choose a job or leave their home, who do not receive support from their families, who feel oppressed. I have experience in social campaigns and networking in different spheres and a good reputation. That's why I decided to use my power to improve women's lives.
Women often become victims of domestic violence and are afraid to leave their husbands because they do not have education or work, and their parents will send them back to avoid shaming. I want to change this reality.
2. NeMolchi was established in 2017 as "an independent online platform that collects and publishes anonymous stories of survivors of violence, in particular gender-based violence." How did NeMolchi come to be founded?
The topic of VAW in my country has been taboo for a long time. The death of our first president, dictator Islam Karimov, in 2016 pushed forward different reforms, but still nobody raised this issue. In 2017, I decided that covering this topic regularly can show this problem to a wide audience, so I founded an online project against violence called NeMolchi.uz (Don't be silent). It was was the first non-profit media platform to tackle gender-based violence and violence against women and girls, and raise awareness about gender equality, women's rights, the roots and causes of violence, and victim blaming in Uzbekistan's society.
Two years later, in 2019, I launched a Google form to collect anonymous stories. We received more than 200 stories in two months! By July 2022 there were more than 2,000 stories published.
3. Can you tell us about NeMolchi's approach to stopping VAW and how has it developed over the past five years?
We are registered online mass media in Uzbekistan. Our approach is based on the power of words. We raise awareness about gender-based violence, give a voice to survivors, and provide free psychological and legal consultations online.
There are three types of content:
anonymous stories from survivors of violence

helpful hints

analysis and recommendations.
Also, we develop a communication strategy if we want to publicly advocate for something. It includes synthesis of different types of content and collaboration with bloggers, mass media, and other outlets.
NeMolchi.uz is a team of 20 volunteers. They edit stories, consult survivors, and post stories. Everyone aims to spend at least 4 hours per week doing this work on a voluntary basis.  
4. Could you give us an overview of the programmes and services that NeMolchi provides for victims, survivors, and communities?
Our project consists of several paths. We have a bot for free psychological and legal advice. There is a platform that enables users to publish their stories anonymously, thus allowing women to express their pain. We also publish analytical materials and advocate for changes in legislation by initiating discussions. We find it crucial to educate in the field of feminism in our country, drawing attention to cases of violence against women; such support often helps women to achieve justice.
5. One of NeMolchi's key initiatives is "A Culture of Shame: Sexual Violence and Access to Justice in Uzbekistan", a joint report with Equality Now which highlights "how ineffective rape laws and poor implementation deny access to justice for survivors in Uzbekistan". What progress has this publication made so far in terms of empowering survivors of sexual violence in Uzbekistan to cope with trauma, and challenge "misogynistic conceptions about female sexuality and traditional gender-roles"? 
I want to mention the high level of expertise at Equality Now. They are really passionate about women's rights and qualified to give recommendations. Collaboration with Equality Now inspired us to start an advocacy campaign to change legislation on sexual abuse. We chose a behavioural change communication campaign, because changing gender and misogynistic stereotypes is a long process. However, after our campaign launched at the beginning of 2022, the Senate of Uzbekistan created a working group to change legislation in April. We became members of this group in June, 2022 and had an opportunity to work together with governmental agencies to change our laws.