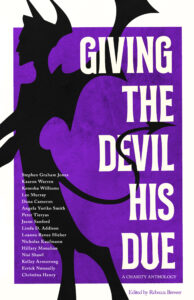 The Pixel Project is proud to present our blog tour for Giving The Devil His Due, our first charity anthology, to help raise awareness about violence against women (VAW) during Sexual Assault Awareness Month in April 2022 ahead of the upcoming launch of the classic edition of the anthology on 25 May 2022.
By participating in this blog tour, book bloggers and vloggers from several countries are joining the global conversation about the anthology and the importance of stopping VAW as well as helping victims and survivors of VAW realise that they are not alone and that help is out there.
In our first round-up blog post for the blog tour, we present the first round of published reviews, interviews, and spotlight pieces that have come out between 1 – 10 April 2022.
---
To kick things off on 1 April 2022, author A.F. Stewart featured a special Between the Pages Book Chat on her YouTube channel featuring an interview with anthology author Angela Yuriko Smith. Ms. Stewart writes in the video description: "Come watch the interview with Bram Stoker nominee Angela Yuriko Smith as we discuss her story in the charity anthology Giving The Devil His Due, Read for Pixels, and the issues of violence against women."
Check out book blogger Matt Cavanaugh's Runalong the Shelves blog where he reviews the book and recommends his favourite stories from the anthology. At the bottom of the review, Matt also shares some important links to resources about violence against women in honour of Sexual Assault Awareness Month.
Visit book blogger DJ's MyBooksMyLifeMyEscape blog to check out their interview with anthology author Errick Nunnally about the anthology, his anthology story DEVIL'S HOLLOW and how he (Errick) came to participate in the anthology, and the theme of revenge.
---
Interested in buying yourself (or a friend) a copy of Giving The Devil His Due? Find out more about what the anthology is about and where to buy it. All proceeds go towards supporting The Pixel Project's anti-violence against women work.
Interested in checking out The Pixel Project's anti-violence against women work? Visit us at https://www.thepixelproject.net/