Today is the first day of the 16 Days of Activism against Gender-based Violence 2020 campaign. The Pixel Project is kicking things off with our 9th annual list of 16 female role models fighting to end violence against women in their communities. The intent of this list is simple: to highlight the good work of the heroines of the movement to end violence against women, wherever they are in the world. The women and girls in this year's list hail from 16 countries and 5 continents.
Many of these outstanding women have shown that it is possible to transform the personal pain that comes from facing gender-based violence into positive action to stop violence against women, empower themselves, and show other survivors that it is possible to move forward with dignity and happiness. They have refused to let bitterness and pain get the better of them, opting to stand up for themselves and for other women and girls instead. 
Others on this list may not have experienced gender-based violence, but they have stepped up to do what is right: to speak up for women and girls who cannot do it for themselves, sometimes at great personal risk. Two of them (Justice Ruth Bader Ginsburg and Dr Diana Russell) passed away in 2020 and left individual legacies shaped by the respective battles they waged against sexism, misogyny, and other issues related to violence against women during their lifetimes. All this requires immense courage, generosity of spirit, and a strong enduring heart.
Without further ado, here, in alphabetical order by first name, is our 2020 list of 16 female role models. We hope that these women will be an inspiration to others to get involved with the cause. To that end, we hope you will generously share this list via Facebook and Twitter to give these extraordinary 16 women and their work a moment in the sun.
It's time to stop violence against women. Together.
Note: Information for all role model profiles is sourced via online research and is based on one or more news sources, articles and/or The Pixel Project's own interviews with them. The main articles/reports from which these profiles have been sourced can be directly accessed via the hyperlinked titles. Please do click through to learn more about these remarkable women.
Written and compiled by Regina Yau
---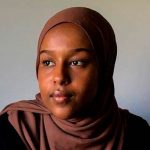 Asmaa Ali is a registered nurse who co-founded a centralised Canada-wide online resource for sexual assault survivors from marginalised communities. She and co-founder Habon Ali noticed that existing resources for survivors are not only not geared towards women from black, Indigenous, and other vulnerable communities of colour, but are also scattered and often difficult to track down. So they bridged the gap by compiling a 28-page guide which includes information about helplines, legal services, and places to obtain sexual assault kits across Canada. Ali said in an interview with The Canadian Press: "It was important for us to put together these resources because there's a barrier in finding them and we did our best to remove them."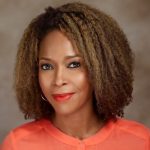 Dr. Anita Kemi DaSilva-Ibru is a specialist obstetrician and gynaecologist and the founder of the Women at Risk International Foundation (WARIF), a non-profit organisation that tackles the issues of gender-based violence, rape, and trafficking of young girls and women in communities across Nigeria, including running a rape crisis centre in Lagos and operating a 24-hour rape crisis helpline. In an extensive interview with CNN about her work and violence against women in Nigeria, including the recent steps the Nigerian government had taken towards addressing what she calls an "epidemic" of rape in the country, Dr DaSilva-Ibru said: "Violence against women and girls is one of the most pervasive forms of a human rights violation and should be recognised by all countries. In Nigeria, it has become a national crisis that needs urgent attention. I am pleased that this has been recognised."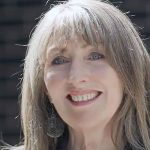 Dr Debra Parkinson is an Adjunct Research Fellow with Monash University Disaster Resilience Initiative  (MUDRI) who has researched diverse gender issues, including intimate partner violence and rape, over two decades. Since 2009, her research has concentrated on environmental justice and gender and disaster, including family violence in towns that were severely burned by bushfires in 2009. In 2020, Dr. Parkinson took on training requests from the Red Cross, counsellors, local officials and firefighters wanting to know how to identify and prevent post-disaster family violence. She and her colleagues also designed cheat sheets for social workers, firefighters, police, chaplains, and others who help communities recover after bushfires. She said: "It's not all that hard to make it clear that '[Violence] is likely to happen. It's been documented that it's going to happen for some families, and here's what you do." Some 30,000 of these cheat sheet cards had been distributed across the Australian state of Victoria as of 2019.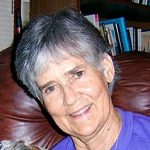 Dr Diana Russell was a feminist writer and activist who spent 45 years of her life researching violence against women and girls. She grew up in South Africa where she participated in the anti-apartheid movement. In the 1960s, she moved to the U.S. and became one of the first wave of researchers to focus on sexual violence against women and girls. She studied various forms of violence against women and girls, including rape, incest, child abuse, battering, pornography, and sexual harassment, and was among the first experts to point out and explore the connections between and among such acts of gender-based violence. One of Dr Russell's major contributions to the anti-violence against women movement was to popularise the term "femicide" to highlight the killing of women "because they are women" and to differentiate these killings from other types of homicide.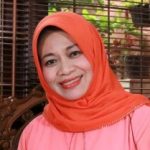 Dr Siti Musdah Mulia is an Indonesian women's rights activist and Muslim scholar who headed a team that drafted a legal document challenging the Islamic law compilation in Indonesia in the early 2000s. The document criticised the intensely gender-biased compilation and misogynistic perceptions in religion, including those that condone polygamy and violence against women. As a result of her activism and advocacy, she was subject to a backlash of intense harassment via email and WhatsApp, as well as online slander including attackers calling her "infidel". In 2007, the U.S. government awarded her the International Women of Courage Award for her work in women's human rights.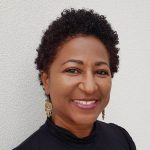 E. Laurie Shiell-Smith is the executive director of the Centre Against Abuse (CAA), the leading agency in Bermuda for providing services to victims of domestic abuse and sexual assault. She was also chairperson of the Bermuda Women's Council between 2010 and 2014, during which time the Council worked towards having CEDAW (United Nations Convention for the Elimination of All Forms of Discrimination Against Women) extended to Bermuda. In an interview with The Pixel Project, she said: "My grandmother was […] raised in an extremely abusive household, with an abusive father. It was her desire that she would end that cycle of abuse from her side of the family […] Today, everything that I do honours my great-grandmother, who did not have an organisation like Centre Against Abuse to help her out of her abusive situation."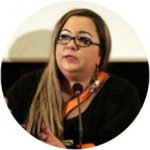 Ghida Anani is a professor and the founder and director of Abaad, a non-governmental organisation focused on ending violence against women and achieving gender equality in Lebanon and throughout the Middle Eastern/North African (MENA) region. In a recent op-ed about the spike in domestic violence during the COVID-19 pandemic, Anani wrote: "Solving this issue requires a holistic solution that also provides both financial independence and legal protection to women trapped in abusive households. Those who commit crimes against women must be held accountable, and victims protected. We also need a cultural shift, to stop putting the blame on the victim and finding socially accepted justifications for the violence they endure."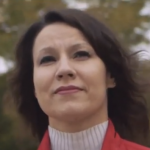 Irina Matvienko is a journalist, entrepreneur, women's rights activist, and the creator of the Facebook page nemolchi.uz which provides a platform for stories reporting on gender-based violence and offers materials and information for survivors. She is regarded as one of the pioneers in using social media to raise awareness about violence against women in Uzbekistan. Her activism and advocacy are part of a growing movement to counter violence against women and girls in Central Asian countries where the problem is rampant but remains mostly unaddressed. Matvienko says about her social media activism: "When we respond to comments, we don't only engage with the person we are responding to. Even if it seems like you are talking to one person, in reality you will be read by hundreds, maybe thousands of people."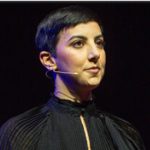 Payzee Mahmod and her sister Banaz were both forced into marriages when they were teenagers. Tragically, Banaz ended up being a victim of honour killing by her own father, uncle, and three other Kurdish men after she left her abusive husband. When Mahmod turned 18, she divorced her much-older husband and organised Banaz's funeral. Today, she is a fierce anti-child marriage campaigner, advocating on behalf of herself, her sister Banaz, and every girl at risk of child marriage, including demanding that marriage under the age of 18 be made a crime under the law in the United Kingdom. In an interview with Global Citizen, Mahmod said:  "Every day I hoped no one would experience what I did. I was just a child trying to navigate life, but all of a sudden this tragic event happened. It broke me, I didn't understand any of it, I couldn't make sense of why my sister had just lost her life, why anyone would do such a thing.  After many years I felt like it was time to help others. I knew I had to do something. I speak out because my sister didn't have a voice and I want to honour her in everything I do."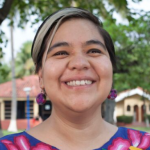 Perla Vázquez is a Mexican feminist activist and the Deputy Program Director of the Seattle International Foundation, Central America and Mexico Youth (CAMY) Fund. She is also a founder and a current Board member for FRIDA, The Young Feminist Fund. Through her work at CAMY, Vázquez collaborates with nonprofits and youth collaboratives that are working on sexual and reproductive rights, as well as women's rights, including ending early, forced and child marriages in Belize, El Salvador, Guatemala, Honduras, Nicaragua, and Mexico. Vázquez, who has spent years working to end child marriages in the region, said in an interview with Global Washington: "I think it is very complex in Latin America. We need to change the perspective of love and couples, especially the role of men." She also emphasizes the importance of teaching young women about consent and bodily autonomy, saying: "They can take possession of their own bodies, and they can decide whether or not they want to be romantically involved with someone…That is not something that the family can decide. Women do not belong to their families; they are not objects to be exchanged."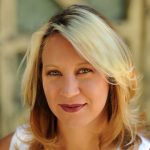 Rachel Louise Snyder is a veteran human rights journalist who has spent more than 10 years covering issues of domestic violence. Her work has appeared in the New York Times Magazine, Slate, Salon, the Washington Post, the Huffington Post, the New Republic, and others. In 2019, she released No Visible Bruises: What We Don't Know About Domestic Violence Can Kill Us  — a tour de force book that unpacks the myths and misconceptions behind domestic violence. Through No Visible Bruises, she addresses what is still the elephant in the room – that men can and do batter and kill their wives and girlfriends. In an interview with The Guardian about No Visible Bruises, Snyder said: "You have to take the longer view of history. Until very recently, for instance, it was legal for a man to rape his wife. I'm an optimist. I have to believe that change is possible."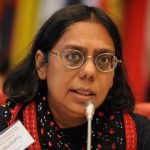 Ruchira Gupta is the founder-president of Apne Aap Women Worldwide and Apne Aap International. For over 30 years, Gupta has worked for a world where no girl or woman is bought or sold. She pioneered gender-sensitive interventions to end intergenerational prostitution among denotified tribes in India's Bihar, Delhi, Haryana, Rajasthan, and West Bengal regions. She has also helped introduce and shape anti-trafficking policies and laws across the world, including the Indian anti-trafficking law. In 2020, Gupta and the Apne Aap team launched 1MillionMeals initiative, which distributed millions of meals to families of sex workers whose livelihoods were wiped out by the COVID-19 pandemic.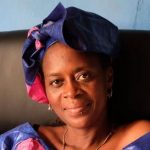 Rugiati Turay was only 12 when she, her three sisters, and a cousin were taken to undergo female genital mutilation (FGM). During the procedure, she almost lost her life. In her twenties, Turay fled to the Kalia refugee camp in Guinea to escape Sierra Leone's civil war. At the camp, she was shocked to discover that mothers were still getting organised and arranging to have their daughters cut. That was when she began her journey as an anti-FGM campaigner by founding the Amazonian Initiative Movement (AIM) with a group of like-minded women to combat FGM among the refugees. Because of her work, Turay was banned from her village and regularly faces death threats. However, she perseveres, saying: "When the women say: 'this is the first time we've heard about [the dangers of FGM] and we have to make sure we work together to protect our children', I am more motivated than I when I started."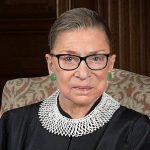 Ruth Bader Ginsburg was an Associate Justice of the Supreme Court of the United States from 1993 until her death in September 2020. During her lifetime, Ginsburg championed gender equality and women's rights as an advocate, academic, and appeals court judge, and then through her tenure as a supreme court judge. As the director of the ACLU's Women's Rights Project in the 1970s, Ginsburg argued six gender discrimination cases before the supreme court. She won five of the cases by persuading the bench that gender discrimination was a violation of the constitution's equal protection clause. Other issues that she fought for include abortion rights, equal pay for women, the mandatory inclusion of women in juries, that state-funded universities must include women, women's rights to financial independence and benefits, and the legalisation of same-sex marriage in the U.S.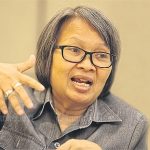 Supensri Puengkhoksung has been fighting for Thai women's rights since the 1970s. She is currently the director of the Social Equality Promotion Foundation, an organisation campaigning for human rights, including assisting victims of domestic and sexual abuse. Her mission is to help victims of abuse and domestic violence stand up for their rights and raise public awareness of violence against women and children. In a recent interview about the spike in domestic violence in Thailand during the COVID-19 pandemic, Puengkhoksung emphasises that the Thai government needs to expand the number of properly trained social workers and shelters that do not separate children from their mother. Puengkhoksung said: "If we do it right, we could turn the crisis into an opportunity to create more impact to the work we are doing,"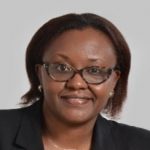 Wairimu Munyinyi-Wahome is the Executive Director of the Coalition on Violence Against Women (COVAW). She is an advocacy and policy specialist in gender and development issues with over 15 years of experience in Nambia, Somaliland, Sierra Leone, and Kenya, where she has served in various roles including Advocacy Advisor, Mainstreaming Coordinator with Concern Worldwide, and Country Advocacy Manager with Oxfam. In her interview with The Pixel Project, Munyinyi-Wahome said: "I strongly believe we can end violence against women and girls because violence is not a default setting of human beings – it is learned behaviour. We can influence families and communities to be violence-free through mitigation strategies and promotion of non-violence strategies for resolving conflict"
---
Photo Credits:
Asmaa Ali – From

"Advocates create Canada-wide support list for sexual assault survivors" (THE CANADIAN PRESS/Amber Bracken)

Dr. Anita Kemi DaSilva-Ibru – From

Women At Risk International Foundation (https://warifng.org/team/anita-kemi-dasilva-ibru-md-mph/)

Dr Debra Parkinson – From

Monash.edu

Dr Diana Russell – From dianarussell.com
Dr Siti Musdah Mulia – From "Musdah Mulia: Injecting spirituality into human rights activism" (The Jakarta Post/Musdah Mulia)
E. Laurie Shiell-Smith – Courtesy of E. Laurie Shiell-Smith
Ghida Anani – From TrustConference.com
Irina Matvienko – From "#HearMeToo: Activists in Central Asia break ground in fight against violence" (www.undp.org)
Payzee Mahmood – From "After Her Sister's Murder, This UK Child Marriage Survivor Is Fighting to Change the Law" (Global Citizen/James Wen)
Perla Vázquez – From GirlsNotBrides.org
Rachel Louise Snyder – From Wikimedia (Snyder, CC BY-SA 4.0 <https://creativecommons.org/licenses/by-sa/4.0>, via Wikimedia Commons)
Ruchira Gupta – From Facebook (https://www.facebook.com/RuchiraGuptaPublic/)
Rugiati Turay – From "Sierra Leone anti-FGM activist wins German human rights prize" (dw.com/Terre Des Femmes)
Ruth Bader Ginsburg – From Wikimedia (Supreme Court of the United States, Public domain, via Wikimedia Commons)
Supensri Puengkhoksung – From "Abuse shatters the social fabric" (The Bangkok Post)
Wairimu Munyinyi-Wahome – Courtesy of Wairimu Munyinyi-Wahome