Welcome to part one of our May 2019 Inspirational Interview with E. Laurie Shiell-Smith, executive director of the Centre Against Abuse (CAA) in Bermuda, which she has led for the last 10 years. 
During her tenure, CAA became accredited under the Bermuda National Standards Committee and is seen as the leading agency in the country for providing services to victims of domestic abuse and sexual assault, and also community awareness on these topics. Ms. Shiell-Smith has represented Bermuda at various Caribbean workshops and conferences and was appointed as the chairperson of the Bermuda Women's Council between 2010 and 2014.  During her tenure the Council worked on a number of women's issues in Bermuda, which included working towards having CEDAW (United Nations Convention for the Elimination of All Forms of Discrimination Against Women) extended to Bermuda. 
Part 2 of the interview will be published Monday, May 27, 2019.
All pictures courtesy of Centre Against Abuse.
---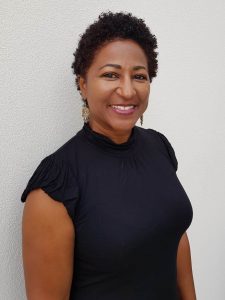 1. How and why did you join the movement to end violence against women?
My grandmother was a great proponent of stopping violence against women. She was raised in an extremely abusive household, with an abusive father. It was her desire that she would end that cycle of abuse from her side of the family, and so she spoke to her children about this behaviour, and also to me and my sister quite regularly about what she endured as a child, and how not follow that behaviour. My grandmother married a man that was the perfect example for her children and grandchildren on how a man treats a woman. She freed herself from the cycle of abuse.
In 1995, I took a domestic abuse hotline training that was being provided by the Women's Resource Centre here in Bermuda, and I worked on the hotline until 1997.
I was initially asked to join CAA as a board member in 2007, and a year later I was asked to be the executive director.  Today everything that I do honours my great-grandmother, who did not have an organisation like Centre Against Abuse to help her out of her abusive situation.
2. Centre Against Abuse (CAA) is a registered charity established in 1979 to tackle domestic and sexual violence in Bermuda. How did CAA come to be founded?
In the spring of 1976, The Business and Professional Women's Association of Bermuda held a seminar on rape. The audience was inspired by guest speaker Miss Christina Anderson, Detective Superintendent John Sheehy, Chief Pathologist Dr. Keith Cunningham, Dr. Elizabeth Mayall and Mrs. Moya Boyd.
Some members of the audience were inspired enough to agree to meet again for further discussions.  In June 1977 this group took a further step when it brought in two counsellors from Ontario, Canada, to lead a five-day workshop on telephone and person-to-person counseling for volunteers. This was the catalyst for the organization that was registered as a charity on June 11, 1979 under the name The Physical Abuse Centre. The name was changed in 2010 to Centre Against Abuse.
3. Can you tell us more about CAA's approach to stopping domestic violence and sexual assault and the services you provide for victims, survivors and communities?
CAA provides support services to adult male and female victims of domestic abuse and sexual assault. These services include: counselling, court advocacy, a 24-hour hotline, and resettlement assistance. CAA assists any survivor in Bermuda, which includes residents and visitors.
CAA also provides awareness and training on these topics through our community.  We have provided session to health care professionals, clergy, schools, students, church groups, businesses, sporting groups, etc. We also spread awareness via radio, TV, newspaper, Facebook and Instagram.
Annually we hold a domestic abuse and sexual assault 7-week course.
Our website also provides great information on these topics as well.
4. How has CAA's approach evolved since 1979?
Initially CAA was a location that women in abusive situations could come for counselling. We now also provide services for male survivors of domestic abuse as well as assisting survivors of sexual assault. CAA is the only non-governmental agency that is a member of the Sexual Assault Response Team (SART). SART responds when a sexual assault is reported.
We changed our name in 2010 to reflect the extension of services beyond physical abuse.
5. What are some of the particular challenges that Bermuda faces when tackling violence against women, and how have organisations like CAA addressed these challenges over the past few decades?
The biggest challenges that Bermuda faces are:
Confidentiality
The mindset that domestic abuse is a woman's issue
Funding for our services
Over the past few decades we have implemented a confidentiality policy that all clients sign, which includes our commitment to hold their information in confidence, and also states when we are required by law to disclose certain information.  Our clients have seen our work, and how we treat them with care, dignity and without judgement, and they tell others about our confidential and caring services.
We are still working hard with our community to dispel the belief that domestic abuse is a woman's issue.  We are continually working to get our community to recognise that domestic abuse is a human rights issue, and that we all play a part in ending this atrocity.
Bermuda is one of the few countries that does not have a government department that addresses violence against women. CAA has worked to end domestic abuse in Bermuda for the past 40 years. As a nonprofit we have struggled annually to maintain our services.
The service that we provide to our community is vital for the survival of so many, with 1 in 3 women in Bermuda being victims of domestic abuse. Consistent funding is vital for our services. We reach out to companies and hold fundraising events to obtain funding. We also operate a secondhand store, Dress For Success (D4S), which provides us with funding, and also provides the community with brand-new to barely used adult clothing and accessories. Our clients in need of clothing can shop at D4S for free.
Recently we have been in very productive talks with the government, and we are hopeful that these talks will result in a long-term solution for us and the community.