Welcome to part one of our October 2019 Inspirational Interview with Wairimu Munyinyi-Wahome, Executive Director of the Coalition on Violence Against Women (COVAW) located in Kenya.
Ms. Munyinyi-Wahome is an advocacy and policy specialist who is passionate about gender and development issues. She has over 15 years of international experience in Nambia, Somaliland, Sierra Leone and, more recently in Kenya, where she has served in various roles including Advocacy Advisor, Mainstreaming Coordinator with Concern Worldwide, and Country Advocacy Manager with Oxfam where she also briefly served as Acting County Director. In Kenya, Wairimu has served with the Norwegian Refugee Council as the Regional Advocacy, Protection and Communications Advisor for Eastern and Horn of Africa and Yemen. She served with Oxfam in Kenya as the Programmes Director. She holds a Bachelor of Arts Degree in Social Services from the Catholic University of Eastern Africa, an Honors Degree in Development Studies from the University of South Africa and is currently pursuing a Master's Degree in Public Policy and Management from the Strathmore Business School.
Part 2 of Ms. Munyinyi-Wahome's interview will be published on Monday 28 October 2019.
Photos are courtesy of COVAW.
---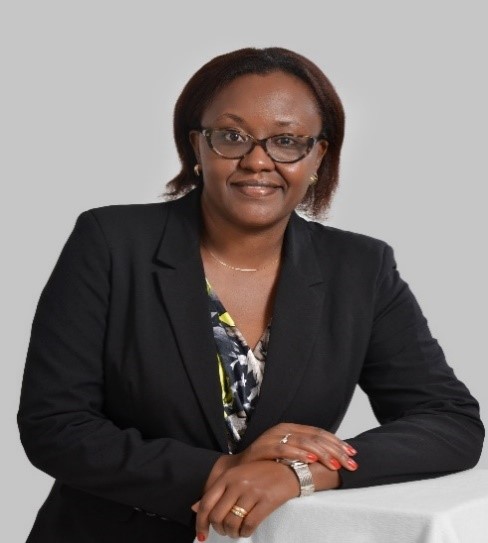 1. How and why did you join the movement to end violence against women?
I joined the movement to end violence against women way back when I served as an intern at the National Council of NGOs after graduating from the university. I was attached to the policy and advocacy department which supported member organisations that dealt with a broad range of rights.
Women's rights are close to my heart and injustices stir up a need to proactively be part of those that seek change. I believed I had the voice to speak up for myself and for other women who may not have had the privilege of space to articulate their voice against violence. Violence of whatever kind is demeaning and inhibits the ability of a survivor to realise their full potential. Being part of the movement was about being part of a critical mass of women and men who respect human rights and are passionate about influencing changes for the better.
2. The Coalition On Violence Against Women (COVAW) was founded in 1995 as a response to the silence of the Kenyan society to addressing violence against women and girls (VAWG). Could you tell us about the origins of COVAW?
Until 2002, Kenya was a one-party state. As a result, the years before that were marked by state oppression of citizens and a legal framework that allowed for the violation of human rights.
Women's rights were difficult to claim, right from issues of land and property ownership to rights against violence. There was silence around these violations. In the midst of all these, there were brave human rights activists who clamoured for change despite the threats from the government of the day. I was part of this group of activists that felt the need to form a coalition that would lobby for human rights and specifically for the rights of women and girls against violence, to challenge the entrenched biases that facilitated domestic violence including a complacent state, that was marked by a weak legal and policy framework and law enforcement institutions that also perpetuated violence against women.
3. Can you tell us more about COVAW's approach to stopping VAWG in Kenya and the services you provide for victims, survivors, and communities?
COVAW's approach aims to address immediate forms of violence while working to influence strategic and sustainable interventions that are intended to mitigate VAWG, including demanding accountability from the government on the same.
Through its projects, COVAW targets vulnerable and marginalised groups of women and girls including those with intellectual challenges to address Sexual and Gender based violence (SGBV), Female Genital Mutilation (FGM), Commercial Sex Exploitation and Child Trafficking through:
Raising awareness
Building the capacities of communities to lead in the change processes
Provision of legal aid and representation using pro bono lawyers for SGBV cases
Provision of psychosocial support to survivors and caregivers
Engaging policy makers and other stakeholders to influence quality development and delivery of policies and laws.
4. How has COVAW's approach and remit evolved since 1995?
In Kenya, the legal and policy framework to address VAWG has improved significantly over the years. There are laws and policies in place to support the prevention of and access to justice for survivors including the Sexual Offences Act and the Anti-FGM Act. This has made COVAW's influencing work a lot easier as there are frameworks to refer communities to. Holding the government to account using the same instruments has also become easier. A significant change has been the investment in the capacities of communities to lead in change processes through the use of community agents. This has been useful for facilitating ownership and sustainability of interventions even when projects have come to an end.
5. What are some of the particular challenges that Kenya faces when tackling violence against women and how have organizations like COVAW addressed these challenges over the past few decades?
Some of the major challenges are the implementation of laws and policies and sustained political will to make progress in improving the implementation performance. COVAW continues to influence a change through strengthening collaboration with government institutions and other like-minded organisations to maintain the pressure on the government to meet its obligations.
However, civil society organisations like COVAW can only implement projects with a limited time span, which limits our influence and agency in the long run while the government has a mandate to ensure citizens and vulnerable groups like women and girls are protected as provided for by the constitution. Their full uptake of this responsibility is the only way to address implementation challenges and ensure sustainability of interventions against VAWG, in the long run.