The Pixel Project is 9 years old today:
9 years of being the only anti-VAW nonprofit to specialise in working to raise awareness, funds, and volunteer power to end VAW at the very 21st century intersection of social media, online communities, new technologies, and pop culture/the arts.
9 years of our all-volunteer team across 6 continents collaborating to raise awareness, funds and volunteer power for the movement to end Violence Against Women (VAW).
9 years of establishing and growing our ongoing anti-VAW campaigns, projects, and programmes.
9 years of creating social media-based platforms that make it simple and accessible for everyone from the person on the virtual street to various online communities to get on board the cause to end VAW.
9 years of experimenting with (and implementing) positive, innovative, and effective new ways of using online tools, social media, and pop culture/the arts to get the conversation about VAW going amongst individuals and communities.
9 years of helping boost the signal for positive stories of people around the world working to stop VAW as well as the women and girls who survive VAW tell their stories.
9 years of building partnerships with allies that range from anti-VAW organisations and campaigns of all shapes and sizes, to award-winning bestselling authors, to music artistes using their songs to sound the clarion call for the end to VAW.
9 years of bridging the gaps to provide victims, survivors, and their families and friends with accessible information for getting help for escaping any form of violence against women and girls.
9 years of developing and running our massive flagship Celebrity Male Role Model Pixel Reveal campaign in an effort to accelerate the shift in the conversation towards including men and boys in helping stop VAW.
It's been 9 interesting and packed years, to say the least!
And now, onwards to our annual review of the year that came before:
2017 has been a year of growth for The Pixel Project:
On the awareness-raising and community engagement side:
Our ongoing campaigns and programmes continued to slowly but steadily build momentum and gain traction:
Ahmir, our YouTube Music Ambassadors, recorded their biannual single for our Music For Pixels campaign featuring their rendition of Alessia Cara's "Scars To Your Beautiful" as a tribute to VAW survivors worldwide and to raise funds for us:
The Read For Pixels campaign crossed the milestone of having the support of over 80 award-winning bestselling authors, with 23 of these worthy wordsmiths joining the campaign in 2017. They spoke out against VAW via live Google Hangout sessions and helped raise funds for the Pixel Reveal campaign via RallyUp fundraisers choc-a-bloc with exclusive geeky goodies. 2017 Read For Pixels authors come from a wide range of genres and included well-known names and fan favourites such as Aliette de Bodard, Jacqueline Carey, Karen Chance, Ken Liu, Adrian Tchaikovsky, Soman Chainani, Paul Tremblay, and P.C. & Kristin Cast. Check out the full list of authors here and here.
As a special bonus, acclaimed Science Fiction and Fantasy author Jim C. Hines, who is a long-time supporter of our work, did a very special gender-flipped book cover pose to reward a generous individual who donated $500 to Read For Pixels last fall.  Jim's gender-flipped poses are designed to lampoon the ridiculous (and sexist) poses that women are put in on SFF and YA book covers: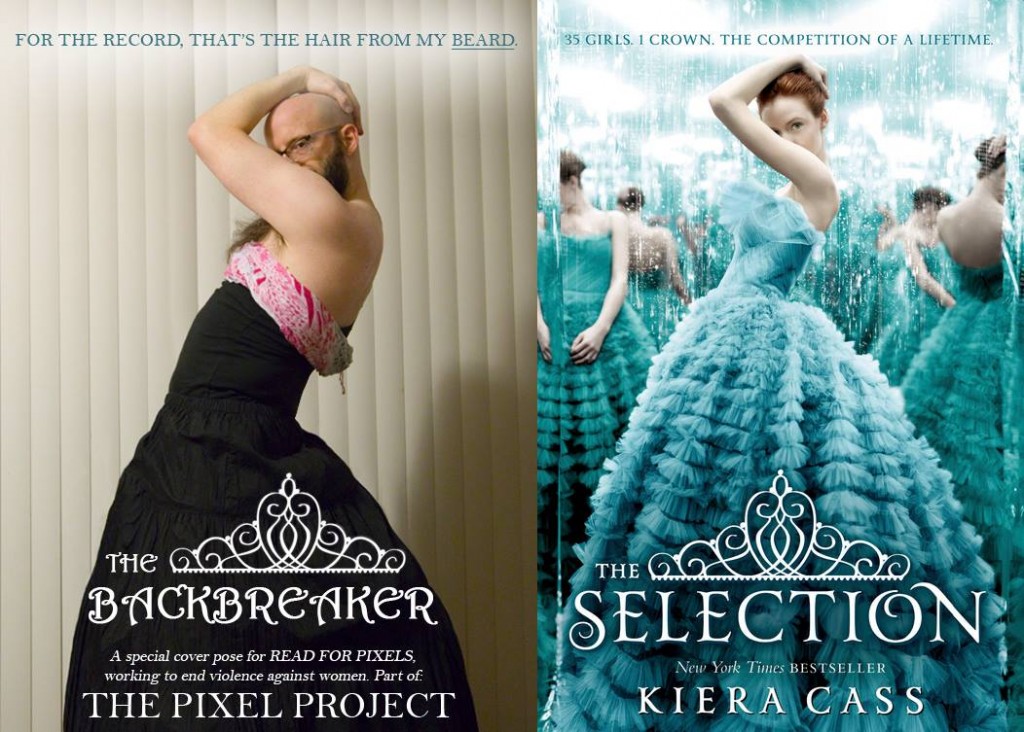 The Gaming For Pixels campaign got off to a promising start with the Spring Slam featuring 37 gamers participated from 9 countries (Australia, Brunei, Canada, Germany, Indonesia, Malaysia, Singapore, The Philippines, USA) who played to raise funds for 193 hours in total. Gaming For Pixels also featured partnerships with 9 indie gaming studios and organisations from the Malaysia, Singapore, and Indonesia. All gamers and donors were provided with the link to download the anti-Violence Against Women toolkit via their auto-confirmation email from signing up or donating.
The People and Pets Say NO photo statement campaign continues to run steadily with 21 individuals and families from all walks of life submitting pictures of them and their pets saying NO to VAW during Domestic Violence Awareness Month. 2017 was the third year we have cross-posted them on our new Instagram account which continues to attract a steady stream of followers.
Our Facebook page passed the 52,064 Likes mark by December 31st 2017 (up by 650 likes from December 31st 2016) with a very lively community respectfully discussing the various posts and news.
Our Twitter account now has 22,429 followers – 543 followers more than we had this time last year helping us retweet our daily global VAW helpline retweet session. We also started a trial run for a morning session (Eastern Standard Time) for North America as domestic violence victims may not be able to access Twitter in evenings when their abusers are home from work.
On the blogging/journalism side:
The "16 For 16" blogging campaign in honour of the 16 Days of Activism Against Gender-based Violence continues to grow as we accumulate an archive of positive articles packed with shareable ideas, information, and solutions for inspiring individuals and communities to take action to stop VAW. We welcome some new guest contributors in 2017 including the Royal Australia & New Zealand College of Obstetricians & Gynaecologists (RANZCOG), the RAHI Foundation, and writer and survivor Elizabeth DeHoff.
We interviewed 12 anti-VAW activists/organisations from 6 countries including Canada, Iceland, India, Israel, UK, and USA for our long-running Inspirational Interviews series.
We helped 23 VAW survivors tell their stories via our Survivor Stories campaign including bestselling authors PC Cast, Martha Wells, and Charlaine Harris as well as with the participation of members of parillumme (an organisation that helps sexual assault survivors reclaim their stories and lives).
As always, we've achieved all that we have achieved as a team and in 2017, we welcomed the following volunteers:
Editor  – Kate Andrews (USA)
In-house writer – Adishi Gupta (India)
Read For Pixels team – Sharmila Ganapathy-Wallace (Malaysia)
On the fundraising side:
2017 was the fourth year of our massive multi-year flagship Celebrity Male Role Model Pixel Reveal campaign, raising another $15,990 (15,990 pixels) to reach $52,448 (52,448 pixels revealed) by December 31st 2017. This is a solid increase from $36,458 (36,458 pixels revealed) raised by December 31st 2016… and we will continue to reveal bits of the first Celebrity Male Role Model's shirt and arms (check it out here: http://reveal.thepixelproject.net/view-celebrity/ or on the homepage here.)
We raised the bulk of the funds via three (3) online fundraising events:
Our 3rd annual Read For Pixels (International Women's Day Edition) in March 2017.
Our 4th annual Read For Pixels (Fall Edition) in September 2017.
Our 1st Gaming For Pixels Spring featuring gamers from 9 countries.
Overall fundraising (including both Pixel Reveal and general fundraising) highlights include:
Award-winning bestselling Thriller author Karen Rose generously providing a $4000 dollar-to-dollar matching donation for the International Women's Day Edition of Read For Pixels.
Our YouTube Music Ambassador AHMIR (the #1 R&B group on YouTube) raising $3,628 for us from donors in Hong Kong while they were performing on tour in the city.
Raising approximately $8,939  more than our fundraising total in 2016 thanks to our online fundraisers and the collective generosity of our supporters and collaborators.
The Year Ahead
We'll continue developing and running our annual and ongoing campaigns:
We will also be continuing our ongoing efforts to raise the $1 million (1 million pixels) for the Pixel Reveal campaign in our marathon bid to unveil our 1st celebrity male role model via two (2) major Read For Pixels events/fundraisers:
Our 4th annual International Women's Day Edition of the Read For Pixels campaign in March 2018 featuring women writers only.
Our 5th annual Fall Edition of the Read For Pixels in September 2018 featuring both male and female authors.
We hope you are as excited as we are about 2018. If you want to get involved with any of these campaigns and programmes, we certainly welcome more volunteers and pro bono professionals joining us on our journey towards ending violence against women. Just fill in the volunteer application form and we'll get back to you!
If you prefer to donate, you can donate in 3 ways:
1. You can donate to reveal pixels via the Celebrity Male Role Model Pixel Reveal campaign to help us reach our major fundraising milestone of $250,000 raised (250,000 pixels) and our first male role model revealed. Funds raised be in support of The Pixel Project and our anti-VAW programmes and campaigns. You can also donate to the campaign here.
2. You can donate to us as an organisation to help us keep our work alive. To donate to us and for more details about how your donation will be used, visit our donation page.
3. You can hold a fundraiser for us which could be anything from holding bake sales if you're a baker to donating a portion of your profits if you run a business to running a marathon and getting folks to sponsor you by donating to us. Get in touch directly with us at info@thepixelproject.net if you wish to raise funds for us or with us.
Here's to The Pixel Project surviving and thriving to continue fighting for the cause for as many years as it takes to eradicate violence against women. May we live to see the day when our work is no longer needed – the day when violence against women is no longer the norm in communities and cultures worldwide. Just as it takes a village to raise a child, it takes an entire community to work together to effectively eradicate the violence against women and girls for good.
It's time to stop violence against women. Together.
– Regina Yau, Founder and President, The Pixel Project