Welcome to The Pixel Project's "30 For 30" Father's Day Campaign 2012! In honour of Father's Day, we created this campaign:
To acknowledge the vital role Dads play in families, cultures and communities worldwide.
To showcase good men from different walks of life who are fabulous positive non-violent male role models.
Through this campaign, we will be publishing a short interview with a different Dad on each day of the month of June.
Our twenty-eighth "30 For 30" Dad is Alan Kearl from USA.
———————————————————————————
The Dad Bio:
Alan Kearl is 54 and lives with his wife of 32 years, Beckie, in a New York City high rise. He is the Chief Operating Officer of a cosmetics manufacturing company. He is the father of three daughters (including Holly Kearl, the founder of Stop Street Harassment) and grandfather of three grand dogs. He's pretty busy, but likes making chocolates and running. While running he listens to historical non-fiction, particularly about the US Civil War. Ever since his oldest daughter, now deceased, was born deaf and with cerebral palsy, he also involves himself with people and causes that help people who are underserved and/or discriminated against.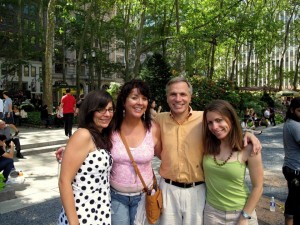 1. What's the best thing about being a dad?
The conventional wisdom is that parents teach their children, and of course they do. But the really great thing about being a dad is learning from your children. From birth, children teach dads/parents/all adults so much. You learn you don't have to talk to communicate and you learn that something as simple as a peek-a-boo game can bring so much joy. As children grow, it is so exciting to see how they absorb concepts and interactions, what words they say, how they put it all together. Now as adults, I am so amazed by what my daughters are involved in, their causes, and how they view life. It's pretty humbling.
2. A dad is usually the first male role model in a person's life and fathers do have a significant impact on their sons' attitude towards women and girls. How has your father influenced the way you see and treat women and girls?
Periodically, maybe once or twice a month, my dad would get up from what he was doing and walk to my mother and hug her and turning to his children say, "did I ever tell you how much I love your mother?" Of course life was not all sugar coating and he was as human as the rest of us, but one of the things I don't remember ever happening, was hearing him make a rude or crude joke or comment about a passing female.
3 . Communities and activists worldwide are starting to recognize that violence against women is not a "women's issue" but a human rights issue and that men play a role in stopping the violence. How do you think fathers and other male role models can help get young men and boys to take an interest in and step up to help prevent and stop violence against women?
If we want to make change, we have to start at home and in our community. It's about attitude, how we talk about the way the female infielder made the play at during the little league game, what we say about the degrading lyrics of the popular song, and our reaction to news reporting of the rape of a female journalist covering events in Tahrir Square. Without being heavy-handed, we can change attitudes by what we say, and what we don't say. And it doesn't hurt to take a more public stance, by getting involved with a rally, making a public comment at a school board or a town council meeting. As long as we believe it ourselves and are genuine, our children will see it all, internalise it and adopt it for themselves.
————————————————————————
Want to honour your Dad in a different way this Father's Day without breaking the bank?
We offer two (2) easy and fabulous options:
Option A: Make a Small Donation
Help us raise US$3000 or more this June by donating US$30 on behalf of your dad to our Celebrity Male Role Model Pixel Reveal campaign to help unveil our first superstar Celebrity Male Role Model – a beloved Nobel Laureate. US$30 will unveil 30 pixels and proceeds from the pixel sales are in benefit of the USA's National Coalition Against Domestic Violence and Malaysia's Women's Aid Organisation.
Click here to donate: https://reveal.thepixelproject.net/buy-pixels/
Option B: Dedicate a Song to Him
For just $0.99, you can download our first Music For Pixels song – a cover of 'The Rose' by AHMIR, YouTube's #1 R&B group and load it onto your Dad's computer's iTunes or digital music player. Not sure about it? Listen before you buy here: