Welcome to The Pixel Project's "30 For 30" Father's Day Campaign 2012! In honour of Father's Day, we created this campaign:
To acknowledge the vital role Dads play in families, cultures and communities worldwide.
To showcase good men from different walks of life who are fabulous positive non-violent male role models.
Through this campaign, we will be publishing a short interview with a different Dad on each day of the month of June.
Our twenty-seventh "30 For 30" Dad is Sean Robertson from Washington D.C., USA.
———————————————————————————
The Dad Bio:
Sean Robertson lives in Washington DC with his wife Krista, daughter Rosie (3 years) and son Quentin (9 months). He lobbies for a national association of local conservation organisations, the Land Trust Alliance, and is currently working to start a community garden and neighbourhood gathering place on the vacant lot behind his house. Sean enjoys weekend trips with the kids to DC's free musuems and out into the surrounding countryside.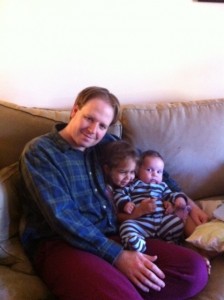 1. What is the best thing about being a dad?
Let's face it – being a dad is fun! You've got these little people who absolutely adore you and light up at the very sight of you. And they're a great excuse to go out and explore all the fun places you enjoyed when you were a kid. Taking a walk in the park may be fun by itself, but that same walk with an inquisitive 3-year-old is a much richer and memorable experience. I'm excited that both my kids are now getting to the age that they're able to share my appreciation for the world around us.
2. A dad is usually the first male role model in a person's life and fathers do have a significant impact on their sons' attitude towards women and girls. How has your father influenced the way you see and treat women and girls?
Thanks to my dad, it never really occurred to me that violence could be an issue in a family setting – I only really became aware of it through school and popular culture. On the other hand, my dad always seemed to have higher priorities for his time than family. I'm grateful that his hard work allowed us to maintain our lifestyle through a lean decade, but other things like sports and hobbies also seemed to come first. I could see how much he regretted not having spent more time with me as I (his only child) prepared to move east for College and I will endeavour to spend more time with my family before it's too late.
3. Communities and activists worldwide are starting to recognise that violence against women is not a "women's issue" but a human rights issue and that men play a role in stopping the violence. How do you think fathers and other male role models can help get young men and boys to take an interest in and step up to help prevent and stop violence against women?
I think it all comes down to teaching your kids to be sensitive to other people's feelings and not unduly reinforcing traditional gender roles. When more attuned to the emotions of those we care about, I think it becomes hard to contemplate tolerating violence in a family setting.
————————————————————————
Want to honour your Dad in a different way this Father's Day without breaking the bank?
We offer two (2) easy and fabulous options:
Option A: Make a Small Donation
Help us raise US$3000 or more this June by donating US$30 on behalf of your dad to our Celebrity Male Role Model Pixel Reveal campaign to help unveil our first superstar Celebrity Male Role Model – a beloved Nobel Laureate. US$30 will unveil 30 pixels and proceeds from the pixel sales are in benefit of the USA's National Coalition Against Domestic Violence and Malaysia's Women's Aid Organisation.
Click here to donate: https://reveal.thepixelproject.net/buy-pixels/
Option B: Dedicate a Song to Him
For just $0.99, you can download our first Music For Pixels song – a cover of 'The Rose' by AHMIR, YouTube's #1 R&B group and load it onto your Dad's computer's iTunes or digital music player. Not sure about it? Listen before you buy here: