Welcome to The Pixel Project's "30 For 30" Father's Day Campaign 2012! In honour of Father's Day, we created this campaign:
To acknowledge the vital role Dads play in families, cultures and communities worldwide.
To showcase good men from different walks of life who are fabulous positive non-violent male role models.
Through this campaign, we will be publishing a short interview with a different Dad on each day of the month of June.
Our twenty-ninth "30 For 30" Dad is Clay Jones from Canada.
———————————————————————————
The Dad Bio:
A lifelong musician and gender equity advocate, Clay Jones has been working for White Ribbon Campaign Canada since the fall of 2000. Currently he is the Office Manager and Communications Director, engaging communities online through twitter and facebook and through WRC projects like It Starts With You.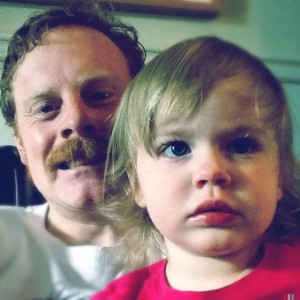 1. What is the best thing about being a dad?
What a hard question to answer. I can't think of any one thing that is the best, but what I like about being a father is watching my daughter, now just over 2 years old transform from a squirmy, noisy, confusing, squishy mess (I mean this in a good way) into a brave, opinionated, self-assured individual that can hold a conversation in her own special way. I love that she is learning what she likes (dinosaurs, ballerinas, stickers, anything pickled) and what she doesn't like (people on stilts, excited dogs, dinosaurs – it's complicated.)
I have enjoyed being given the opportunity to be a mentor, but at the same time, looking inward to make sure I am leading a just life that my daughter can be proud of (and to believe, steadfastly, that my daughter will still think I'm cool when she's 16.)
2. A dad is usually the first male role model in a person's life and fathers do have a significant impact on their sons' attitude towards women and girls. How has your father influenced the way you see and treat women and girls?
My father has always instilled in me that men and women can, and must, lead equitable lives with each other. Equal opportunities, equal pay and equal responsibilities around the house.
My father taught me to question the status quo and nurtured and supported my artistic side which had a major impact in my path towards working at WRC, and questioning hegemonic ideals of masculinity.
3. Communities and activists worldwide are starting to recognise that violence against women is not a "women's issue" but a human rights issue and that men play a role in stopping the violence. How do you think fathers and other male role models can help get young men and boys to take an interest in and step up to help prevent and stop violence against women?
As a man working directly on this issue, leading by example, in my opinion, is one of the most important ways men in mentorship roles can effect positive change on young men and boys attitudes towards gender equity and healthy relationships.
As a father of a daughter, it is important to me that any school curriculum engages young men and boys on this topic.
————————————————————————
Want to honour your Dad in a different way this Father's Day without breaking the bank?
We offer two (2) easy and fabulous options:
Option A: Make a Small Donation
Help us raise US$3000 or more this June by donating US$30 on behalf of your dad to our Celebrity Male Role Model Pixel Reveal campaign to help unveil our first superstar Celebrity Male Role Model – a beloved Nobel Laureate. US$30 will unveil 30 pixels and proceeds from the pixel sales are in benefit of the USA's National Coalition Against Domestic Violence and Malaysia's Women's Aid Organisation.
Click here to donate: https://reveal.thepixelproject.net/buy-pixels/
Option B: Dedicate a Song to Him
For just $0.99, you can download our first Music For Pixels song – a cover of 'The Rose' by AHMIR, YouTube's #1 R&B group and load it onto your Dad's computer's iTunes or digital music player. Not sure about it? Listen before you buy here: