Welcome to The Pixel Project's "30 For 30" Father's Day Campaign 2012! In honour of Father's Day, we created this campaign:
To acknowledge the vital role Dads play in families, cultures and communities worldwide.
To showcase good men from different walks of life who are fabulous positive non-violent male role models.
Through this campaign, we will be publishing a short interview with a different Dad on each day of the month of June.
Our twenty-sixth "30 For 30" Dad is Samir Khan from The Republic of Seychelles.
———————————————————————————
The Dad Bio:
After graduating from high school, Samir Khan turned down a scholarship to go to university, instead choosing to join the world of work to help his struggling single mother. Since then, through his determination and hard work, he's become one of the most respected young entrepreneurs in Seychelles, paving a way for other young men who didn't necessarily benefit from a traditional university education. At 21 he became the youngest IT Manager in Seychelles, working for the most prestigious financial services company in Seychelles, Mayfair. He subsequently partnered with his wife to head several start up companies between now and 1998 in The Seychelles, his home country, and is passionate about innovation & technology. Samir is dad to Kian, 8 and step-dad to Louis, 6.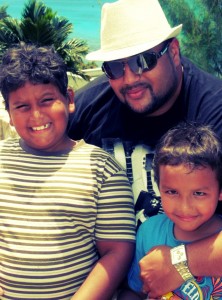 1. What is the best thing about being a dad?
Apart from the circumstances of my childhood, the moment I went from being a man to being a father I understood the feeling of what it is to love something more than life itself.
I love the opportunity of being a mentor, to actually help my kids to learn and grow. Being a father, I get to truly shape the life(s) of my kids.
What I truly believe is the best thing about being a dad & I am sure there are lots of Dads out there that will agree with on this, is that it makes you a better person & it awakens you to your global responsibility.
2. A dad is usually the first male role model in a person's life and fathers do have a significant impact on their sons' attitude towards women and girls. How has your father influenced the way you see and treat women and girls?
Thanks to my Dad, I have learnt to appreciate and respect women as an equal to men. My Dad has always told me that every man should be appreciative for anything a woman does for him and show her appreciation for being in YOUR life.
As a child, he use to always tell me "Son, a man should never lay a hand on a woman no matter what she has done to you, unless it is to caress her".
Those values has been a big part of my life and like him, I pass it down to my kids.
3. Communities and activists worldwide are starting to recognise that violence against women is not a "women's issue" but a human rights issue and that men play a role in stopping the violence. How do you think fathers and other male role models can help get young men and boys to take an interest in and step up to help prevent and stop violence against women?
I think that strengthening our children's knowledge on the importance of violence against women should be the first starting point this should come from the homes and schools of our children.
As parents who cannot be there at every step of the way for our children, we need to ensure that as our boys grow, they are exposed to responsible male role models who can teach them in a healthy way about the importance of respect for the women in their life.
————————————————————————
Want to honour your Dad in a different way this Father's Day without breaking the bank?
We offer two (2) easy and fabulous options:
Option A: Make a Small Donation
Help us raise US$3000 or more this June by donating US$30 on behalf of your dad to our Celebrity Male Role Model Pixel Reveal campaign to help unveil our first superstar Celebrity Male Role Model – a beloved Nobel Laureate. US$30 will unveil 30 pixels and proceeds from the pixel sales are in benefit of the USA's National Coalition Against Domestic Violence and Malaysia's Women's Aid Organisation.
Click here to donate: https://reveal.thepixelproject.net/buy-pixels/
Option B: Dedicate a Song to Him
For just $0.99, you can download our first Music For Pixels song – a cover of 'The Rose' by AHMIR, YouTube's #1 R&B group and load it onto your Dad's computer's iTunes or digital music player. Not sure about it? Listen before you buy here: