Welcome to The Pixel Project's "30 For 30" Father's Day Campaign 2012! In honour of Father's Day, we created this campaign:
To acknowledge the vital role Dads play in families, cultures and communities worldwide.
To showcase good men from different walks of life who are fabulous positive non-violent male role models.
Through this campaign, we will be publishing a short interview with a different Dad on each day of the month of June.
Our twenty-fifth "30 For 30" Dad is Saurabh Mittal from India.
———————————————————————————
The Dad Bio (In His Own Words):
I am a full time dad and a management consultant who recently relocated from New York to Gurgaon. My son is going to be six this year and I have always worked from home office since the time he was born. I stretch to make this model work but my son thinks that my main occupation should be to play with him but according to him all I seem to do is read newspaper and jog.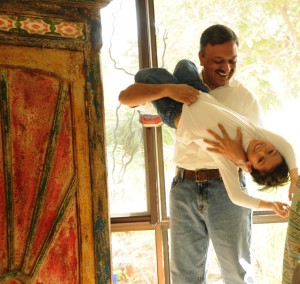 1. What is the best thing about being a dad?
It is like falling in love all over again. I think it is one of the most beautiful relationships in the world. Young children make their dad feel special as they are always their super heroes. It also teaches you what is most important in life and helps you learn so much all over again. You get to see the world from a child's point of view and it also makes you get in touch with aspects of oneself which one did not know existed.
2. A dad is usually the first male role model in a person's life and fathers do have a significant impact on their sons' attitude towards women and girls. How has your father influenced the way you see and treat women and girls?
I absolutely agree that the first and the most impressionable lessons on one's mind are from one's parents. I saw my father supporting my mother's career, always lending a helping hand at home and independently taking care of me and my brother and the house when my mother had to establish her career. He grew up in a small town in a traditional set-up but broke the mould in many ways and that left a lasting impression on me. His behaviour towards women and girls and open attitude to learning has helped shape my values.
3. Communities and activists worldwide are starting to recognise that violence against women is not a "women's issue" but a human rights issue and that men play a role in stopping the violence. How do you think fathers and other male role models can help get young men and boys to take an interest in and step up to help prevent and stop violence against women?
Most gender related issues are not issues about women alone. Men need to be co-opted in as many ways as possible to make gender related social change happen effectively as male transformation is a key in helping bring about any change in the life of women. Fathers and male role models can best help by leading by example. Besides this, a re-education of male notions and attitudes about women is critical. A lot of these attitudes are learnt quite early in life. In my mind some creative campaigns, targeted at both men and women, are also a good way to help bring about this much needed change to help change a society's perception about its women.
————————————————————————
Want to honour your Dad in a different way this Father's Day without breaking the bank?
We offer two (2) easy and fabulous options:
Option A: Make a Small Donation
Help us raise US$3000 or more this June by donating US$30 on behalf of your dad to our Celebrity Male Role Model Pixel Reveal campaign to help unveil our first superstar Celebrity Male Role Model – a beloved Nobel Laureate. US$30 will unveil 30 pixels and proceeds from the pixel sales are in benefit of the USA's National Coalition Against Domestic Violence and Malaysia's Women's Aid Organisation.
Click here to donate: https://reveal.thepixelproject.net/buy-pixels/
Option B: Dedicate a Song to Him
For just $0.99, you can download our first Music For Pixels song – a cover of 'The Rose' by AHMIR, YouTube's #1 R&B group and load it onto your Dad's computer's iTunes or digital music player. Not sure about it? Listen before you buy here: