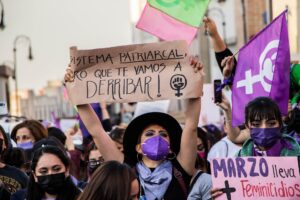 Every year, we at The Pixel Project come across a wide variety of innovative and powerful campaigns tackling Violence Against Women (VAW) by our fellow activists and non-profits from around the globe, and 2022 is no exception. Some of the campaigns work to educate and empower underserved communities, while others provide a platform for survivors to speak out and hold abusers accountable.
We acknowledge that anti-VAW campaigners put themselves in perilous situations to advocate for the safety of others and we are immeasurably grateful for their bravery. From women marching the streets to women combating harassment online, each and every action, large or small, counts.
So today, in honour of all VAW activists, nonprofits and grassroots groups who toil in thankless situations to bring about positive change to the lives of women and girls facing violence, we present 16 of the most striking campaigns/programmes we have come across in 2022.
What these campaigns have in common are:
The built-in "water-cooler" factor that gets the community buzzing about the campaign and, by extension, the issue of VAW.

A good sense of what works in and for the culture and community where the activist/nonprofit/grassroots group is trying to galvanise change.

We hope that these campaigns and initiatives inspire you to take action and get on board the cause to end VAW.
It's time to stop violence against women. Together.
Note: Information for all campaigns is sourced via online research and is based on one or more news sources and articles. The main articles/reports from which these profiles have been sourced can be directly accessed via the hyperlinked titles. Please do click through to learn more about these remarkable campaigns.
Introduction by Regina Yau. Written by Anushia Kandasivam, Regina Yau, and Susanna Lim. Research by Regina Yau and Vani Bhardwaj.
Inspired to support The Pixel Project's anti-violence against women work? Make a donation to us today OR buy our Shirley Jackson Award-nominated 1st charity anthology, Giving The Devil His Due. All donations and net proceeds from book and audiobook sales go towards supporting our campaigns, programmes, and initiatives.
---
On September 16th, the Guidance Patrol (the religious morality police of Iran's government) arrested 22-year-old Iranian woman Mahsa Amini in Tehran for not wearing her hijab in accordance with government standards. According to eyewitnesses, they beat her so severely that she died from her injuries. Her state-sanctioned femicide set off massive protests by Iranian women, many of whom burned their hijabs and cut their hair in defiance of the government. Even though the Iranian government cut off internet access in the country to stop word from getting out, the Mahsa Amini protests snowballed into a global protest against the draconian and ultra-conservative control the regime continues to exert over Iranian women. 
In the advocacy to eradicate FGM in The Gambia and around the world, storytelling continues to be used as a tool to amplify the voices of survivors and other stakeholders, influence individuals and communities to voluntarily abandon the practice, and drive critical action in decision making processes. With support from UNFPA through the UNFPA-UNICEF Joint Programme on the Elimination of FGM, 15 young women were engaged in a four-day creative workshop on techniques for storytelling to end FGM, facilitated by Think Young Women. Through the workshop, participants engaged in idea exchanges, pitched story ideas and received guidance on how to use their voices and platforms to promote the eradication of FGM. "As an FGM survivor, I want to see communities being more receptive and empathic of those of us who choose to share our stories. Communities should stop the discrimination and listen to the very women whose experiences need to be heard – those who underwent FGM. Our stories matter," explains Fatou Darboe, FGM survivor and participant of the workshop. 
In May 2022, the municipality of Utrecht launched a campaign against street harassment by catcalling men as they walked. A woman on a screen would catcall men as they walked the streets around Stadhuisburg. Municipal employees would then approach the men who were catcalled to talk to them about the campaign's purpose and ask how they felt about it. The city deliberately made the campaign confrontational and abrasive in tone to draw attention to this type of harassment and make men realise how uncomfortable and sometimes even threatening it is for women and girls.
A group of Rhode Island middle school boys saw their teacher being a "creep" towards their female classmates and when their attempts to inform their school were ignored, they started a Discord channel from January 2021 onwardsto keep a log of what they considered inappropriate interactions between him and girls in their class. In April 2022, after the teacher came under investigation for stalking a pre-teen middle school girl, the boys came forward with their documentation. Their log has since been shared with the local US attorney's office, the Rhode Island Department of Children, Youth and Families, the state education department, and a lawyer conducting an internal investigation for the school. One of the boys told The Boston Globe: "I did not ever think this would actually be used as evidence, but we always had it as if it was. So I'm glad that we did, even though it might have seemed like slightly stupid at times."
Invented by industrial engineering student Kim Eisenmann, the Xantus Drinkcheck Band is coated with a chemical that reacts with common date-rape drug GFB. Eisenmann invented the simple tool after a friend was assaulted at a festival. The wristband looks like a simple paper band one would get at any concert. The user just has to put a few drops of their drink onto the band and wait two minutes. If the area turns blue, they know their drink has been spiked. With a dearth of similar tools on the market, the wristband is already making an impact in Germany. Eisenmann says that women and girls have told her it makes them feel "more aware and safe" and she hopes that it will also deter potential offenders. It is currently only available in Germany but Eisenmann wants to bring it to the UK and further. 
The Masahatuna (Our Spaces) app allows women in Gaza to report domestic violence anonymously and receive confidential advice. Users can register with the app without giving their names and the operating system does not show any trace of contact being made with a help centre. The anonymity enables women to avoid the shame and reprisals they often face when going to the authorities directly. The app, developed by local computer engineer Alaa Huthut this year, serves a pressing need for a safe way for victims of domestic violence to seek advice and assistance safely, especially important in a culture where family pressure keeps this type of VAW hidden. 
During the 2012 uprising in Egypt, hundreds of women were beaten, stripped and sexually assaulted by large and violent all-male mobs. In January 2022, Egyptian Comic book artists Rim Naguib and Salma El Tarzi used their art to confront the sexual violence endured by women during the protests by publishing comics based on the testimonies of musician and activist Yasmine El Baramawy and  long-time activist and anthropologist Ola Shahba. The project was conceived by Baramawy and coordinated by Manal Hamzeh, a gender and sexuality studies professor at New Mexico State University, who included Shahba and Baramawy's testimonies in her book, Women Resisting Sexual Violence and the Egyptian Revolution: Arab Feminist Testimonies. Professor Hamzeh said: "We, as a collective, hope to offer their testimonies in a more lasting and accessible form and to elevate the revolutionary struggles of women in the January revolution. We also hope to sustain their experiences in the collective memories of Egyptians, Arabs, and those struggling for dignity, justice, and freedom." 
The United Nations Population Fund (UNFPA) took action to combat online violence against women with their 2022 bodyright campaign. This campaign cleverly highlights the fact that corporate logos and copyrighted IP are far more valued and better protected online than images of the bodies of women that are often uploaded to the internet without consent and used to cause harm. The campaign provides a ⓑ symbol that can be added to any image via Instagram stories using stickers, or by downloading it from the webpage. Its goal is to hold policymakers, companies and individuals accountable for online violence while driving home the message that women, girls and other marginalised groups are valued and will not be violated online. UNFPA Executive Director Natalia Kanem said: "It's time for technology companies and policymakers to take digital violence seriously right now."
In an effort to challenge the belief that only conventionally attractive people can become successful fashion models and at the same time raise awareness about violence against women, Iranian designer Amen Khademi hired survivors of acid attacks to model her latest collection. The four women, whose faces were disfigured in violent attacks, are defying society's expectations of both models and survivors of gender-based violence. The women have also created a fashion and art gallery where other female acid attack survivors can participate as models. The models, along with other female and male acid attack survivors, have spoken to Iranian lawmakers calling for harsher legislation against acid attackers. 
Charity group Plan International Australia, together with L'Oreal Paris, launched the Stand Up Against Street Harassment campaign to raise awareness about street harassment in Australia. The campaign provides free and accessible one-hour virtual training sessions for the Australian public to learn the 5Ds – Distract, Delegate, Document, Direct and Delay – effective and safe bystander intervention techniques. According to a study commissioned by L'Oreal Paris that interviewed thousands of Australians, more than 80% who had experienced street harassment said the impact of the harassment was not as severe when a bystander intervened. However, 86% blamed lack of training and education in knowing how to intervene, which stopped them from helping people. "We need to start standing up for each other and not brushing this off as a normal experience. We need to be better bystanders. No one deserves to feel unsafe, period," said Plan International Australia youth leader Elizabeth Payne.
This Life Cambodia, a non-profit organisation based in Siem Reap province, has won four international awards for its hard-hitting domestic violence short film called Virtual Reality – Life is Not a Game. The film features a man wearing a virtual reality headset and playing a game in which the player loses whenever the woman he is playing as is beaten to death by her husband at home. Billy Gorter, This Life's executive director, said: "Our call to action raised awareness of gender-based violence, engaged community members, influencers and international ambassadors to share their thoughts and encouraged people to act. We also wanted to provide support to women with useful information on who they could reach out to for support, and useful tips on how people could support women experiencing domestic violence."
Ahead of Day of the Girl Child in 2022, World Vision created a Girls' Opportunity Index, which explores the opportunities girls can expect to have in the 20 countries with the highest rates of child marriage worldwide, and analysed the relationship between these opportunities and their likelihood of marrying before their 18th birthday. Opportunity, as conceived in this index, is based on a girl's well-being and access to healthcare, education, ability to make choices for herself, ability to work and manage her own money, and legal rights and representation. Around the world, girls are subject to a vicious cycle in which those living in contexts with little opportunity are more prone to child marriage, which in turn leads to fewer opportunities for not only them, but their children, too. Before the pandemic, more than 100 million girls worldwide were expected to marry before their eighteenth birthday in the next decade. Now, the number of girls subjected to child marriage by 2035 is expected to grow by an additional 10 million as the impacts of pandemic lockdowns and the current economic and hunger crises are felt.
In October 2022, Nobel Peace Laureate Kailash Satyarthi and Leymah Gbowee launched a nationwide campaign to put an end to the still-prevalent practice of child marriage. With around 20 million people from across the country pledging to end the practice, Kailash Satyarthi Children's Foundation (KSCF) will spearhead the biggest-ever campaign to raise public awareness against child marriage, a statement said.  As part of the launch campaign, 70,000 women and girls led people in lighting lamps in a torchlight procession in around 10,000 villages from over 500 districts in 26 states across India.  Government agencies including the Railway Protection Force (RPF), the Women and Child Development departments of 14 states, state child protection authorities, state legal services authorities, anganwadis, and district administration of several state governments joined in support of the nationwide campaign.
Dr. Lauren Stetz's Violence Against Women (VAW) Art Map sits at the intersection of data visualisation, feminist activism, and artistic expression, enabling the viewer to identify the many ways in which women are subject to abuse, both physical and emotional, through the visual and performing arts. Starting in 2019, Dr Stetz has collaborated with a diverse cohort of artists worldwide in 2019 to give visual expression to the many types of VAW that they have witnessed in their own communities. Today, the map functions as a research tool for understanding the cultural tendencies that drive VAW as well as being a social art discovery experience. It is also used as an educational tool for school and college students to explore relationships, violence, culture, and healing modalities through art. Dr Stetz said: "What is really powerful is that art becomes a way you can communicate across cultures. People often don't want to talk about these things, and by creating art we can give voice to a space where there is none".
In 2016, Brock Turner sexually assaulted an unconscious woman and infamously got off with a six-month prison sentence, sparking massive protests against him, the judge in his case, and the many ways that the US criminal justice system has failed rape victims. Now registered as a sex offender, Turner was spotted in the Dayton, Ohio area, and women are using Facebook and TikTok to spread the word and warn everyone to stay away from him. One Facebook post said: "Brock Turner is now living in the Dayton, Ohio, area. He is frequenting bars in the area. Do not let him leave with an intoxicated woman. Inform the women of who he is. Inform the bartender, bouncers. Brock Turner does not belong in public." 
Australian Prime Minister Anthony Albanese's government has set an ambitious goal to end violence against women and children within one generation, with the release of a new national plan on family violence calling for better crisis housing and assisting men to develop "healthy masculinities". The new plan, released on October 17, 2022, calls for reforms to how Australia's media, schools, justice systems, tech companies, the health sector and perpetrators themselves act, with the new National Plan to End Violence against Women and Children giving dozens of suggestions to improve violence prevention and response. "Violence against women and children is not inevitable," the report said. "By addressing the social, cultural, political and economic factors that drive this gendered violence, we can end it in one generation."
---
The picture used is a Creative Commons image: