Welcome to Part 1 of our September 2022 Inspirational Interview with Randa Siniora, General Director of the Women's Centre for Legal Aid and Counselling (WCLAC) in Palestine.
Randa Siniora holds an LLM degree in International Human Rights Law (University of Essex) and an MA Degree in Sociology-Anthropology (American University in Cairo.)  A longtime human rights and women's rights activist, Ms. Siniora has also served as Senior Executive Director of the Palestinian Independent Commission for Human Rights (2007- 2015) and the General Director of Al-Haq, Law in the Service of Man (2001-2005). Ms Siniora was the first Palestinian woman from Palestinian civil society organisations to brief the UN Security Council on Women Peace and Security (WPS) in 2018 and, in 2019, she was selected one of the 100 most influential people on gender policy around the world.
Part 2 of this interview will be published on 26 September, 2022.
Photos courtesy of WCLAC.
---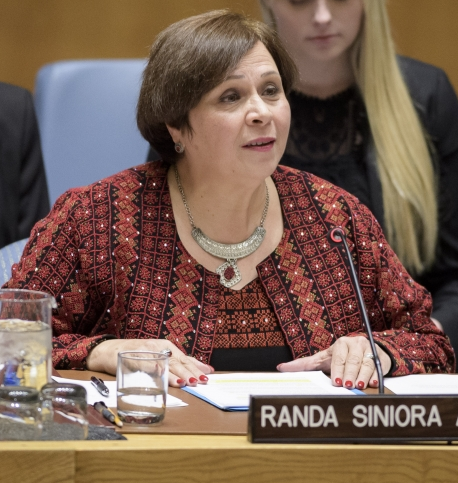 1. How and why did you join the movement to end violence against women (VAW)? 
As a child, I realised that within our Palestinian society, girls are discriminated against because boys are generally preferred. Thus,  I focused all my academic work on women's rights issues. I was introduced to the Palestinian human rights and feminist movement in 1985 during field research for my MA thesis on women in the sub-contracting clothing industry. A subsequent position at al-Haq introduced me to discriminatory laws, legislation, and policies against women, so I decided to focus my LLM dissertation on state responsibility to protect victims of gender-based violence.  From there I realised that official duty-bearers are complicit and violate women's rights by omission if they do not set forth laws, policies, and measures to protect victims of domestic violence. The combination of both activism and academic knowledge made me realise that I wanted to become a human rights defender, a role to which I bring passion and conviction.
2. Women's Centre for Legal Aid and Counselling (WCLAC) was established in 1991 as "an independent Palestinian, not-for-profit, non-governmental organisation that seeks to develop a democratic Palestinian society based on the principles of gender equality and social justice." How did WCLAC come to be founded?
Women involved in feminist movements around the world have been assigned a marginalised status in their struggles for national liberation. In an effort to prevent this from happening in Palestine, a group of Palestinian women took the initiative to establish the Women's Centre for Legal Aid and Counselling (WCLAC).
WCLAC was established in Jerusalem in 1991 as a Palestinian independent non-governmental non-profit organisation with the aim of contributing to the building of a democratic Palestinian society based on principles of equality and social justice between men and women. In order to achieve this aim, WCLAC developed programmes and projects conducive to crystallising a clear Palestinian women's agenda whose terms of reference are derived from international human rights standards. By forging a feminist vision based on equality and social justice, WCLAC has played a prominent role in addressing gender-based violence in Palestinian society in both private and public spheres.
3. Can you tell us about WCLAC's approach to stopping VAW and how has it developed over the past three decades?
As the leader of the Palestinian feminist movement, WCLAC's methodology for feminist transformation recognises the "double jeopardy" faced by Palestinian women from over 70 years of unrelenting Israeli occupation, and the  patriarchal cultural, religious values, and practices that structure society. The COVID-19 pandemic has added a third jeopardy. In recognition of these, our methodology includes several facets:
First, honouring the history of both injustice and women's active participation in their liberation. Second,  recognising that the issues women face go beyond Palestine, therefore working on a foundation that includes international legal standards and laws. Third, the provision of direct individual services—legal, social, emergency, and protective. WCLAC also uses its UN consultancy status with the UN ECOSOC to conduct international advocacy work and highlight the gendered impact of occupation on Palestinian women.
In short, WCLAC understands and makes connections between the Israeli occupation and the discrimination and violence against women within Palestinian society, and is dedicated to both the  Palestinian national struggle for freedom and independence and the liberation of Palestinian women. 
4.  Could you give us an overview of the services and programmes that WCLAC provides for victims, survivors, and communities?
WCLAC is, and has been for the past 30 years, a groundbreaking and effective organisation whose highly qualified, committed, and deeply caring staff work within and across various complementary programmatic and administrative units and regional offices to actualise the vision and mission of the Centre. This work is accomplished through:
providing social and legal services to women survivors of violence and those whose human rights have been violated; 

monitoring, documenting, and advocating at the local and international levels; 

providing awareness, advocacy, training, and legal reform programs to ensure gender equality; 

developing the capacities of grassroots organisations and volunteer groups; 

engaging local people and communities, especially young women and men, as agents for change toward gender equality in their local communities;

developing professional hubs (lawyers, journalists, young activist groups…etc.) to launch a feminist discourse and mobilise local communities to work towards gender justice;

WCLAC also initiated the Protection Network of service providers from official and civil society organisations to directly respond to violence against women based on the national referral system (TAKAMOL).
5.  As mentioned in the previous question, one of WCLAC's key initiatives is TAKAMOL (otherwise known as the National Referral System), which was a joint project started in 2009 between WCLAC and the Juzoor for Health and Social Development and designed to be a "comprehensive working framework for service providers detailing protocols for the referral of women victims of violence, within the civil and governmental social/legal/health services in the West Bank".  What progress has TAKAMOL made so far in terms of providing wider access to victims of gender-based violence and helping shape the system of civil and governmental social/health/health services to end VAW in Palestine?
Prior to adopting the NRS, WCLAC used to refer women to service providers who required lengthy, inefficient procedures. In 2009, WCLAC and Juzoor initiated the idea of a National Referral System (NRS) to provide better intervention for women victims of gender-based violence (GBV).  For example, WCLAC is the only civil society organisation that has an emergency shelter. Moreover, there are now regulations for managing, referring, and handling cases, and finding solutions through the re-integration of the victim back to her home and society.
The Palestinian Cabinet officially adopted the NRS in December 2013. The NRS included a code of conduct and three other protocols for government and the  Palestinian Civilian Police.
But we still believe there is room to improve the system and find ways to include women and service providers who have been excluded. It's also important to note that the NRS is not a substitute to our current calls for the adoption of the Family Protection Bill (FPB) which will provide further protection to victims of GBV through restraining and protection orders.