Welcome to Part 1 of our April 2022 Inspirational Interview with Dr. Kemi DaSilva-Ibru, founder of Women at Risk International Foundation (WARIF) in Nigeria.
Dr. Kemi DaSilva-Ibru is a healthcare specialist, public health physician and a researcher who is dedicated to improving the lives of women and girls through her medical practice, social activism, and public advocacy against sexual and gender-based violence. She is the founder of WARIF, a nonprofit organisation that addresses the prevalence of gender-based violence, rape and the trafficking of young girls and women. Through her work, Dr. DaSilva-Ibru has become a thought leader in the field of women's health internationally. Her goal is to bring about a world in which all women and girls can live their lives free from sexual and gender-based violence.
Part 2 of this interview will be published on 25 April, 2022.
Photos courtesy of Women at Risk International Foundation (WARIF).
---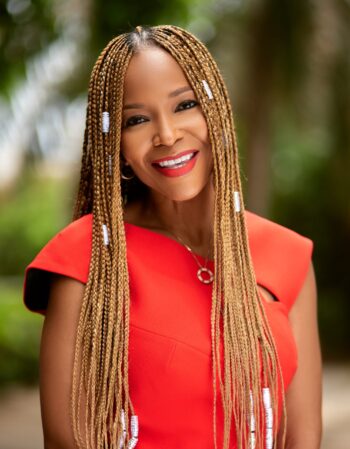 1. How and why did you join the movement to end violence against women (VAW)?
My medical background for over 20 years is in the field of obstetrics and gynecology, where my patient population are only girls and women. I have worked on three continents over this period and have witnessed first-hand the atrocities perpetrated against girls and women, many of whom I have had to attend to.
With the alarming statistics of 1 in 4 girls being survivors of sexual violence before the age of 18 in Nigeria, this confirms the prevalence of gender-based violence across communities with a significant health and social adverse impact and the need for improved essential services to successfully tackle the issue. This I find unacceptable, and I was determined to do all I could to change this narrative.
2. How does your expertise as a specialist obstetrician and gynecologist (OBGYN) with a medical background that includes public health guide and influences your approach to tackling VAW?
My medical background influenced my approach to addressing VAW in a way that made me channel my expertise into tackling sexual and gender-based violence (SGBV). As an OBGYN specialist, my patient population are girls and women and, over the years, I have been exposed to and involved with numerous cases of abuse. The youngest was under the age of 2 and the oldest over the age of 70.
As a public health physician addressing this social issue and a researcher currently in a PhD programme in gender violence, I am able to appreciate this social issue through the public health lens and identify beyond the provision of immediate post-incident care, preventative measures that are also needed, through education and community services with the provision of gender- and age-appropriate programmes. This approach is successfully carried out by engaging other stakeholders in collaborative efforts and also addressing policy change and advocacy on a state and federal level.
3. You started the Women at Risk International Foundation (WARIF) in 2016 to raise awareness and address the prevalence of sexual assault, rape and human trafficking affecting young girls and women across Nigeria. Can you tell us about the "WARIF Approach" to stopping VAW, as well as how you developed it and how it has evolved since 2016?
Our unique 'WARIF Approach" is a deliberate and carefully designed framework that is used to achieve our overarching objective of the eradication of SGBV in communities across the nation.  A fully survivor-centered approach that is both responsive and proactive involves the implementation of a series of effective, target-oriented interventions to address post-incident care as well as the root causes of SGBV through 3 key service areas:
Health interventions – At the WARIF Rape Crisis Centre, provision of immediate medical and forensic services and treatment, psychosocial counseling services to survivors and social welfare issues are also addressed. All services are free.
Educational initiatives – Age- and gender-appropriate educational programs are designed to educate, empower and prevent the prevalence of sexual violence in secondary schools and tertiary institutions.
Community initiatives – including sensitization and training programs and workshops implemented in both rural and urban settings addressing the prevalence and prevention of sexual violence, creation of awareness and advocacy campaigns, and empowerment programs to prevent financial abuse of women.
4. Could you give us an overview of the services and programmes that WARIF provides for survivors and communities?
The WARIF Rape Crisis Centre is fully equipped and run by friendly and qualified staff. The center provides FREE medical services including treatment, forensic medical examinations, HIV and pregnancy tests, post-exposure drugs, and psycho-social counseling. The centre is open from Monday to Saturday (including all public holidays), runs a confidential 24-hour toll-free helpline and also offers survivors social welfare, referrals for shelters, referrals for legal aid and enrollment for vocational and skill acquisition training.
Our WARIF Educational School Program (WESP) and the Boys Conversation Café (BCC) are initiatives under the education pillar targeted at adolescent school-aged girls and boys respectively. The curricula are designed to equip adolescent girls with the knowledge to identify the signs of sexual assault and rape and protect themselves, and change the attitude and existing mindset of adolescent boys toward rape and sexual abuse from being potential perpetrators to protectors of girls and women at home and in their communities.
In tertiary institutions, WARIF has also implemented the first-ever online Classroom on the Prevention of Campus Sexual Violence with additional in-person sessions across tertiary institutions in the country.
Our programme in communities trains "gatekeepers" — recognised stakeholders in these various communities such as traditional birth attendants, the police force, and religious and traditional rulers — to be the first respondents in the identification, documentation, and reporting of cases of rape and sexual assault to WARIF through the Gatekeepers Project. We also empower women and girls in communities through the Women Empowerment Programme (WEP) to empower them with basic financial literacy and vocational skills needed to lead independent socio-economic lives, free from financial abuse.
5. Since 2016, what sort of impact has WARIF had on the women and girls that you've helped and on Nigeria's approach and attitudes towards violence against women?
Since 2016 we have successfully addressed over 3,000 cases of rape, sexual violence, child sexual abuse and sex trafficking at the WARIF Rape Crisis Centre.
Our educational programmes have educated almost 5,000 adolescent schoolboys and girls as well as over 6,000 tertiary-level students.
In communities where we work, over 5,000 gatekeepers have been trained, with 150,000 women reached alone in 2020. Over 1 million lives were reached in 2021 via our in-person programmes and online campaigns where we keep breaking the culture of silence, empowering all to speak up and report cases of rape and other forms of violence. Women and girls have also been empowered economically through vocational skill acquisition and basic financial literacy to prevent them from being financially dependent on a perpetrator.