Welcome to Part 2 of our April 2022 Inspirational Interview with Dr. Kemi DaSilva-Ibru, founder of Women at Risk International Foundation (WARIF) in Nigeria.
Dr. Kemi DaSilva-Ibru, the founder of WARIF, is a health care specialist, public health physician and a researcher who is dedicated to improving the lives of women and girls through her medical practice, social activism, and public advocacy against sexual and gender-based violence.
In this part of the interview, Dr. DaSilva-Ibru discusses the No Tolerance March held annually on multiple continents, WARIF's efforts to assist women during the pandemic, and the importance engaging men and boys in stopping violence against women and girls.
Part 1 of this interview was published on 24 April, 2022.
Photos courtesy of Women at Risk International Foundation (WARIF).
---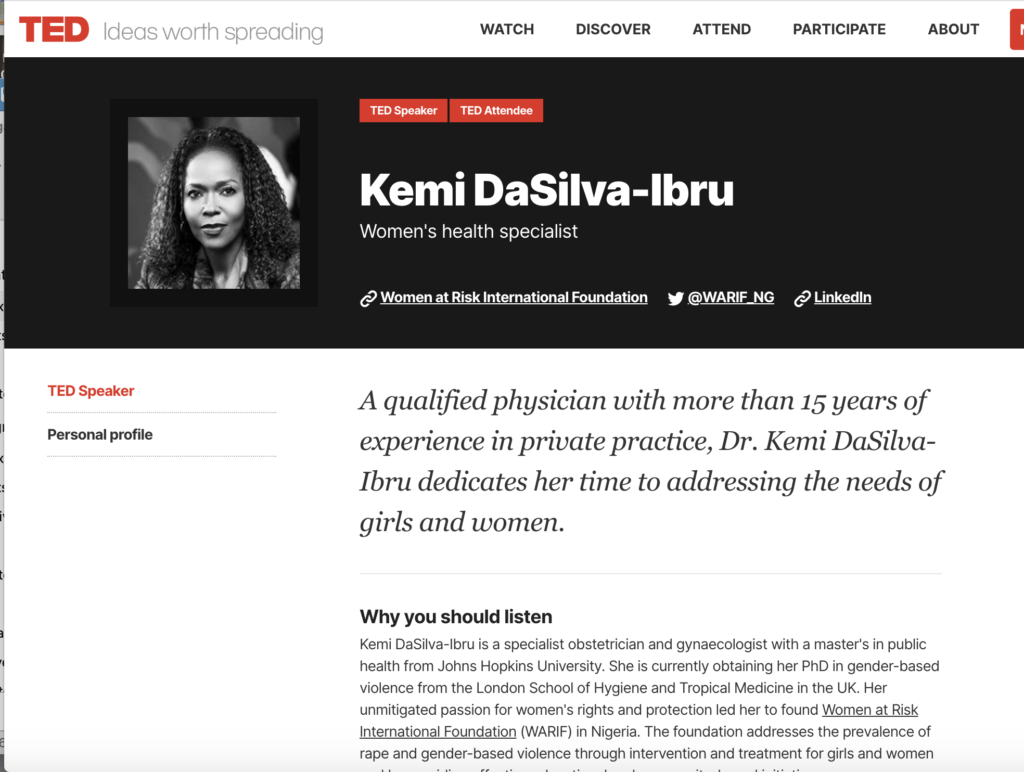 6. With the coronavirus pandemic still raging on, the rates of violence against women (VAW) have been surging worldwide. How has the pandemic affected VAW in Nigeria and what are some of the strategies WARIF has adapted to continue helping women and girls while adhering to the safety measures needed to curb the virus?
Due to the new realities of the pandemic, there has been a documented global increase in the number of cases of violence against women and girls reported. This "shadow pandemic" was also evident in Nigeria, where during the mandatory lockdown in March 2020, WARIF recorded a 64% increase in calls, with 72% of the calls from women at risk.
In response, WARIF launched a COVID-19 Response in Rural Communities Initiative and the WARIF COVID-19 Volunteer Response Programme. Both initiatives were aimed at sensitising households in these grassroots areas on safety protocols to adopt in addressing the increase in the prevalence of domestic and sexual and gender-based violence because of the lockdown directive. Over 150,000 women were reached in the first year of the pandemic in 2020.
WARIF has also ensured that its free essential services have remained available throughout the period to date.
7. How do you think men and boys can help to end violence against women?
The involvement of men and boys in successfully tacking gender-based violence is imperative. Helping to break the cycle of violence against women by being protectors, not perpetrators. With the stereotypes and biases that are prevalent in many of our communities, due to the patriarchy and existing social cultural practice, women are subjugated and not allowed to speak out. Men can play an important role in speaking up for the women and girls in their families and their communities, as well as by mentoring boys and being good role models — helping to protect and empower girls and women and raise boys to be better men who respect and protect all women.
8. Tell us about WARIF's plans for the future. What campaigns, programmes or projects do you have coming up in the next 5 years?
WARIF has a well-established framework with a strong monitoring and evaluation unit to chart its measured impact. This is based on the intervention of post-incident care and services and the provision of preventative measurable and impactful initiatives under our health, education and community service pillars. We intend to continue to champion the cause of ending violence against women by scaling up of our current initiatives through partnerships and collaboration to successfully tackle this issue in all 6 geopolitical regions of the country.
In addition, our annual No Tolerance March which is held on the first Saturday in December, was held in five cities across five continents in 2021. We intend to expand the campaign and increase the number of cities on each continent, calling on all to stand with WARIF as we ensure a world free of rape and other forms of violence against women.
9. How can The Pixel Project's supporters engage with and support the efforts of WARIF to stop violence against women?
The Pixel Project supporters can support the efforts of WARIF by donating to help survivors get access to adequate treatment. With NGN 66,000 (approximately US$160), a survivor can get access to forensic medical examinations and treatment, testing including HIV and pregnancy tests, access to post-exposure drugs for HIV, follow-up visits which include one-on-one and group counseling sessions.
They can also sponsor an existing initiative under our Education or Community Pillars. Donations can be made online via our website or contact info@warifng.org for more ways to support.
Please also join the Annual WARIF No Tolerance March in a city closest to you on the first Saturday of December (details via our website).
10. In your considered opinion, how can we end violence against women for good?
At our present rate of change, it will take nearly a century to achieve gender parity. For us to change this narrative and build a world with the eradication of violence against women and girls would entail an all-inclusive and collaborative effort by all global leaders, ensuring gender parity is present and enforcing this in all — education, health, politics and across the economic sectors.
In Nigeria it would also mean recognising the patriarchy that exists, identifying the negative socio-cultural practices and setting priorities to tackle their peculiarities and context. Offering safe platforms for survivors to speak their truth without fear of reappraisals and community survivor shaming and including men and boys in the conversations.
It would mean accountability against these acts of violence with the increased prosecution rates against offenders, improved laws and policies that protect women and girls, and the successful implementation by law enforcement.
We must treat each other with dignity and respect and offer equal opportunities to all. We must start with a collective responsibility and attitude of leaving no one behind, in smaller ecosystems like families, schools and churches as well as larger environs.  Every girl and woman deserves to live in a society free of gender-based violence.