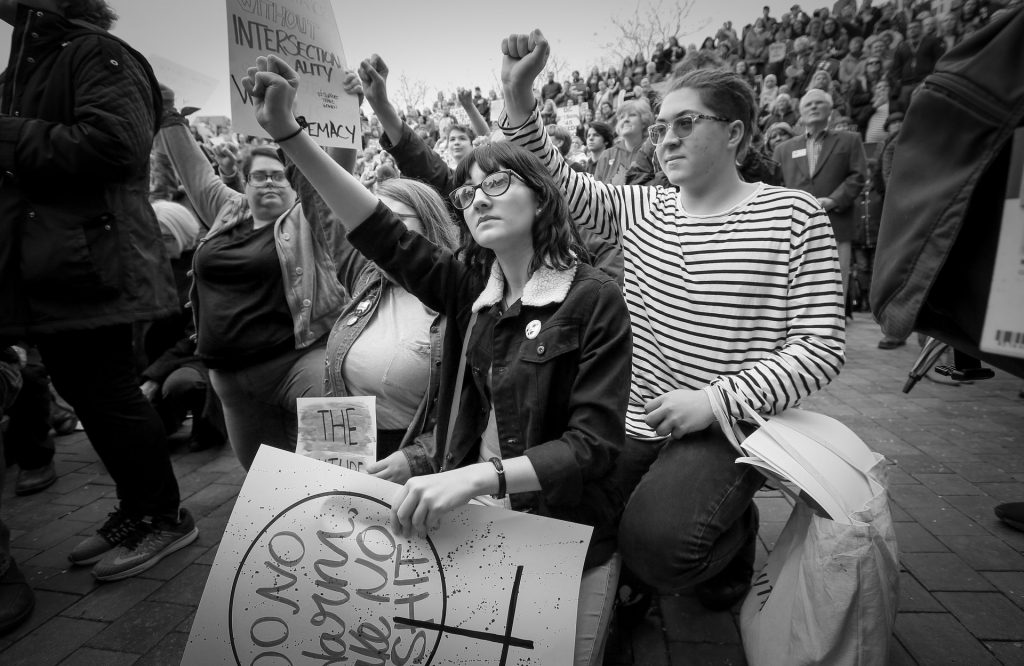 Every year, we at The Pixel Project come across a wide variety of innovative and powerful campaigns tackling Violence Against Women (VAW) by our fellow activists and non-profits from around the globe, and 2020 is no exception. Some of the campaigns work to educate and empower underserved communities, while others provide a platform for survivors to speak out and hold abusers accountable.
We acknowledge that anti-VAW campaigners put themselves in perilous situations to advocate for the safety of others and we are immeasurably grateful for their bravery. From women marching the streets to women combating harassment online, each and every action, large or small, counts.
So today, in honour of all VAW activists, nonprofits and grassroots groups who toil in thankless situations to bring about positive change to the lives of women and girls facing violence, we present 16 of the most striking campaigns/programmes we have come across in 2020.
What these campaigns have in common are:
The built-in "water-cooler" factor that gets the community buzzing about the campaign and, by extension, the issue of VAW.

A good sense of what works in and for the culture and community where the activist/nonprofit/grassroots group is trying to galvanise change.
We hope that these campaigns and initiatives inspire you to take action and get on board the cause to end VAW.
It's time to stop violence against women. Together.
Note: Information for all campaigns is sourced via online research and is based on one or more news sources and articles. The main articles/reports from which these profiles have been sourced can be directly accessed via the hyperlinked titles. Please do click through to learn more about these remarkable campaigns.
Introduction by Regina Yau. Written and Researched by Samantha Joseph, Anushia Kandasivam, Denishia Rajendran, and Susanna Lim. Additional Research by Regina Yau.
---
 While the 2020 Hindi-language film Thappad was itself striking enough to make it to our 16 Films About Violence Against Women list this year, its marketing campaign was a masterstroke of both commercial and social genius. Instead of just trailers and competitions, the marketing team, cast, and director released a series of videos, teasers, photos, and even interviews with people on the street questioning the prevalence of gender-based violence in Indian cinema and television, as well as society's acceptance of domestic violence and other VAW in real life. It not only created buzz around the film but started rousing and deep discussions among the general public about this pressing social issue in every community in India. 
In February 2020, Spanish artist Laia Abril held a devastating exhibition called "A History of Misogyny, Chapter Two: On Rape". In the exhibition, Abril used photographs, testimonies, framed facts and quotes, archive material and various relevant objects to dissolve the boundary between art and activism to a stark message about violence against women, misogyny, and male violence. Guardian columnist Suzanne Moore commented: "Abril's work carries a terrifying message: that rape is normal, that it is a system, a way of controlling women across time and culture." Abril said: "I want to understand, I want people to understand."
A 15-minute video showing the violence and abuse women face daily in Germany was broadcast live on prime time TV and then went viral. Author and journalist Sophie Passmann guides viewers through the video, including taking them through exhibitions that show misogynistic YouTube comments and threatening text messages. The whole show ends with an exhibition of the outfits women wore when they were raped — among them a swimming suit, a prom dress and pajamas. Many German men were shocked by what they saw in the video, leading to a blitz of national conversation about violence, sexual harassment, and violence against women.
In the UK, a #Listeningfromhome campaign has launched in the midst of the global pandemic, featuring images of people who are alone and the message that they had been living in isolation and fear long before the coronavirus pandemic and subsequent lockdowns began. The No More Project and US-based National Domestic Violence Hotline are collaborating to educate people about the warning signs of abuse that they can observe for themselves and others, and what they can do if they witness incidences of domestic violence. 
In September 2020, a cleverly conceived digital campaign in Ukraine sought to take on gender-based norms and prevailing social attitudes towards women. The campaign challenged these gender-based stereotypes and their connection to violence against women by asking the question, "Did she provoke?". The ads depicted situations of domestic violence, sexual harassment in public places, stalking and bullying to challenge victim-blaming and advocate for zero tolerance to violence. Devised in response to a recent perception survey, the campaign revealed that social attitudes contribute to the gender-based violence which persists in the country.
In Mexico, women took to the streets to protest the increasing violence against women and girls in the country. The protest gained momentum after the gruesome murders of a 25-year-old woman and a 7-year-old girl. Using the hashtag #UnDiaSinNosotras or A Day Without Us, an alliance of feminist groups called for women to carry out a 24-hour strike to send their message urging responsibility and action to be taken to stop the violence against women. 
In South Africa, an activist took inspiration from the code words helping domestic violence victims in Europe and applied it locally. Using the word 'koesiesters', in reference to a fried delicacy, victims contact a number via WhatsApp asking to order koesiesters, the code message that they are in an abusive situation. During the lockdown, no one is allowed to leave their homes, but food delivery is still permitted – allowing victims to provide information such as their address without hassle, which can then be escalated to authorities. 
Italian artist AleXsandro Palombo has created a series of posters featuring the battered faces of famous women, including Hillary Clinton, Michelle Obama, Angela Merkel and Alexandria Ocasio-Cortez. The posters are intended to draw attention to the fact that abuse and violence can affect women of every race, religion and class. 
On June 14, thousands of women across Switzerland rallied together to lend their voices to a mass scream, in hopes of shocking the nation into taking action on closing the pay gap and cracking down on toxic masculinity. The protest was a smaller version (because of coronavirus lockdown measures) of last year's mass scream for women's rights. Dubbed the Women's Strike, the mass scream happened for a minute starting at 3:24 p.m. — the moment in an eight-hour workday when women are said to start working for free based on the pay gap with men.
Australia's "Respect Each Other: Call It Out" campaign launched in response to the increase in domestic violence incidents during the coronavirus pandemic. The campaign is meant to reassure victims that help is available, and to draw attention to the fact that bystanders too can play a role in ending domestic violence. The campaign utilised television, radio and Spotify, and ran in several languages including Arabic, Greek, and Vietnamese. 
Oscar-winning thespian Charlize Theron and her Charlize Theron Africa Outreach Project have launched "Together For Her" to raise funds and support the fight against domestic violence in Africa. In partnership with CARE, Ms. Theron has committed USD 500,000 to domestic violence shelters and community programmes. The goal of the initiative is to increase access and awareness for community shelters, counselling, crisis intervention, and community-based prevention programs.
During the coronavirus lockdown, making a call for help at home is often not possible. In The Netherlands, victims of domestic violence can use the code word 'Masker 19' when they go to a pharmacist to ask for help. Once doing so, the staff will contact social services on behalf of the victim. This code is also being used in other countries around Europe. 
In a widespread – though illegal – campaign this year, the names of 122 women killed by men along with messages decrying VAW were plastered on walls in Paris. Calling themselves "The Gluers", a small group of women is behind this highly effective effort to raise awareness of VAW in France. For about a year, posters denouncing sexual abuse and femicides have popped up by the hundreds in Paris, despite the fact that posting on public walls is considered vandalism. However, street-level activism by women has a long history in Paris, and The Gluers are part of a French tradition of "feminists who challenge the established order through, sometimes, these illegal actions".
Painter and tattoo artist Tristan Jenni Sanderson's paintings of missing and murdered Indigenous women has been shared around the world and viewed on social media thousands of times. The paintings depict an Indigenous woman superimposed on a feather with a red handprint on her face. Sanderson said: "I drew the Indigenous woman looking up strong and proud. The handprint is red because they say a spirit can only see in red in the spirit world. So, when you put that on… it's calling the missing Indigenous women back home."  
Hundreds of students took to Instagram to share stories of alleged campus sexual assaults. With anonymous accounts set up at more than two dozen institutions across the United States, England, Scotland and Northern Ireland came allegations of rape, harassment, and other forms of sexual abuse. One post on the St. Andrews Survivors account read: "Our goal is to expose the reality of sexual abuse at our university as well as empower survivors to share their stories anonymously and safely." Since July, more than 130 accounts of sexual assaults have been published.
Monochrome selfies and #ChallengeAccepted flooded social media in the middle of this year, with broad messages of "women supporting women". There has been lots of debate over where and how the campaign actually originated. Most people think it started in Turkey as a way to shed light on femicide in the country, starting with a challenge to users to post a black and white picture of themselves as a way to stand in solidarity with murdered or missing Turkish women whose pictures are displayed in black and white on the news. CNN reported that it actually started in Brazil as a call for solidarity among women. Either way, the campaign still started discussion about gender violence and equality as it spread around the world, including by some high profile celebrities who took up the original message and urged followers to learn about femicide in Turkey and other places in the world. 
View this post on Instagram
---
The picture used is a Creative Commons image: