Welcome to The Pixel Project's "30 For 30″ Father's Day Campaign 2016! In honour of Father's Day, we created this campaign:
To acknowledge the vital role dads play in families, cultures and communities worldwide.
To showcase men from different walks of life who are fabulous positive non-violent and non-sexist male role models.
To provide dads worldwide a positive platform to share ideas about stopping sexism, misogyny, and violence against women and girls.
This is our 5th annual 30 For 30 campaign and through it we will be publishing a short interview with a different Dad on each day of the month of June.
Our thirtieth and final "30 For 30″ 2016 Dad is Mike Toma from Iraq.
__________________________________________________________________________________________
The Dad Bio
Mike Toma hails from Iraq and is a progressive, freethinking individual with open ideologies on political and governmental reforms. He has a BA in Business Administration and currently working towards a master's in project management,. He is also a science and astronomy enthusiast with an interest in the betterment of education, an advocate for free college education, social democratic reforms, and science literacy among common people.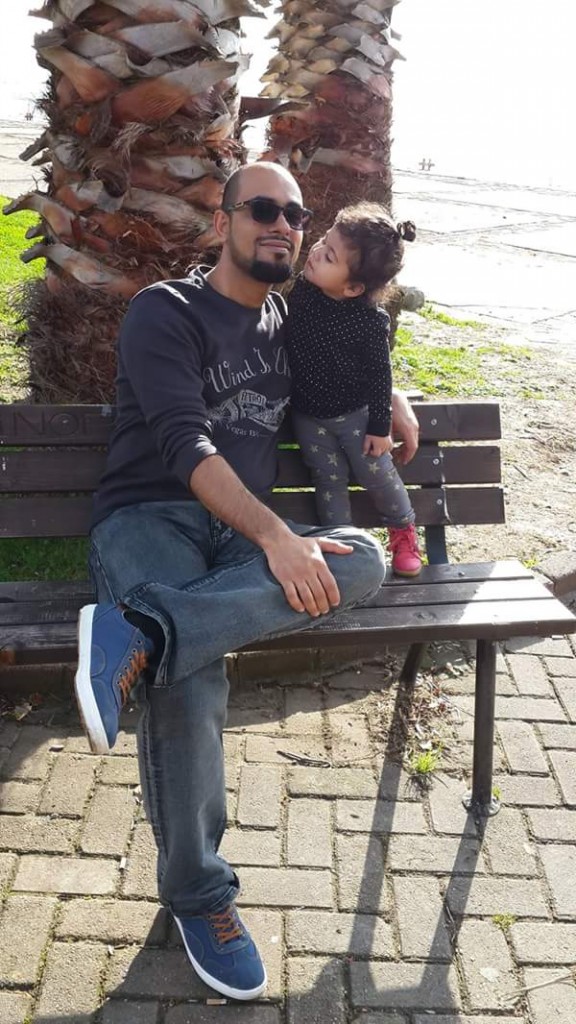 1. What is the best thing about being a dad?
Being a father is a complicated endeavour and no matter how much you prepare yourself for it, you will be surprised when you experience it first-hand. My daughter is my joy and she is the one who puts a smile on my face if I am upset, stressed, or feeling down.
The best thing about being a father is to embark on a journey of sharing and passing knowledge and raising my daughter to be an effective member of society with the ability to be empathetic and sympathetic to other people and not to be judgemental. As a dad, I believe everyone should respect other people's choices and lifestyles and value humans as humans regardless of race, religion, country and culture.
2. A dad is usually the first male role model in a person's life and fathers do have a significant impact on their sons' attitude towards women and girls. How has your father influenced the way you see and treat women and girls?
I grew up in a very conservative family in a community that looks and views women as second-class citizens. My father's view of women changed over the years and he has spoken about women's right to get an education and engaging in the workforce positively.
However, he is still pretty much stuck in that part of his culture that devalues women and imposes a lot of restrictions and framing the concept of freedom of women within a number of limitations that impacts society in a tremendously negative way. I broke away from these ideologies and have formed my own views and now I represent the opposing side of that questionable culture.
To sum it up, my father's influence was not a positive influence on women's issues and I disagree with his views.
3. Communities and activists worldwide are starting to recognise that violence against women is not a "women's issue" but a human rights issue and that men play a role in stopping the violence. How do you think fathers and other male role models can help get young men and boys to take an interest in and step up to help prevent and stop violence against women?
It all starts at home. We must educate our children to respect humanity and be humane; to challenge old ideologies, customs and traditions; and to take the good parts of any culture and apply it to modern society. Teach by setting a good example for your kids that shows that violence is not the way to manage a conflict. Teach boys that abusing women physically doesn't show your manhood or reflect a manly attitude.
Fathers' duties are many. One of them is to make sure that you "the father" reflect an image of open communication and respect. If my child views me as someone who values her/his mother, they will understand that this is the way to treat others. If my son sees me respecting his mother, he will have that attitude towards other women. If my daughter sees how I treat her mother with care and respect, she will understand that she has the right to defend herself and not take any kind of verbal and/or physical abuse and not allow others to take advantage of her.
Also: before we educate the children, we need to educate the parents generally and fathers especially to combat crimes against women and other human beings.