Welcome to The Pixel Project's "30 For 30″ Father's Day Campaign 2016! In honour of Father's Day, we created this campaign:
To acknowledge the vital role dads play in families, cultures and communities worldwide.
To showcase men from different walks of life who are fabulous positive non-violent and non-sexist male role models.
To provide dads worldwide a positive platform to share ideas about stopping sexism, misogyny, and violence against women and girls.
This is our 5th annual 30 For 30 campaign and through it we will be publishing a short interview with a different Dad on each day of the month of June.
Our second "30 For 30″ 2016 Dad is Erwin Chia from Malaysia.
__________________________________________________________________________________________
The Dad Bio
I was born and raised in Malaysia and am currently living in Japan. I've lived here for the past 7 years and while I believe I've done well to adapt and make a living in this country as a teacher, I am at heart, a Malaysian. After 7 years of marriage to my beautiful wife, we decided that we were ready to have a child and recently had our darling daughter Nina Mei. Life could not be more wonderful.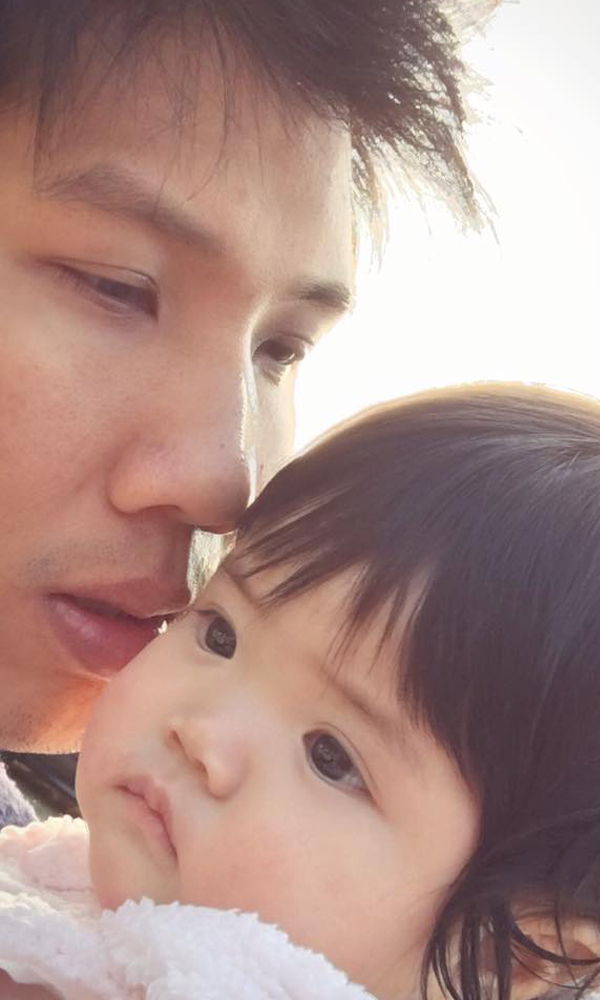 1. What is the best thing about being a dad?
This is a surprisingly difficult question to answer. It's challenging to choose a single thing when there are so many great things about being a dad, like the little hugs, smiles and kisses from your child, or the feeling of completeness when your baby falls asleep on your chest or even the smell of your baby's hair in the morning when you wake up to go to work.
It's funny how these tiny, basic and simple things make you feel like the happiest person in the world. If I had to choose though, I would say that the best thing about being a dad is the chance to care for, nurture and grow your child to be a good person who will bring happiness and joy to so many people around him or her.
2. A dad is usually the first male role model in a person's life and fathers do have a significant impact on their sons' attitude towards women and girls. How has your father influenced the way you see and treat women and girls?
To say that my father has had a significant impact on all aspects of my life would be a great understatement. As a teacher, I learned that children are always watching things that go on around them even when you don't think anyone is watching. Growing up, I would notice the way my father interacted with those around him, in and out of the house. Small gestures he did, like opening a door for someone, a thank you for something that may seem insignificant or never hesitating to help, always stayed with me as I was growing up. At home, he would always thank my mother for cooking a lovely dinner. My mother, sister and I were showered with love, a kiss every night and no shortage of "I love you".
When I was 10, I had an argument with my sister and she slapped me. I slapped her back in return. The lesson I learned after that has stuck with me for the rest of my life. My father sat both of us down. I forget what he told my sister but will never forget what he told me.
After listening to what happened and the reason we fought, he told me to look at my hands. He said that these hands were made to protect and love my sister and they were never made to hit girls. He explained how despite my sister being two years older than me, I was physically stronger and always would be. The rest of his exact words are a blur to me now but I remember the feeling of guilt that I had felt and the promise I made to myself then to always protect my sister.
This feeling naturally carried over into my relationships with my girlfriend, my wife and eventually now to my daughter. These hands were made to love and protect.
3. Communities and activists worldwide are starting to recognise that violence against women is not a "women's issue" but a human rights issue and that men play a role in stopping the violence. How do you think fathers and other male role models can help get young men and boys to take an interest in and step up to help prevent and stop violence against women?
I strongly believe that the first step is to lead by example and practice what you preach. If you are in the position of being a role model, it means you have already gained the respect of the young men and boys around you. This in turn means they are already watching.
The interesting thing is that we are all already affecting the people around us, even strangers. A little boy that sees you opening the door for his mother as they are walking out of the store will subconsciously or consciously remember the feeling when that happened. The young teenager on the train that sees you giving up your seat for a lady (she does not always have to be elderly, pregnant or disabled) may want to be like you too. In the end, what I believe is that practicing love, care and respect to people around you can make a difference.
Taking the time to answer three interview questions may possibly make a difference too, even if it's just a small one.