Welcome to the second part of our interview with Sahar Khan, founder of Zariya, the Stanford and Hyderabad-based tech platform that connects women who face violence against women with help in a swift and safe manner. Here she continues her discussion of how communities can use technology to connect women and communities with response and justice.
All pictures courtesy of Sahar Khan and Zariya.
__________________________________________________________________________________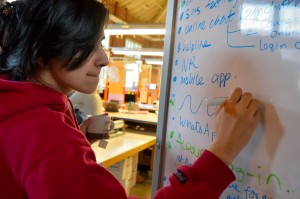 6. Is there a way to make sure that Zariya's services will reach women who do not have access to technology?
We have an undeniable responsibility to ensure that the less connected remain within our purview of concern and long-term operations. I have studied how the lives of poor women are marked by a violence and injustice that is debilitating to their quest to overcome poverty. I cannot emphasise enough how crucial the presence of actionable law and accessible justice is to local, national and global economic development.
Given this acute need, we do have plans to reach such women in our long-term roadmap. Currently, we are surveying the terrain via the internet-connected and urban users of Zariya to understand the problem better. There is a promising trend with the growing penetration of feature phones and smartphones in India. Interactive Voice Response (IVR) systems for the less literate, a mobile app for smartphones and SMS mechanisms for feature phones are all part of Zariya's long-term vision. We are excited about the work we have ahead of us!
7. Based on your experience setting up Zariya and your team's focus on using technology as a solution for helping abused women, how can people create and use technological solutions to address real world problems, specifically Violence Against Women?
To get to the crux of the 'how,' we must identify the rationale for the use of technology. As natives of the information age, we have fewer excuses for crime, injustice and violence. Zariya is about getting the basics right and optimising technological properties to enhance the experience of our most fundamental rights. Rights-based help should be just a few clicks away.
We must also believe in the power of product and design. While attitudes towards violence do not change overnight, product design and user experience have changed human habits in swift and lasting ways. Learn from your favourite products and identify the healthy habits that you want to see in the world.
That said, we must remain critical of technology and its limitations and the end goal should always be to facilitate value-adding and authentic human-to-human contact.
8. What are Zariya's plans for the future?
So far, we have only built the entry-point of what will eventually be a comprehensive referral network with a trackable start-to-finish justice process.
Survivors do not have singular needs but a multitude of needs (legal, economic, medical etc.); hence there is a obligation for a coordination mechanism among providers on the ground. We aim to build the strong coordination mechanisms between the variety of services and expedite necessary knowledge and action between them to deliver the best outcome for survivors.
Our long-term vision is to facilitate the ability for survivors of VAW to get help. A higher case initiation rate signifies higher reporting which helps NGOs, governments and the police – these entities can determine how to best manage and allocate their monetary and human resources for optimum use so that they are helping women in the best way possible.
9. How can The Pixel Project's supporters engage with and support your work?
Supporters can do four things to support Zariya's work:
Spread the word! Share Zariya's website and updates on your social media. Like us on Facebook and Follow us on Twitter. To stay up-to-date with the progress of Zariya, please sign up for our mailing list.
Join the mission by applying to be a part of Zariya's core team or a Zariya Ambassador. Shoot me an email at sahar@zariyaindia.org. Include your CV and a few sentences on why you are passionate about ending VAW. For core team applications, the email subject should be "Zariya Core Team Application," and for Zariya Ambassador roles, please use "Zariya Ambassador Application."
Talk to women you know who are facing violence, show them Zariya's website, and encourage them to reach out.
Visit our website and send us any feedback on product, content and design. We are always open to hear your valuable thoughts and comments on how we can continue improving Zariya to best serve survivors' needs.
10. In your opinion, how can we end violence against women?
There is no silver bullet. The problem needs to be targeted from many angles simultaneously.
Firstly, we need to restore women's confidence in justice because they need to believe that they deserve – and can obtain – effective remedies and help to escape the violence.
Secondly, we also need to change how society views VAW as a problem by recognising that VAW is not a local problem or a national problem–it is a global problem. It is not a men's problem or a women's problem–it is a social problem.
Thirdly, we need to couple our audacity with a good amount of tact because people have visceral reactions to VAW because the violence makes us uncomfortable as a society. We need to tactfully transform and channel our energy into survivor-centric and results-oriented solutions. In trying to change old attitudes, we cannot simply attack them; this will only result in alienation. To change old attitudes, we need to empower survivors because they will be the ones who will make people reckon with the reality and scale of the problem.
Fourthly, I have a request of friends, family and readers in social investment. Through investing, we have a unique opportunity to set a global agenda and innovatively engage with anti-VAW solutions to make them structurally and financially viable. If you are not getting the buzz and want a real challenge, I dare you take on this one!
Finally, be patient. Nothing changes in one fell swoop but, we can accelerate solutions and make a very positive dent in the issue.