This month's Inspirational Interview is with Sahar Khan, founder of Zariya. Sahar founded the Stanford and Hyderabad-based tech platform, Zariya, that connects women who face violence against women with help in a swift and safe manner. Born in Boston to Indian parents, Sahar grew up in Oman and is a proud member of Stanford '13! She has worked in The Hague, the International City of Peace and Justice, and been exposed to grassroots legal work in India. Sahar recently completed her Masters at Cambridge in Development Economics. Besides her passion for law & development, she enjoys spending time with family, friends like family, travel, dance, books, good conversation, and good tea.
The second part of her interview will be posted on Monday, February 29, 2016.
All pictures are courtesy of Sahar Khan and Zariya.
_____________________________________________________________________________________________________________________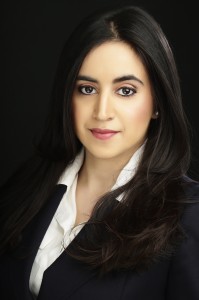 1. What galvanised you to start working to help stop violence against women?
The turning point for me was my exposure to grassroots women's rights work in India in the summer of 2012. Not only did I learn about how difficult it is for survivors of Violence Against Women (VAW) to reach out but also that justice is not just about punishing the criminal. A significant part of justice is systematically taking care of a woman's legal, economic, medical and psychological needs during the event and in the aftermath. I was deeply inspired by the dedicated professionals who assist women and felt that their work needed to be highlighted.
We have all heard the proverb that educating a woman educates a family, society and nation, so imagine the impact of breaking a woman on the family, society and nation. I put myself in a survivor's shoes and felt how impossible it would be to pursue my dreams without the most basic guarantee of safety and security. In my view, women are at the heart of the development conundrum and that is what compelled me to start working to end VAW.
At some point following 2012, it was not enough for me to merely know that the arc of the universe eventually bends toward justice. My galvanising question was: How do I make the arc bend harder and faster?
2. Could you tell us about how you came to create Zariya to help women in India who face domestic and sexual violence?
Through conversations with NGOs in various Indian cities (Lucknow, New Delhi, Bangalore, Hyderabad and Mumbai), we identified specific problems that survivors of VAW face.
The first pressing problem is the under-reported nature of incidences, especially given the scale of VAW, which is the leading cause of death among women ages 16-44 (UN). In India, nearly 70% of women face domestic violence yet the reporting rate is as low as 1% (Amnesty International). Most women endure abuse in silence due to fear, stigma and inaccessible procedures – without telling their family members, let alone the police. We need to understand exactly how we can increase the reporting rate so that at least some of the 99% of women who accept an unhappily-ever-after fate can turn their lives around.
Secondly, writ of law on its own does not instil justice in people's lived experiences. The devil is in the details of procedure which need to be perfected – procedural inconvenience currently creates a culture of inaccessibility for survivors, and, pillars of justice, such as counselors and lawyers, instead, do the core rehabilitation to facilitate closure. We need to build a genuinely robust bridge between survivors and these pillars of justice. Through homing in on these two specific problems and remaining cognizant of the broader context of factors that impact VAW, we built a safe & secure entry-point that enables women to reach out anonymously and connect with much-needed help within 48 hours.
3. How does Zariya use technology to help women who have survived domestic and/or sexual violence?
We fill the paramount need for a survivor-centric process that makes seeking help easier and less compromising for a woman. In this way, Zariya breaks the silence first in order to end the cycle of violence in three ways:
Firstly, a woman may not know where to go, how to reach out, etc. Taking the first step happens to be the hardest step. Trauma is bad enough, so we replace such frustrating logistics with Zariya. Survivors submit one piece of contact information (email and/or phone number) and we connect them with a professional counsellor within 48 hours, at no charge. We focus on immediate response because justice delayed is justice denied.
Secondly it is not sufficient to just fix logistics because fear of identity revelation is a huge barrier to entry. At Zariya, we use technology to strategically repurpose the anonymity and silence surrounding VAW. When a woman uses Zariya, she can seek justice while preserving her identity. With Zariya, a woman's voice is heard and there's absolutely no need for her to be seen if she does not want to.
Thirdly, we use technology for the elimination of emotional retraumatisation. The experience of violence does not just end with the physical act. A woman often relives the emotional hurt as she recounts the event several times to different people as she seeks help for legal, counseling and medical needs. With Zariya her information is stored securely online, so when her case is referred from one service provider to another, there is no need for her to repeatedly tell her story as she can simply give the provider access to her information in the Zariya system.
4. Zariya is currently running a pilot programme in Hyderabad, India. How is that coming along and what is the feedback that you are getting from women and partner NGOs in the area?
The first beta test run has validated several assumptions regarding Zariya's usability and feasibility. Following two years of persuasion and work to identify unmet needs and gaps in the system, we have made inroads and developed deep local, national and global networks in the anti-VAW space. This is just the beginning of our journey but we are getting a lot of traffic and more cases than we and our NGO partners expected. Our users have already commended us for quick turn-around and genuine care and concern for their problems.
The Hyderabad-based MyChoices Foundation has been outstandingly supportive throughout and provided very positive yet critical feedback on Zariya's differentiating hallmarks: technology security, product design and UI/UX. And, we're not ready to settle just yet because we believe in iterating fast to create the best possible user experience. We also constantly ask our survivors for feedback to plan our new and simpler entry point that will be released towards the end of February.
5. Your team has just launched a beta version of Zariya in mid-February 2016. What is different about the beta version from the original version?
Zariya's second beta involves the staggered release of product iterations, design changes and high-scale publicity that will take Zariya to the next level towards
A higher case-initiation rate so that more women use Zariya's entry-point, and
A higher initiation-to-follow up conversion rate.
The conversion rate measures how many users actually follow up with a counsellor who offers tailored advice to facilitate the survivor's decision-making process. We have a Stanford-based and Hyderabad-based team working to release an entry-point which will make case initiation easier than ever before. Stay tuned for the specifics!
We are also bringing the people behind Zariya to the fore and hope to have profiles and updates from our core team and the amazing counsellors who make Zariya possible. Look out for the human forces behind Zariya!