NOVEMBER 25TH, 2015 (WORLDWIDE):The Pixel Project (www.thepixelproject.net), a global, virtual anti-Violence Against Women non-profit, is proud to launch the 6th annual "16 For 16" blogging campaign in support of the 16 Days of Activism Against Gender-based Violence. The campaign runs from 25th November – 10th December and aims to raise awareness about Violence Against Women (VAW) through 16 articles about VAW. The campaign also provides supporters with a way to donate to the cause without breaking the bank during the year-end holiday season. This is also the first year that the fundraising component of the "16 For 16" campaign will be anchored around the annual #GivingTuesday fundraising day that takes place on the first Tuesday of December.
In line with the last 5 years, The Pixel Project will publish one blog article for every day of the 16 Days of Activism. Each article presents a list of 16 positive ideas, solutions, and people revolving around specific topics related to understanding, preventing, stopping and ending VAW. Each article addresses different demographics and communities. Each idea and solution is bite-sized – simple to understand and easy for the layperson to put into action. This year's articles include The Pixel Project's annual lists of 16 Female Role Models, 16 anti-VAW films, 16 positive and empowering songs, 16 anti-VAW Facebook pages, and 16 anti-VAW Twitter accounts. Other articles run the gamut from 16 anti-VAW filmmakers to 16 ideas for kids and teens to take action against VAW to 16 anti-VAW public service announcements.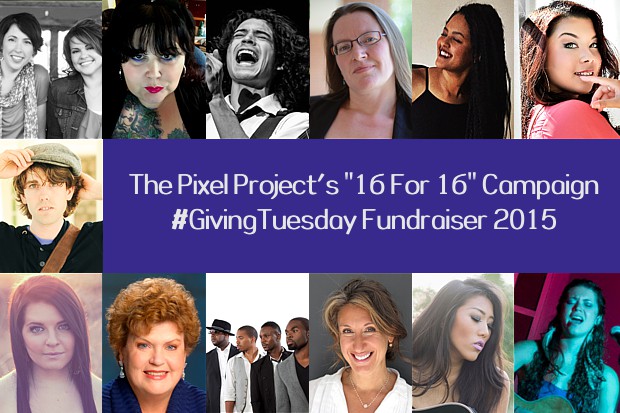 This year, the "16 For 16" fundraiser is held on Indiegogo and will run for the full 16 Days of Activism – a period which also encompasses #GivingTuesday. All funds raised will go towards supporting the Celebrity Male Role Model Pixel Reveal campaign, which aims to raise US$1 million in aid of The Pixel Project and the USA's National Coalition Against Domestic Violence. The Pixel Reveal campaign has raised $23,773 (23,773 pixels revealed) to date and is aiming to reach the $25,000 (25,000 pixels revealed) fundraising milestone through the "16 For 16"/ #GivingTuesday fundraiser.
8 music artistes and 5 authors have generously donated a range of exclusive goodies to help The Pixel Project encourage music fans and book lovers to donate this holiday season. These include: One-of-a-kind opportunities to become a minor character in upcoming books by acclaimed authors, original songs written for donors, 1-to-1 Skype concerts, exclusive author swag, and more. In addition, Grammy Award winner Colbie Caillat has donated an autographed ukulele that will be available as a thank you gift for one generous donor. Donations begin at as little as US$10 and the goodies are available to donors as "thank you" gifts and perks depending on the donation amount.
Participating award-winning bestselling authors include Charlaine Harris, Christina Lauren, Elizabeth Bear, Jane Green, and Yasmine Galenorn. Participating music artistes include rising artistes, Indie singer-songwriters, and YouTube stars such as AHMIR (YouTube's #1 R&B band and The Pixel Project's YouTube Ambassador), Adam Web, Alexis Umathum, Hannah Wondmeneh, Juliet Weybret, Mary Scholz, Miguel Dakota, and Olivia Thai.
"Violence against women is one of the most widespread and entrenched human rights violations in the world," said Regina Yau, Founder and President of The Pixel Project. "We are delighted that so many authors and music artistes have stepped up to join us in raising much-needed funds and widespread support for this cause. We hope that music fans and book lovers worldwide will donate generously this holiday season to help us reach the $25,000 (25,000 pixels revealed) milestone."
More information about the "16 For 16" campaign can be found at: http://bit.ly/16Days.
____________________________________________________________________________
About The Pixel Project (www.thepixelproject.net)
The Pixel Project is a complete virtual, volunteer-led global 501(c)3 nonprofit organisation whose mission is to raise awareness, funds, and volunteer power for the cause to end violence against women using a combination of social media, new technologies, and popular culture/the Arts. Their flagship initiative is the Celebrity Male Role Model Pixel Reveal campaign which aims to turbo-charge global awareness about VAW using social media while raising US$1 million by getting a global audience to collectively unveil a million-pixel mystery collage of Celebrity Male Role Models at US$1 per pixel.