Welcome to The Pixel Project's "30 For 30″ Father's Day Campaign 2013! In honour of Father's Day, we created this campaign:
To acknowledge the vital role Dads play in families, cultures and communities worldwide.
To showcase good men from different walks of life who are fabulous positive non-violent male role models.
Through this campaign, we will be publishing a short interview with a different Dad on each day of the month of June.
This campaign is also part of a programme of initiatives held throughout 2014 in support of the Celebrity Male Role Model Pixel Reveal campaign that is in benefit of the National Coalition Against Domestic Violence and The Pixel Project. Donate at just US$1 per pixel to reveal the mystery Celebrity Male Role Models and help raise US$1 million for the cause while raising awareness about the important role men and boys play in ending violence against women in their communities worldwide. Donations begin at just US$10 and you can donate via the Pixel Reveal website here or the Pixel Reveal Razoo donation page here.
Our tenth "30 For 30″ 2014 Dad is Casey Thompson from Canada.
__________________________________________________________________________________________
The Dad Bio
Casey is a secondary physical education teacher, as well as the coach for the hockey, football, and softball teams at his school. He has been married to his wife, Stacey, for four years this August and has two children – Max, 2 years old, and Mikayla, 7 weeks old. Casey spends his free time backcountry camping and canoeing with family and friends.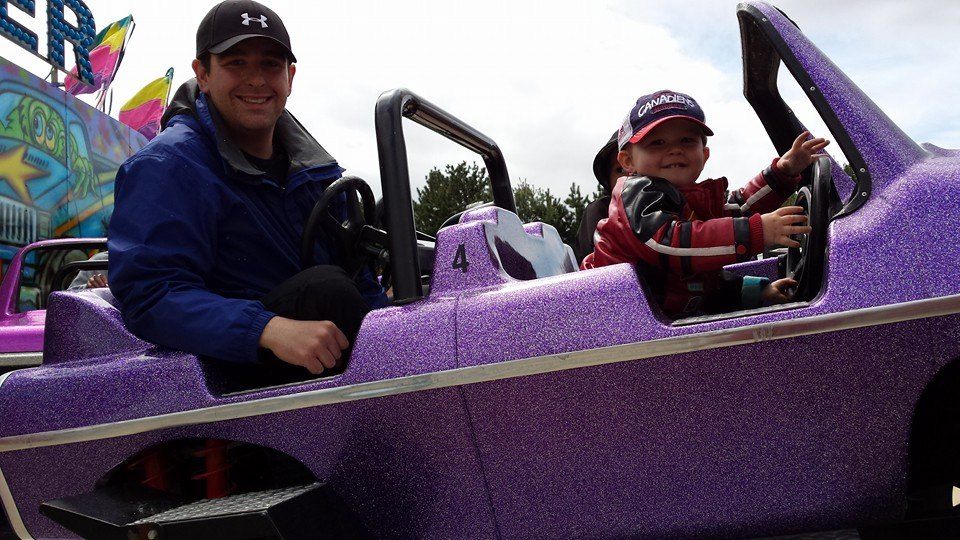 1. What is the best thing about being a dad?
The best thing about being a dad is the love that you receive from your children. When my son greets me at the door when I get home and screams, "Daddy!" my heart melts. When my infant daughter looks deeply into my eyes and gives me a small smile, it also warms my heart. Seeing the huge smile on my son's face the first time he got to ride some of the rides at the fair was very fulfilling for my wife and me. Fatherhood also brings my wife and me together more. It has strengthened our bond and enhanced our love by filling our home with little giggles and smiles.
2. A dad is usually the first male role model in a person's life and fathers do have a significant impact on their sons' attitude towards women and girls. How has your father influenced the way you see and treat women and girls?
My father was absent in my life until I was 20 and, even to this day, I'm not particularly close with him. My mother was the one who raised me and always stressed the importance of treating both genders with the upmost respect. Her strength and determination helped show me how women can do whatever is necessary to provide for their children. Her constant love and guidance has helped me become a man with good family values and a loving family. I learn all of that from the guidance of my mom.
3. Communities and activists worldwide are starting to recognise that violence against women is not a "women's issue" but a human rights issue and that men play a role in stopping the violence. How do you think fathers and other male role models can help get young men and boys to take an interest in and step up to help prevent and stop violence against women?
I think it's all about respect. Fathers and other male role models need to always show respect and talk openly about respecting women. They must teach that violence is wrong in all situations. Avoiding stereotypes is also very important. A few comments by a male role model can really affect a young male's view on a subject. When it comes down to it, if you teach and show respect for women, your son will, too.