Welcome to The Pixel Project's "30 For 30″ Father's Day Campaign 2013! In honour of Father's Day, we created this campaign:
To acknowledge the vital role Dads play in families, cultures and communities worldwide.
To showcase good men from different walks of life who are fabulous positive non-violent male role models.
Through this campaign, we will be publishing a short interview with a different Dad on each day of the month of June.
This campaign is also part of a programme of initiatives held throughout 2014 in support of the Celebrity Male Role Model Pixel Reveal campaign that is in benefit of the National Coalition Against Domestic Violence and The Pixel Project. Donate at just US$1 per pixel to reveal the mystery Celebrity Male Role Models and help raise US$1 million for the cause while raising awareness about the important role men and boys play in ending violence against women in their communities worldwide. Donations begin at just US$10 and you can donate via the Pixel Reveal website here or the Pixel Reveal Razoo donation page here.
Our first "30 For 30″ 2014 Dad is Merrill Matthews from Canada.
__________________________________________________________________________________________
The Dad Bio
My name is Merrill, and I live in Montreal. I used to live in Toronto – that was where I became a Dad to my daughter Lea. I've been working at the National Film Board of Canada for the last 9 years. During my "down time" you can find me either playing with ponies with my daughter, writing stories with her, listening to my iPod and writing my own stories. Life is good.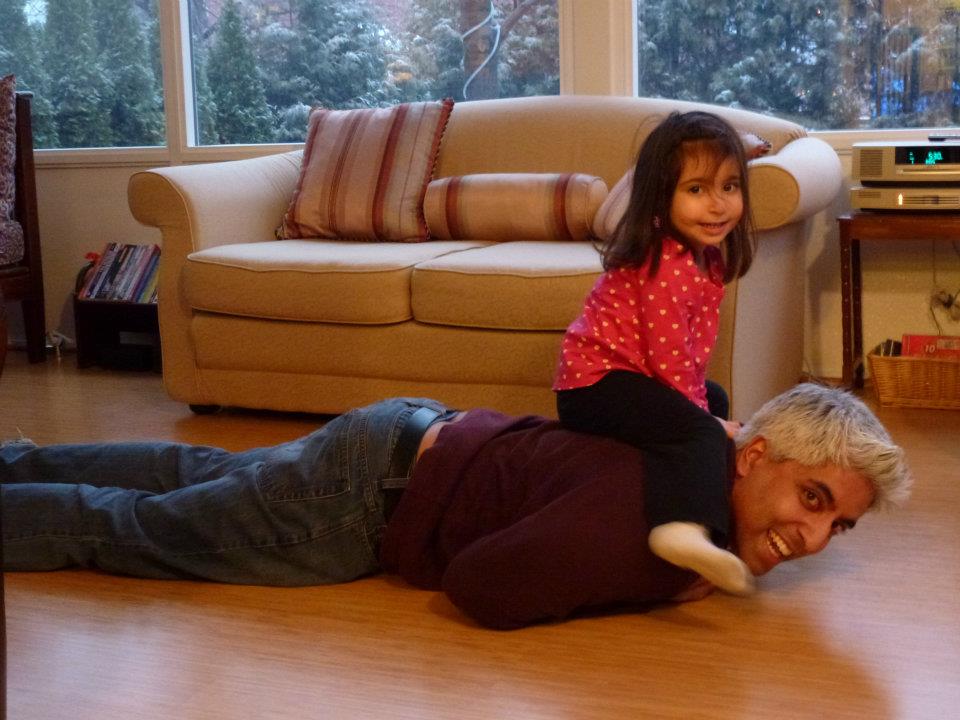 1. What is the best thing about being a dad?
Where do I start! The best thing about being a dad is perhaps the knowledge that you have the responsibility of being a role model for someone that is looking up to you for guidance. I love the notion that someone is looking to me to be a good example – and it's something that I don't take lightly. And on a more direct level, the best things are the tight hugs, the kisses and the openness with which your child relates to you.
2. A dad is usually the first male role model in a person's life and fathers do have a significant impact on their sons' attitude towards women and girls. How has your father influenced the way you see and treat women and girls?
This is very interesting because I did not grow up with a father in my life – I grew up with many women (my mother and my sisters) as my role models. As a child, I have always respected, loved and raised up women, which has been received by many of my male peers as either a sign of weakness, weirdness or lesser than. Now being a father to a girl, my role as her parent to achieve and be whoever she wants – no boundaries whatsoever and I can be there to support that.
3. Communities and activists worldwide are starting to recognise that violence against women is not a "women's issue" but a human rights issue and that men play a role in stopping the violence. How do you think fathers and other male role models can help get young men and boys to take an interest in and step up to help prevent and stop violence against women?
They can start as soon as possible. I would say diffusing as many stereotypes about boys and girls is the best way to start. Letting children know that boys and girls can like the same things (toys, colors, movie characters) and that they are not relegated to one is a good first step. Talking to your children and recognising if there is an injustice – and showing our children that such things are wrong and need to be stopped. I am the biggest advocate for fathers being proactive and supportive parents – rather than "glorified babysitters" which is what the media makes out most fathers to be. Our role is a big one if we choose to take it – and I choose wholeheartedly to do so.