Welcome to The Pixel Project's "30 For 30" Father's Day Campaign 2012! In honour of Father's Day, we created this campaign:
To acknowledge the vital role Dads play in families, cultures and communities worldwide.
To showcase good men from different walks of life who are fabulous positive non-violent male role models.
Through this campaign, we will be publishing a short interview with a different Dad on each day of the month of June.
Our twenty-first "30 For 30" Dad is Joshua Burnett from the United States Army.
———————————————————————————
The Dad Bio (In His Own Words):
I am a Staff Sergeant in the US Army, and formerly a Munitions Systems Specialist in the Air Force. I have served on Active Duty, between the two branches for the past 11 straight years. I am currently an Information Systems Analyst working in Network Security. I am the father of 3 boys, Noah, Tristan, and Brennan. I have been married for 9 years to Allison Marie Burnett (Haake), herself a former soldier, now a professional photographer. I enjoy playing baseball and soccer with my sons, taking my wife on "photography" trips, and reading… everything! Fiction, non-fiction, newspapers, magazines… I just love to read. I am a firm believer that the best teachers in life for children are their parents, and the best learning experience you will ever have in your life is being a parent. Guiding your children to ask their own questions and think their own thoughts, while preparing them to be better at life than you is my goal with each of my boys.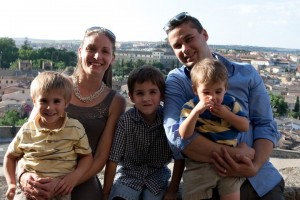 1. What is the best thing about being a dad?
There is an inherent level of trust and understanding that comes with being a father. It is a trust that is there from birth and it goes both ways. It is truly the only way to have trust given, that can be lost at any time, but is never truly "earned" from the start. It is given, along with love, understanding, and patience from the "get go". To hold another life in your hands, and then, through their lifetimes, hold little hands, and eventually learn to let go of those hands as your children grow is a process that is unmistakably meaningful.
The best thing is realising that throughout the entire process, as you teach life and all of it's many lessons, you are actually learning form your children how to be a father. The best part is learning from them how to be a better man, how to be better at LOVE.
2. A dad is usually the first male role model in a person's life and fathers do have a significant impact on their sons' attitude towards women and girls. How has your father influenced the way you see and treat women and girls?
I've watched my father grow as a person for the past 28 years. I've watched him struggle with many things, and succeed at many more. Through my entire life one thing has stood out to me as being vital to the life lessons that I have taken from my father: That is, that my mother, my wife, my mother-in-law, my grandmother… indeed, every woman I come into contact with, is someone's daughter, mother, or sister. He taught me that there has to be an inherent level of respect for the beauty that lies within women, for the love that lies within the female spirit.
I've watched for the past 28 years as my father has loved, respected, and supported the women in his life. I hope only to encourage my sons, through the same lessons I received from my father, to do the same.
3. Communities and activists worldwide are starting to recognize that violence against women is not a "women's issue" but a human rights issue and that men play a role in stopping the violence. How do you think fathers and other male role models can help get young men and boys to take an interest in and step up to help prevent and stop violence against women?
Trust, encouragement, example and education. Most importantly, however, is LOVE. You have to teach your boys, your young men, how to love. We have to help them realise the importance of cherishing and appreciating the beauty that women possess. Internally and externally, these young men need to know how important their treatment of women is to building strong and lasting human relationships.
————————————————————————
Want to honour your Dad in a different way this Father's Day without breaking the bank?
We offer two (2) easy and fabulous options:
Option A: Make a Small Donation
Help us raise US$3000 or more this June by donating US$30 on behalf of your dad to our Celebrity Male Role Model Pixel Reveal campaign to help unveil our first superstar Celebrity Male Role Model – a beloved Nobel Laureate. US$30 will unveil 30 pixels and proceeds from the pixel sales are in benefit of the USA's National Coalition Against Domestic Violence and Malaysia's Women's Aid Organisation.
Click here to donate: https://reveal.thepixelproject.net/buy-pixels/
Option B: Dedicate a Song to Him
For just $0.99, you can download our first Music For Pixels song – a cover of 'The Rose' by AHMIR, YouTube's #1 R&B group and load it onto your Dad's computer's iTunes or digital music player. Not sure about it? Listen before you buy here: