Welcome to The Pixel Project's "30 For 30" Father's Day Campaign 2012! In honour of Father's Day, we created this campaign:
To acknowledge the vital role Dads play in families, cultures and communities worldwide.
To showcase good men from different walks of life who are fabulous positive non-violent male role models.
Through this campaign, we will be publishing a short interview with a different Dad on each day of the month of June.
Our twenty-second "30 For 30" Dad is Prashant Sarin from India.
———————————————————————————
The Dad Bio (In His Own Words):
I currently work as a Principal with a leading global strategy consulting firm. My work focuses on helping companies become more valuable. The work is tremendously exciting but is inherently demanding, especially as it requires a fair amount of travel, both within and outside India.
My first son, Vivaan was born in April 2011 and has just turned a year old. His name is a Hindi word meaning the "first ray of sunlight" and he's truly lit up our lives since he showed up last year! I try to spend as much time as I can with him every day – it's such a joy to watch children grow up – it's like getting a second chance at your own childhood!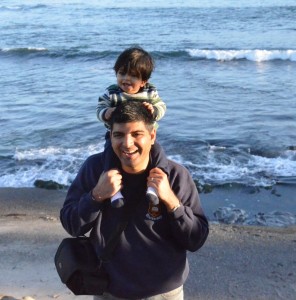 1. What is the best thing about being a dad?
Wow – what a difficult question – just because there's isn't possible to find just one "best" thing. Having a child allows one to be a child again. A few of my special moments:
The "good morning" smile when we wake up every morning, sometimes when he's been up for a while – and is just waiting for one of us to wake up so he can play with us
The welcome i get when i come home from work. Even if it's been a tough, long day – he always gives us a hero's welcome…
The way his fingers curl up around my hand when he goes to sleep – with complete trust and faith, in you.
There's so much, and it's all so embedded in the little everyday things, which are so special and incredibly magical…
2. A dad is usually the first male role model in a person's life and fathers do have a significant impact on their sons' attitude towards women and girls. How has your father influenced the way you see and treat women and girls?
My mom got married when she was 18, and gave birth to me when she was 19. She had barely completed her high school degree, and was in her first year at college when she gave birth. There was also a significant age difference, my dad is 10 years older than my mom.
I've seen my parent's relationship evolve over the last 30+ years, especially my dad's relationship with my mom. A relationship built and founded on trust, respect and partnership – even in the early days, when she was a home-maker. And even now, when my mom started and now runs a successful business of her own. My key learnings have been exactly those which I have seen, first-hand – and will hopefully be the ones I will pass on to my son as well.
3. Communities and activists worldwide are starting to recognise that violence against women is not a "women's issue" but a human rights issue and that men play a role in stopping the violence. How do you think fathers and other male role models can help get young men and boys to take an interest in and step up to help prevent and stop violence against women?
I completely endorse this view. Children learn by observation – which starts at home, where young boys implicitly learn how to treat women by seeing how their father or grand-parents treat their mother or their sisters. Showing respect to women begins at home. Given this, I think fathers and male role models need to be sensitive to women they interact with – not just for the blindingly obvious reasons, but also for the example they implicitly set for young, impressionable minds.
I do think that becoming a father does make one much more sensitive to the critical role women play at home, work – and in our society. In particular, it makes one realise how special women are!
Of the many things I can do (or think I can do!) giving birth is not one of them! If nothing else, then women should be placed on a higher pedestal than men in every society and not abused, or denigrated in other forms.
————————————————————————
Want to honour your Dad in a different way this Father's Day without breaking the bank?
We offer two (2) easy and fabulous options:
Option A: Make a Small Donation
Help us raise US$3000 or more this June by donating US$30 on behalf of your dad to our Celebrity Male Role Model Pixel Reveal campaign to help unveil our first superstar Celebrity Male Role Model – a beloved Nobel Laureate. US$30 will unveil 30 pixels and proceeds from the pixel sales are in benefit of the USA's National Coalition Against Domestic Violence and Malaysia's Women's Aid Organisation.
Click here to donate: https://reveal.thepixelproject.net/buy-pixels/
Option B: Dedicate a Song to Him
For just $0.99, you can download our first Music For Pixels song – a cover of 'The Rose' by AHMIR, YouTube's #1 R&B group and load it onto your Dad's computer's iTunes or digital music player. Not sure about it? Listen before you buy here: