Welcome to The Pixel Project's "30 For 30" Father's Day Campaign 2012! In honour of Father's Day, we created this campaign:
To acknowledge the vital role Dads play in families, cultures and communities worldwide.
To showcase good men from different walks of life who are fabulous positive non-violent male role models.
Through this campaign, we will be publishing a short interview with a different Dad on each day of the month of June.
Our twentieth "30 For 30" Dad is Amit Gupta from Australia by way of India.
———————————————————————————
The Dad Bio (In His Own Words):
I am a new dad, who is still trying to understand what parenting is all about. I have worked and lived in multiple countries (Australia, India and USA to name a few) and have realised that people treat women very differently in different countries. There is no right or wrong way, but is definitely a minimum bar. Violence against women falls below that bar.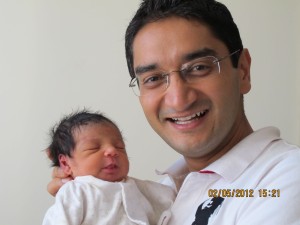 1. What is the best thing about being a dad?
It is the first time in my life that I have loved unconditionally, knowing fully well that I will not get anything in return (at least in the short run) for all that I am doing. I have loved people, including my parents, my wife, but somehow you always attach expectations along with that love. Unconditional love changes you.
2. A dad is usually the first male role model in a person's life and fathers do have a significant impact on their sons' attitude towards women and girls. How has your father influenced the way you see and treat women and girls?
In India, a country rife with inequalities and a patriarchal system, my father has always treated women and girls as absolute equals. He taught me to look beyond what my society thought I should do (treat women differently, or as inferior at times), and think of what I would like society to be. And then behave accordingly.
3. Communities and activists worldwide are starting to recognise that violence against women is not a "women's issue" but a human rights issue and that men play a role in stopping the violence. How do you think fathers and other male role models can help get young men and boys to take an interest in and step up to help prevent and stop violence against women?
Violence against women is not a 'women's issue'. Its a male issue. We are the ones doing it. Fathers and male role models can begin to talk about violence against women as behaviour with 'zero tolerance'. It is never ok to hit a woman. Never. And the moment you cross that line, you need to realise that everything has changed, and the male should be be treated differently by family and society. He should be treated as a person who has committed a serious crime.
————————————————————————
Want to honour your Dad in a different way this Father's Day without breaking the bank?
We offer two (2) easy and fabulous options:
Option A: Make a Small Donation
Help us raise US$3000 or more this June by donating US$30 on behalf of your dad to our Celebrity Male Role Model Pixel Reveal campaign to help unveil our first superstar Celebrity Male Role Model – a beloved Nobel Laureate. US$30 will unveil 30 pixels and proceeds from the pixel sales are in benefit of the USA's National Coalition Against Domestic Violence and Malaysia's Women's Aid Organisation.
Click here to donate: https://reveal.thepixelproject.net/buy-pixels/
Option B: Dedicate a Song to Him
For just $0.99, you can download our first Music For Pixels song – a cover of 'The Rose' by AHMIR, YouTube's #1 R&B group and load it onto your Dad's computer's iTunes or digital music player. Not sure about it? Listen before you buy here: