Welcome to The Pixel Project's "30 For 30" Father's Day Campaign 2012! In honour of Father's Day, we created this campaign:
To acknowledge the vital role Dads play in families, cultures and communities worldwide.
To showcase good men from different walks of life who are fabulous positive non-violent male role models.
Through this campaign, we will be publishing a short interview with a different Dad on each day of the month of June.
Our nineteenth "30 For 30" Dad is Phil Borges from Seattle, USA.
———————————————————————————
About Phil Borges:
For over 25 years Phil Borges, a social documentary photographer and filmmaker, has documented indigenous and tribal cultures around the world. Phil's current project, Stirring the Fire creates quality, affordable and action inspiring media for non-profit organisations working to advance women and girls. Stirring the Fire believes that media is a powerful tool in bringing social, economical and environmental justice to women and girls, resulting in more peace, stability and environmental sustainability worldwide.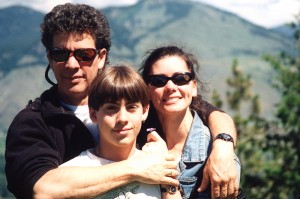 1. What is the best thing about being a dad?
Watching my children find their own passions and develop them.
2. A dad is usually the first male role model in a person's life and fathers do have a significant impact on their sons' attitude towards women and girls. How has your father influenced the way you see and treat women and girls?
My father died when I was young and he was sick for so long that I don't remember his interactions with women. The way I got to know the way he treated women was that I saw the letters he wrote to my mom and my older sister and they were such beautiful notes. He told them how much he missed and loved them. He talked about all their special qualities – that is what I remember of how my Dad treated the women in his life.
3. Communities and activists worldwide are starting to recognise that violence against women is not a "women's issue" but a human rights issue and that men play a role in stopping the violence. How do you think fathers and other male role models can help get young men and boys to take an interest in and step up to help prevent and stop violence against women?
By being an example. I've been in places where I just heard that it is manly to keep the women in control and beat the women, it's considered part of manhood. Other place where violence against women is part of the culture, especially where there is war and rape is a weapon of war. It takes re-education to get boys and men that have grown up with that to change their attitudes– it's a difficult and long process. I think it would require men to stand up and speak out in their community – the male leaders need to stand up against violence against women.
————————————————————————
Want to honour your Dad in a different way this Father's Day without breaking the bank?
We offer two (2) easy and fabulous options:
Option A: Make a Small Donation
Help us raise US$3000 or more this June by donating US$30 on behalf of your dad to our Celebrity Male Role Model Pixel Reveal campaign to help unveil our first superstar Celebrity Male Role Model – a beloved Nobel Laureate. US$30 will unveil 30 pixels and proceeds from the pixel sales are in benefit of the USA's National Coalition Against Domestic Violence and Malaysia's Women's Aid Organisation.
Click here to donate: https://reveal.thepixelproject.net/buy-pixels/
Option B: Dedicate a Song to Him
For just $0.99, you can download our first Music For Pixels song – a cover of 'The Rose' by AHMIR, YouTube's #1 R&B group and load it onto your Dad's computer's iTunes or digital music player. Not sure about it? Listen before you buy here: