Welcome to The Pixel Project's "30 For 30" Father's Day Campaign 2012! In honour of Father's Day, we created this campaign:
To acknowledge the vital role Dads play in families, cultures and communities worldwide.
To showcase good men from different walks of life who are fabulous positive non-violent male role models.
Through this campaign, we will be publishing a short interview with a different Dad on each day of the month of June.
Our sixteenth "30 For 30" Dad is Steve Hughes from New Jersey, USA.
———————————————————————————
The Dad Bio (In His Own Words):
I have resided in New Jersey most of my life. Please stop laughing. I work in the IT Security field for an organization called Critical Defence (www.criticaldefence.com). Social Media has become a passion for me over the last two years. I've met a lot of fantastic people online from all over the world, and enjoy what it can do for individuals and organisations. You can learn more on my site www.geeklesstech.com. My two lovely daughters are Sydney, 6, and Jordan, 4.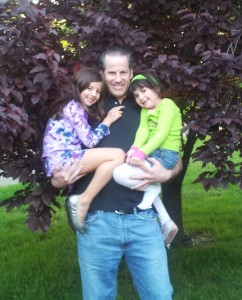 1. What is the best thing about being a dad?
The best thing is seeing them learn and achieve. They go from this little peanut to a being that can communicate and understand some things better than myself. Yes, they both work the iPod extremely well. In a handful of years, the transformation that has taken place is staggering. Yes, like most kids, they can drive you nuts at times. However, I don't take anything for granted and I cherish every minute with them, for better or worse. There's nothing better than their smiles and happiness. It's too bad they won't be able to date until 25.
2. A dad is usually the first male role model in a person's life and fathers do have a significant impact on their sons' attitude towards women and girls. How has your father influenced the way you see and treat women and girls?
Being an only child, I received quite a bit of attention. This wasn't as advantageous as one may think. Manners and respect were at the forefront of my upbringing. If that wasn't maintained, there was a price to pay. It's been five years this week since my Dad passed. He definitely instilled in me the belief that you need to treat people like you would want to be treated. This goes for men and women, although there was a slightly higher priority to women. I have practiced this my entire life.
3. Communities and activists worldwide are starting to recognise that violence against women is not a "women's issue" but a human rights issue and that men play a role in stopping the violence. How do you think fathers and other male role models can help get young men and boys to take an interest in and step up to help prevent and stop violence against women?
It really is all about parenting and education.
You need to teach your kids early that violating anyone by touching them is totally unacceptable. I talk to my girls about hitting and keeping your hands to yourself, short of defending yourself. If I had boys, this would be even more emphasised. Parents, education in the schools, and positive peer influence should provide a landscape that deters any such behaviour. It's an ongoing process that will hopefully substantially decrease the violence seen today.
————————————————————————
Want to honour your Dad in a different way this Father's Day without breaking the bank?
We offer two (2) easy and fabulous options:
Option A: Make a Small Donation
Help us raise US$3000 or more this June by donating US$30 on behalf of your dad to our Celebrity Male Role Model Pixel Reveal campaign to help unveil our first superstar Celebrity Male Role Model – a beloved Nobel Laureate. US$30 will unveil 30 pixels and proceeds from the pixel sales are in benefit of the USA's National Coalition Against Domestic Violence and Malaysia's Women's Aid Organisation.
Click here to donate: https://reveal.thepixelproject.net/buy-pixels/
Option B: Dedicate a Song to Him
For just $0.99, you can download our first Music For Pixels song – a cover of 'The Rose' by AHMIR, YouTube's #1 R&B group and load it onto your Dad's computer's iTunes or digital music player. Not sure about it? Listen before you buy here: