Welcome to The Pixel Project's "30 For 30" Father's Day Campaign 2012! In honour of Father's Day, we created this campaign:
To acknowledge the vital role Dads play in families, cultures and communities worldwide.
To showcase good men from different walks of life who are fabulous positive non-violent male role models.
Through this campaign, we will be publishing a short interview with a different Dad on each day of the month of June.
Our fifteenth "30 For 30" Dad is Johan Carlsson from Sweden.
———————————————————————————
The Dad Bio (In His Own Words):
I am an entrepreneur and business owner. I love being part of evolution and my main interests are design, technology and sports. I always become fully involved in all my projects and doings, the most important of them being a father. Being a father of three beautiful girls had everything to do with my current mission in life. In 2009, after 15 years on Wall Street and the City and earlier 10 years on the ATP tennis tour, I started PFO (www.pfoinc.com). PFO's mission is to make the world better and safer for women and girls via our products designed at the intersection of safety and fashion! My daughters are Maya, 13, Liv, 11 and Tuva 4. I'm a very active person and spend time with my daughters travelling, doing sports and growing together.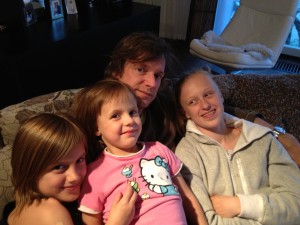 1. What is the best thing about being a dad?
It would have been much easier to answer "what is the toughest thing about being a dad?"
The best thing about being a dad is to be part of three wonderful human beings' life. Seeing them grow up, learn and develop in to individuals. It is amazing!
Trying to be a good dad/parent is very difficult (we should learn more about this in school and by our parents… at least in Sweden) but its also extremely rewarding. What a learning experience! I love it every (almost) day!
2. A dad is usually the first male role model in a person's life and fathers do have a significant impact on their sons' attitude towards women and girls. How has your father influenced the way you see and treat women and girls?
My father influenced me probably more than any other person. Being Swedish where equal rights and fairness is being the most valued attribute,s my father was a big influencer to me as he was always teaching me to be fair and equal to everyone, not just women or girls.
I have always treat everyone the same way, whether women, girl, boy, man, prime minister. We're all equal and always will be. Anyone else that thinks differently is simply wrong. We might not have the same skills, be equally educated or have the same opportunities depending on our circumstances, but we're still equal as human beings.
That we are still not all treated equally in the world is a huge problem that we need to change!
3. Communities and activists worldwide are starting to recognise that violence against women is not a "women's issue" but a human rights issue and that men play a role in stopping the violence. How do you think fathers and other male role models can help get young men and boys to take an interest in and step up to help prevent and stop violence against women?
If it weren't for us men, the problem with violence towards women wouldn't exist. We men have to stop violence towards women (or anyone for that matter). Most problems with violence in the world come from us men. How many dictators are women? How many war lords are women? How often do women rape men? The problem of violence towards women has only to do with us men. That's it!
Having founded PFO, a company with the mission to make the world better and safer for women, I have read and studied so many cases of violence towards women that I find it unbelievable that women and men don't take a stronger and more open collective stance against this problem. It starts with both fathers and mothers raising young boys. The boys are the ones that become the problem, not the girls.
————————————————————————
Want to honour your Dad in a different way this Father's Day without breaking the bank?
We offer two (2) easy and fabulous options:
Option A: Make a Small Donation
Help us raise US$3000 or more this June by donating US$30 on behalf of your dad to our Celebrity Male Role Model Pixel Reveal campaign to help unveil our first superstar Celebrity Male Role Model – a beloved Nobel Laureate. US$30 will unveil 30 pixels and proceeds from the pixel sales are in benefit of the USA's National Coalition Against Domestic Violence and Malaysia's Women's Aid Organisation.
Click here to donate: https://reveal.thepixelproject.net/buy-pixels/
Option B: Dedicate a Song to Him
For just $0.99, you can download our first Music For Pixels song – a cover of 'The Rose' by AHMIR, YouTube's #1 R&B group and load it onto your Dad's computer's iTunes or digital music player. Not sure about it? Listen before you buy here: