Welcome to The Pixel Project's "30 For 30" Father's Day Campaign 2012! In honour of Father's Day, we created this campaign:
To acknowledge the vital role Dads play in families, cultures and communities worldwide.
To showcase good men from different walks of life who are fabulous positive non-violent male role models.
Through this campaign, we will be publishing a short interview with a different Dad on each day of the month of June.
Our fourteenth "30 For 30" Dad is Fairul Reeza from Malaysia.
———————————————————————————
The Dad Bio (In His Own Words):
I have been a banker, a dive instructor, a journalist, a snowboarding instructor (yes, one plank will do just fine, thank you) a climber, a teacher and a cook with, thankfully, a fair amount of success in each and the privilege to leave when it was time to. Since joining the fight for a better world in my own little consultancy (www.brown.my), I became a father for the first time at 40 when Kanoa Ma Kai joined us in February 2012 and am enjoying every bit of this tiny morsel we call "Life with Kanoa" for as long as we have each other.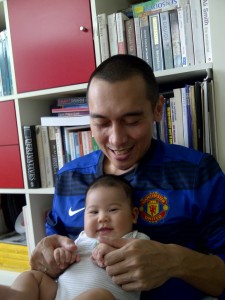 1. What is the best thing about being a dad?
Seeing Kanoa smile. Seeing him recognise my face and light up, and start agitating to be picked up or played with. To see these things and realise later that when I am with him, all my troubles just magically disappear, and the only thing there is him. All the pain, all the ugly, horrible things I might have seen, done, been through or come across before. Gone.
I remember telling my wife once that I'd give my life up for my parents in an instant – that if you flipped a coin I'd have said "Take me instead" while it was still in the air, and she was now in that category. Kanoa, too, falls into that category now.
I think that's the best thing about being a dad: you don't realise it but suddenly there's this ABSOLUTE love that simply overtakes everything without you even knowing how it happened. Or maybe that IS what it is. Whatever, it is WAY cool, and I'll always be humbled for how absolute that feeling can be, and thankful for the blessing I've received to feel it with someone.
2. A dad is usually the first male role model in a person's life and fathers do have a significant impact on their sons' attitude towards women and girls. How has your father influenced the way you see and treat women and girls?
My dad was old school, military: Yes sir, no sir, right away sir. All our clothes were folded in EXACTLY the same dimensions, proportions and ironed razor sharp since I could remember.
And yet every afternoon, he'd lovingly call out from the kitchen and ask my mum if she'd like some coffee as he made some for himself; every barbeque, he'd teach us to make sure "the girls" were served first, before the men should even start. Put ourselves in between them and men of evil intent regardless of how many there were, what they held in their hands, or what they agitated to do, You stand firm, and handle what comes because that's who you are — you are the protectors of your family and you will die protecting them if that's what it takes.
3. Communities and activists worldwide are starting to recognise that violence against women is not a "women's issue" but a human rights issue and that men play a role in stopping the violence. How do you think fathers and other male role models can help get young men and boys to take an interest in and step up to help prevent and stop violence against women?
For some reason, since we started talking to Kanoa in the womb, we'd always made it a point to start with the salaam, wishing him peace and all God's blessings before we even start anything in life. I'd tell him ever so often that I hope for him to grow to be a strong, GOOD man, and when all is said and done, remember that however strong and good you are, "it would be nothing if you didn't care for and take care of your mum, so please, always take care of your mother, ok?"
All of this continues to this day, every single day. When I head off to work, I kiss both his mum and Kanoa goodbye, and tell him to take care of mummy. As he grows up, hopefully he'll see how we carry ourselves and realise that there is so much love in this world and it is so much better than the hate he sees outside, and that he will want to replicate what's in our home. I can't speak for the rest of the world, but all I can say and do is my best by him and his mum, and hope he takes to it too.
————————————————————————
Want to honour your Dad in a different way this Father's Day without breaking the bank?
We offer two (2) easy and fabulous options:
Option A: Make a Small Donation
Help us raise US$3000 or more this June by donating US$30 on behalf of your dad to our Celebrity Male Role Model Pixel Reveal campaign to help unveil our first superstar Celebrity Male Role Model – a beloved Nobel Laureate. US$30 will unveil 30 pixels and proceeds from the pixel sales are in benefit of the USA's National Coalition Against Domestic Violence and Malaysia's Women's Aid Organisation.
Click here to donate: https://reveal.thepixelproject.net/buy-pixels/
Option B: Dedicate a Song to Him
For just $0.99, you can download our first Music For Pixels song – a cover of 'The Rose' by AHMIR, YouTube's #1 R&B group and load it onto your Dad's computer's iTunes or digital music player. Not sure about it? Listen before you buy here: