Welcome to The Pixel Project's "30 For 30" Father's Day Campaign 2012! In honour of Father's Day, we created this campaign:
To acknowledge the vital role Dads play in families, cultures and communities worldwide.
To showcase good men from different walks of life who are fabulous positive non-violent male role models.
Through this campaign, we will be publishing a short interview with a different Dad on each day of the month of June.
Our tenth "30 For 30" Dad is James Lean from the United Kingdom.
———————————————————————————
The Dad Bio (In His Own Words):
I am 33 years old, living in Farnborough, and have been married to my beautiful wife Lisa for five years. We had our first daughter, Sophie, in 2008 and our second, Emilia, was born earlier this year. It currently feels like being a dad is a 24 hour job, but somehow I also find time to work for a software solutions company in Guildford. When I do get a spare five minutes I enjoy playing football and golf, or simply relaxing with a glass of wine and a good book.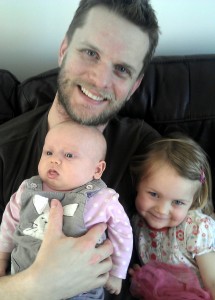 1. What is the best thing about being a dad?
I think the best thing, and something you don't realise until you become a father, is the feeling of complete and unconditional love you feel for your children right from the moment they're born. No matter how bad a day you may have had, coming through the front door and having them run to greet you with a huge hug and a shout of "Daddy!" can instantly make you feel wonderful.
Having the girls has also added another level to my relationship with, and respect for, my wife, and has really completed the loving, secure family we always wanted.
3. A dad is usually the first male role model in a person's life and fathers do have a significant impact on their sons' attitude towards women and girls. How has your father influenced the way you see and treat women and girls?
Throughout my childhood I always had a very open relationship with both my parents and they were very comfortable showing love and affection to my brother and me, as well as each other. They always talked about any issues that either of them were having, and my dad always had great respect for my mum's thoughts and advice.
I remember Dad used to tell me that he often preferred talking to women rather than men (something I would tend to agree with myself) and there was never any hint of anything other than respect for female friends and colleagues. This is certainly something I have taken with me throughout my life.
3. Communities and activists worldwide are starting to recognise that violence against women is not a "women's issue" but a human rights issue and that men play a role in stopping the violence. How do you think fathers and other male role models can help get young men and boys to take an interest in and step up to help prevent and stop violence against women?
I think the best, and perhaps most obvious, way is to lead by example; to speak to and treat women with the same respect and feeling as they do with other men. Certainly fathers should try as much as possible to show love and affection to their wife or partner in front of their children. They should also try not to undermine her in situations where they are disciplining the child.
I also think it's the responsibility of men working in the entertainment industries, e.g. producing music videos and films, to ensure that images and lyrics promoting or glamorising violence towards, or the objectification of, women be eradicated completely and ensure that artists and celebrities who have so much influence over young people provide positive enforcement of the need to treat women equally and with respect.
————————————————————————
Want to honour your Dad in a different way this Father's Day without breaking the bank?
We offer two (2) easy and fabulous options:
Option A: Make a Small Donation
Help us raise US$3000 or more this June by donating US$30 on behalf of your dad to our Celebrity Male Role Model Pixel Reveal campaign to help unveil our first superstar Celebrity Male Role Model – a beloved Nobel Laureate. US$30 will unveil 30 pixels and proceeds from the pixel sales are in benefit of the USA's National Coalition Against Domestic Violence and Malaysia's Women's Aid Organisation.
Click here to donate: https://reveal.thepixelproject.net/buy-pixels/
Option B: Dedicate a Song to Him
For just $0.99, you can download our first Music For Pixels song – a cover of 'The Rose' by AHMIR, YouTube's #1 R&B group and load it onto your Dad's computer's iTunes or digital music player. Not sure about it? Listen before you buy here: