Welcome to The Pixel Project's "30 For 30" Father's Day Campaign 2012! In honour of Father's Day, we created this campaign:
To acknowledge the vital role Dads play in families, cultures and communities worldwide.
To showcase good men from different walks of life who are fabulous positive non-violent male role models.
Through this campaign, we will be publishing a short interview with a different Dad on each day of the month of June.
Our ninth "30 For 30" Dad is Rob McCann from New Zealand.
———————————————————————————
The Dad Bio (In His Own Words):
I am currently Campaign Manager at the Families Commission with specific responsibility for the White Ribbon Campaign in New Zealand. White Ribbon is a highly successful campaign led by men who condemn violence against women. I have over ten years experience in marketing and event management, and have also spent time as a press secretary in Parliament.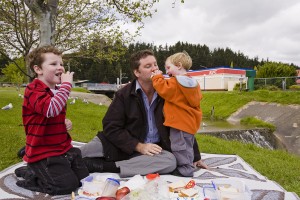 1. What is the best thing about being a dad?
I think it's watching an idea grow. Your children are constantly forming a world view, learning to comprehend what is around them and to understand how everything links together. In many cases you're responsible for giving your kids the best opportunity to develop. Seeing my kids grow into individuals is awesome. After the serious stuff, I rate the hugs you get that are spontaneous, or the utterance 'you're the best dad in the world' followed by a request for an ice block.
2. A dad is usually the first male role model in a person's life and fathers do have a significant impact on their sons' attitude towards women and girls. How has your father influenced the way you see and treat women and girls?
My dad was a very quiet man who was 59 when I was born. So in some ways he was a grandfather to me. He treated all people with respect, was slow to anger and despite being pro corporal punishment, he preferred a chat. This was his way and he treated women and men in the same manner. That rubs off on you, the idea of all people being equal and deserving respect.
3. Communities and activists worldwide are starting to recognise that violence against women is not a "women's issue" but a human rights issue and that men play a role in stopping the violence. How do you think fathers and other male role models can help get young men and boys to take an interest in and step up to help prevent and stop violence against women?
In New Zealand, White Ribbon is a campaign with a mission to end men's violence against women. I'm proud to be the Campaign Manager. It speaks to men in ways that men understand using role models in the form of White Ribbon Ambassadors who are able to show that being a real man is not about using violence on anyone. By talking openly about the issue and motivating others to join White Ribbon, we are creating a new norm in New Zealand.
————————————————————————
Want to honour your Dad in a different way this Father's Day without breaking the bank?
We offer two (2) easy and fabulous options:
Option A: Make a Small Donation
Help us raise US$3000 or more this June by donating US$30 on behalf of your dad to our Celebrity Male Role Model Pixel Reveal campaign to help unveil our first superstar Celebrity Male Role Model – a beloved Nobel Laureate. US$30 will unveil 30 pixels and proceeds from the pixel sales are in benefit of the USA's National Coalition Against Domestic Violence and Malaysia's Women's Aid Organisation.
Click here to donate: https://reveal.thepixelproject.net/buy-pixels/
Option B: Dedicate a Song to Him
For just $0.99, you can download our first Music For Pixels song – a cover of 'The Rose' by AHMIR, YouTube's #1 R&B group and load it onto your Dad's computer's iTunes or digital music player. Not sure about it? Listen before you buy here: